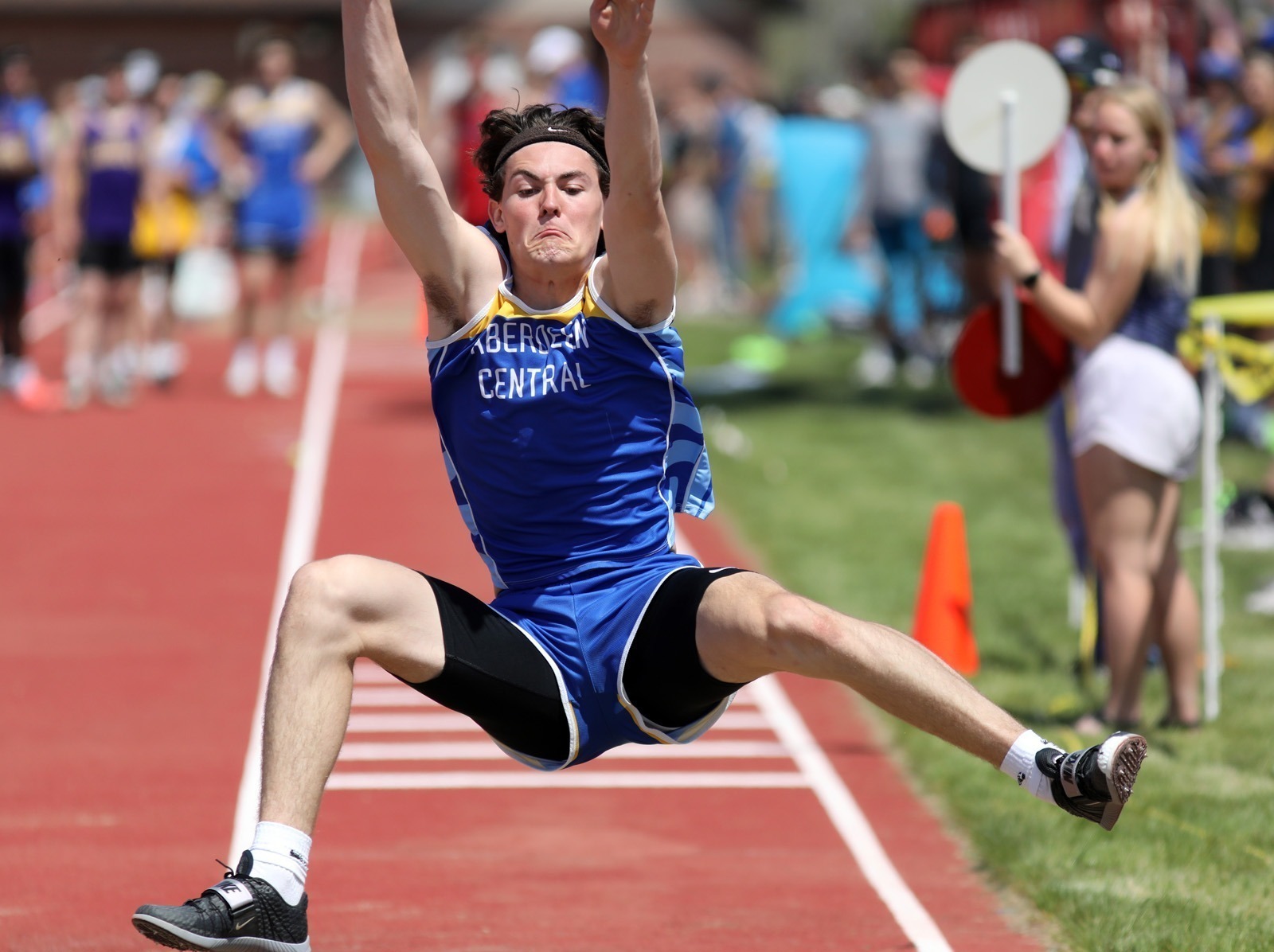 When the South Dakota State Track and Field Meet takes place today through Saturday at Howard Wood Field in Sioux Falls, there is a good chance that the record books could be altered.
That's because athletes in a variety of events have already etched their names into the state annals this season with some remarkable performances.
Many have taken place in Class AA where Sam Rohlfs of Aberdeen Central set a new state mark in the long jump (24-feet 3/4-inch), Julian Watson of Brandon Valley set a new record in the 400-meter dash (:47.46), Simeon Birnbaum of Rapid City Stevens broke the state mark in the 3,200-meter run (8:55.22), and O'Gorman's Alea Hardie set a new standard in the girls' 3,200 (10:10.83). Meanwhile in Class A, Hamlin's Gracelyn Lesieth broke the all-time state record in the shot put (49-feet 3 1/4-inches).
That does not even include numerous athletes who have broken school records this past season.
Put it all together, and there should be no shortage of things to watch during the new three-day format that brings all three classes together at one location for the entire meet.
LEADING THE WAY
A pair of athletes lead three individual events heading into the state meet. Birnbaum leads Class AA in the 800, 1,600 and 3,200, while Chester's Jovi Wolf leads the Class B 100, 200 and 400.
There are 16 athletes who led a pair of open events including Rohlfs in the Class AA long jump and triple jump, Northwestern's Ella Boekelheide in the Class B 1,600 and 3,200, and Hank Kraft of Timber Lake in the Class B high jump and triple jump.
BY THE NUMBERS
The final team leaders of the season include Brandon Valley in Class AA boys (five events), Sioux Falls Lincoln in Class AA girls (six events), Sioux Falls Christian in Class A boys (seven events), Sioux Falls Christian in Class A girls (four events), Chester Area in Class B boys (eight events), and Colman-Egan in Class B girls (eight events).
AND THE WINNERS ARE…
While it is difficult at best to predict what will happen this weekend, the following is an attempt to project what might transpire based solely on the numbers from the final state leaders.
Keep in mind, there is no way to account for injuries, dropped batons, disqualifications and the like. Also, some individuals are part of six or seven events in the final leaders and can only compete in four, so final totals may be a bit lower than these projections.
That said, here is a glimpse of what could happen at the state, again based solely on numbers from the state-wide leaders.
CLASS AA BOYS: This is shaping up to be a great race.
On paper, Brandon Valley is projected to score 96 points, while Rapid City Stevens is projected to score 95. Obviously, this is way too close to call. Aberdeen Central is lurking in the wings and is slated to score 84 points.
Should this team title come down to the final event of the meet, Brandon Valley owns the fastest time in the state in the 1,600-meter relay.
CLASS AA GIRLS: While there are several contenders here, the numbers point to Sioux Falls Lincoln winning the team crown.
The Patriots are projected to score a whopping 138 points, more than any other team in any of the classes.
Brandon Valley and O'Gorman look to have an interesting battle ahead for runner-up. Brandon Valley is projected to score 115, while the Knights are slated for 114.
CLASS A BOYS: No surprise here, as Sioux Falls Christian looks to continue its dominance in this division.
The Chargers are very solid, especially in the relays, and are scheduled to score 124 points. No other team is within striking distance. Milbank Area is firmly in second with a projected 83 points.
CLASS A GIRLS: This appears to be a two-team race between Sioux Falls Christian and Custer.
SFC is projected to score 103 points, but don't overlook the Wildcats, who are scheduled to finish with 98.
Things could get interesting before this team battle is determined.
CLASS B BOYS: All indications point to Chester Area being a strong favorite here.
The Flyers will likely win multiple events on the way to racking up 98 team points. No other team appears to be on pace to catch them.
On paper Ipswich looks to pose the biggest challenge. The Tigers are projected to score 51 points.
CLASS B GIRLS: Again, there is a clear favorite in this division.
Colman-Egan has strength in a variety of events and is projected to score 111 points. No other team figures to have enough to challenge the Hawks.
Northwestern is scheduled to score 49 points, while Chester Area is on pace to score 43.