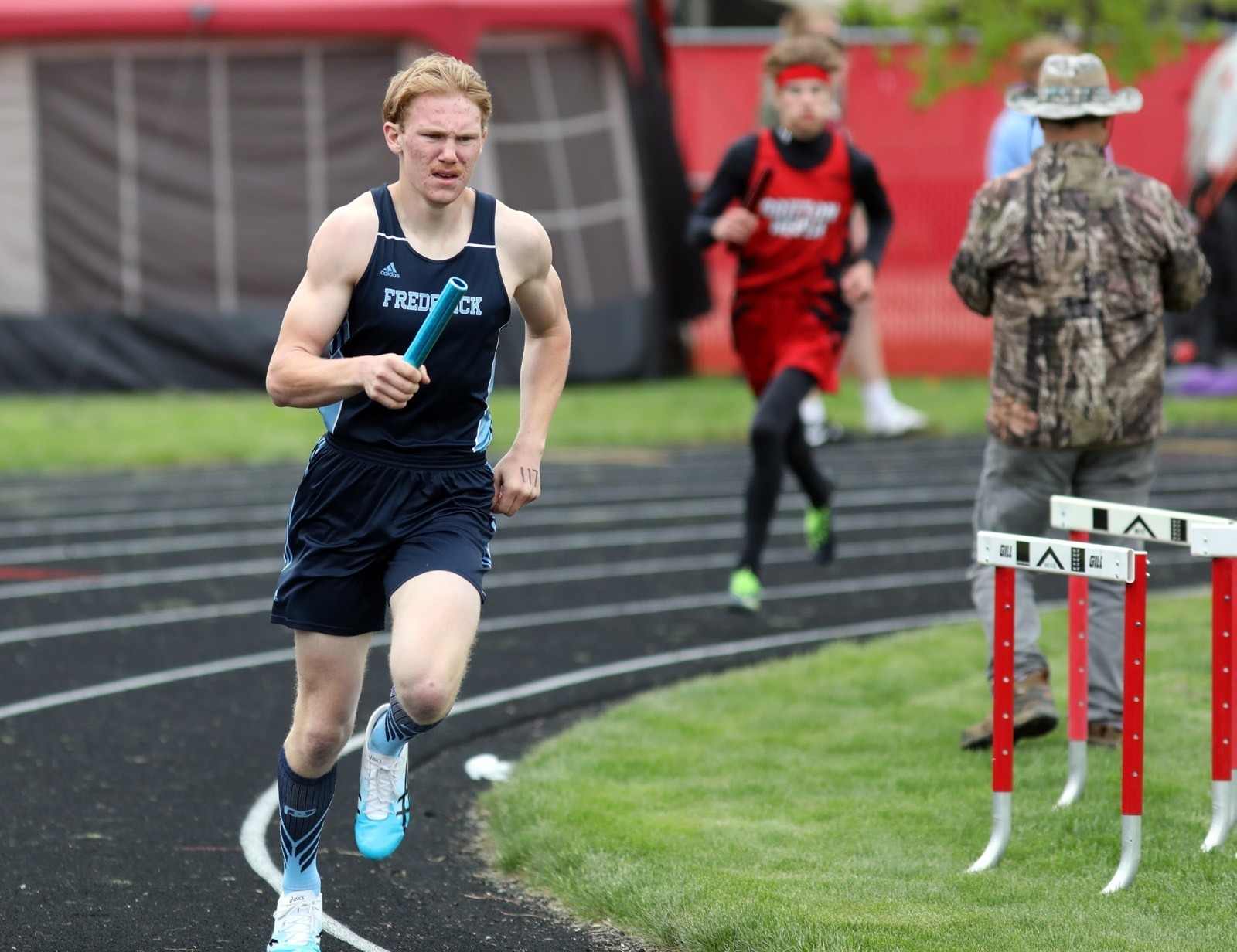 BRITTON – A team's goal is always to peak at the end of the season. On Thursday during the Region 1B track and field meet, a relay squad did more than just peak.
The Frederick boys' sprint medley relay team chopped seven seconds off its previous best time and soared from 24th to 3rd in Class B with their effort.
John Bretsch turned in a strong anchor leg to carry the squad to a time of 3:47.71.
"I knew we had to cut a lot of seconds off because we were 24th in it," Bretsch said. "I knew the 800 (leg) you could cut the most seconds off."
The race was tightly contested and Bretsch barely received the baton from his teammate before the anchor runner from Britton-Hecla received his pass.
"I could kind of tell what I had to do," Bretsch said, "because that (third) Britton kid was catching our kid. I'm like, oh boy, I'm going to have to go with this."
The junior clocked an unofficial anchor split of 2:05. He was feeling it afterward, but was definitely satisfied with the winning time.
"You don't want anything left, that's for sure," Bretsch said. "You run as fast as you can, especially the last 150."
Other team members included Stephen Achen, Mason Hinz and Brayden Sumption.
A group of Aberdeen Roncalli girls also obtained their goal during a relay event.
The Cavaliers wanted to move up in the rankings in their sprint medley relay as well.
"We're just trying to get in the top 24 as of right now," said relay member Jaidyn Feickert. "We met our goal. Last week was a pretty tough week just trying to prepare us for the region meet and conference. I think we're sitting pretty high. I think we're pretty ready for state."
Feickert, who ran in the relay along with Sarah Schmidt, Morgan Fiedler and Paige Schmidt, runs on a variety of relays for Roncalli.
"Personally, my best is the 4X1," Feickert said. "I love that relay. It just goes so smoothly. I like sprints more."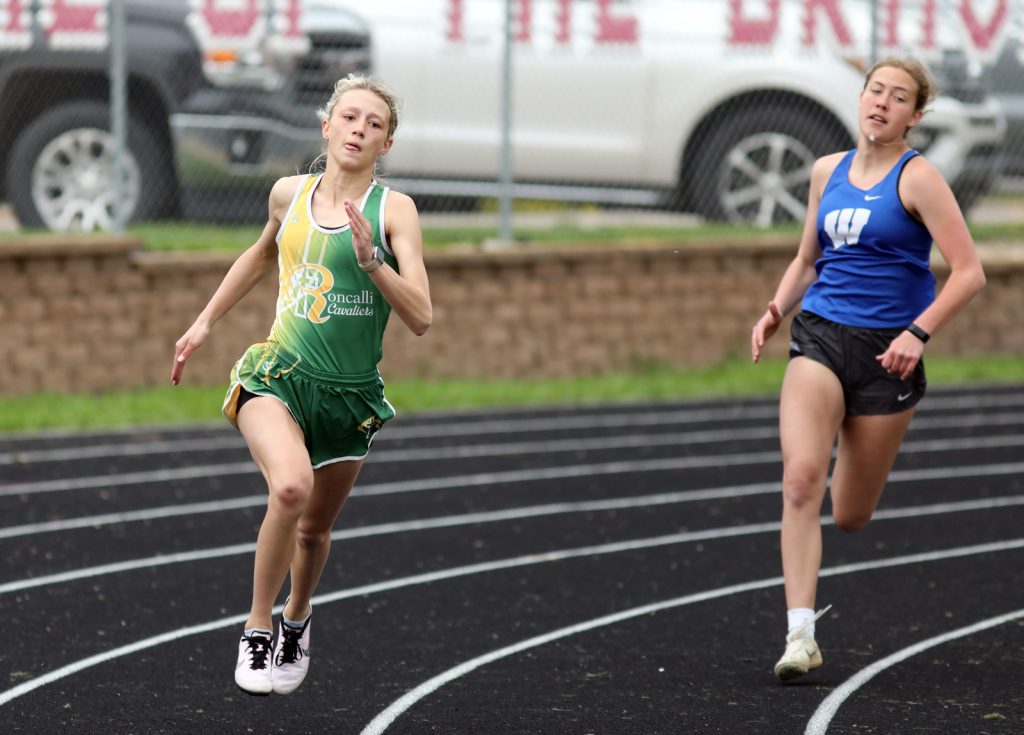 While the sophomore does compete in a few open events, she said she likes the team aspect of the relay races.
"I kind of prefers relays over opens. We just bond as a team more," Feickert said. "We normally do a prayer at the beginning and it bonds us. I like being with my team and being able to celebrate together."
Several athletes had big days, like Warner's Hunter Cramer who won both hurdles races and ran on a pair of winning relay teams.
The sophomore was involved in a battle in the 300-meter intermediate hurdles before surging down the stretch to claim the victory.
"It was just pushing, pushing and pushing. I just cleared it all out of mind," Cramer said of the key to his win. "I just pushed until I got ahead of everyone. I couldn't really feel my legs, but it's more of a mindset over anything."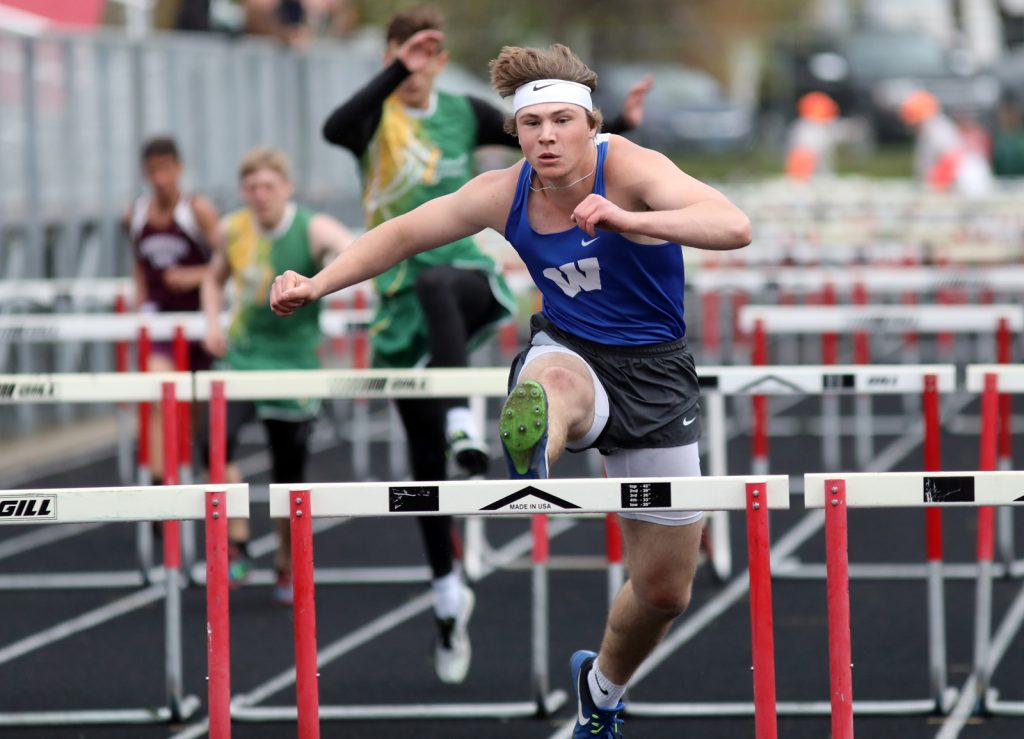 Although Cramer still trailed a competitor late in the race, he believed he could win the race to the finish.
"I was feeling good about it," Cramer said. "I was behind, but I felt I was catching him."
The Aberdeen Christian girls also won a relay race, taking the 400-meter title. The Knights were anchored by eighth-grader Ali Isakson.
"You have to trust in your teammates," Isakson said, "and you have to have good handoffs and trust that they'll get the baton to you."
That squad also featured Joy Rohrbach, Shawnteah La Croix and Payton Skarin.
Being the final runner carries an added amount of significance when it comes to relays.
"Sometimes it's like a lot of pressure," Isakson said. "I just trust that my teammates will get a good start and then I just finish."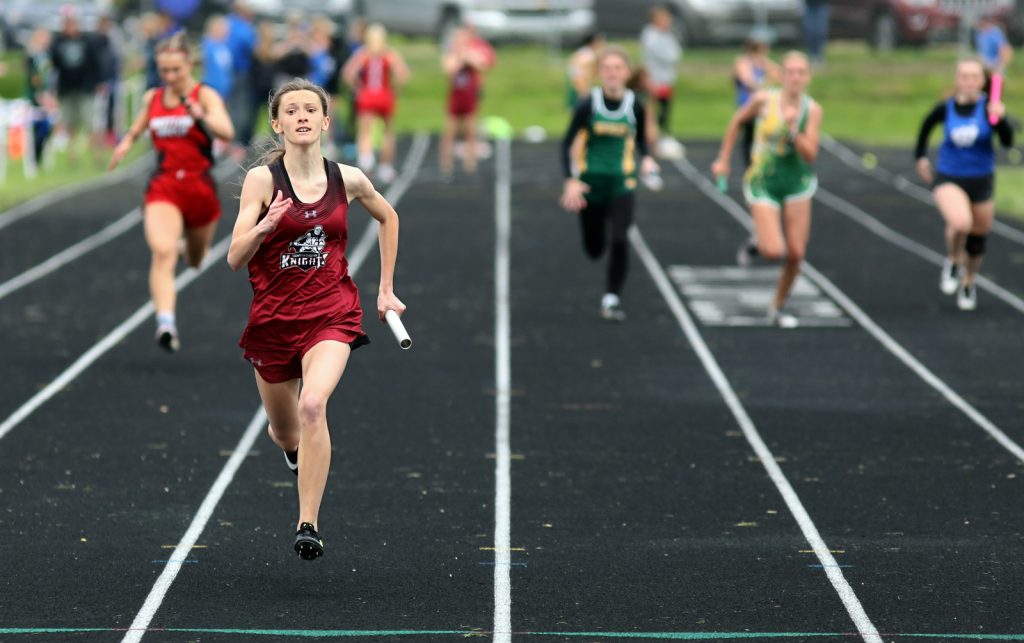 Isakson had gotten used to pressure-situations. She competed in the state meet as a seventh-grader last season and is looking forward to next week's state meet.
"There's a lot of people there and a lot of pressure," Isakson said of the experience. "You get nervous."
Roncalli won the boys' team title while Northwestern grabbed the girls' team crown. Warner was second in both divisions.
Northwestern's Jessica Boekelheide won the 100, 200 and 400 and also ran on a winning relay team. Ella Boekelheide won both the 1,600 and 3,200.
Logan Permann of Warner won both the 100 and 200 meter dashes, and Abe Kretchman of Christian won the long jump and triple jump.
"Overall, our teams had a good day," said Roncalli coach Mark Stone. "We didn't have a lot of significant changes to our top 24 performances, but we had lots of individuals that had a really successful day."
Stone said the Cavaliers will have a strong presence at next week's state meet.
"Coaching means many things and one of the most important is to help young people succeed with humility and to be gracious when they don't quite reach their goals," Stone said. "Their value to our teams is not measured with a number, a distance or a time."
The Christian squads also had a solid day.
"I'm just happy to have a good weather day and to see a lot of bests from kids again," said Knights coach Sam Bjorkman.
He pointed out the performance of eighth-grade sprinter La Croix who competed against two of the top sprinters in the state on Thursday.
"Shawnteah just continues to get better almost every meet," Bjorkman said. "She's really starting to race when it comes to running against some of the older girls, (Jessica) Boekelheide and Fiedler. It's fun to see."
To see complete meet results, click on the following link:
https://www.athletic.net/TrackAndField/meet/449880/results/all