SIOUX FALLS – It was unpredictable, it was unlikely and in the end, it was unbelievable.
Aiden Heimann of Aberdeen Central won a state championship in the 300-meter intermediate hurdles despite trailing nearly the entire race during the Class AA portion of the State Track and Field Meet at Howard Wood Field on Saturday.
Heimann ran in lane one and seemed to go unnoticed until coming down the home stretch. That's when things got interesting. Leader Jeremiah Donahoe of Brandon Valley went down, opening up an opportunity for the rest of the field.
"Coming into this in lane one, we knew no one was going to think anything of me. I was focusing on the hurdles the whole away," Heimann said. "It was right about the third to the last hurdle there I saw Donahoe fall. I don't know, something just came out of me. I was able to get so much more energy from that."

From there the junior used his sudden burst of energy to pass a foe right before the finish line to record the victory in a time of :39.96.
"The guy who got second place was in front of me all but until the last hurdle, which is like 5-10 meters from the finish line," Heimann said.
Heimann's finish was only fitting, according to Central boys' coach Greg Murley.
"It's one of those things where hard work gets rewarded," Murley said. "He's a kid at 6 o'clock a lot of nights is just finishing up. You never see him complaining, and you see him being pretty meticulous about what he's doing with those hurdles."
Central's top finisher in the girls' division was Ciara Frank, who tied for sixth place in the high jump.
Frank had to deal with all of the distractions that took place around the track to focus on her attempts.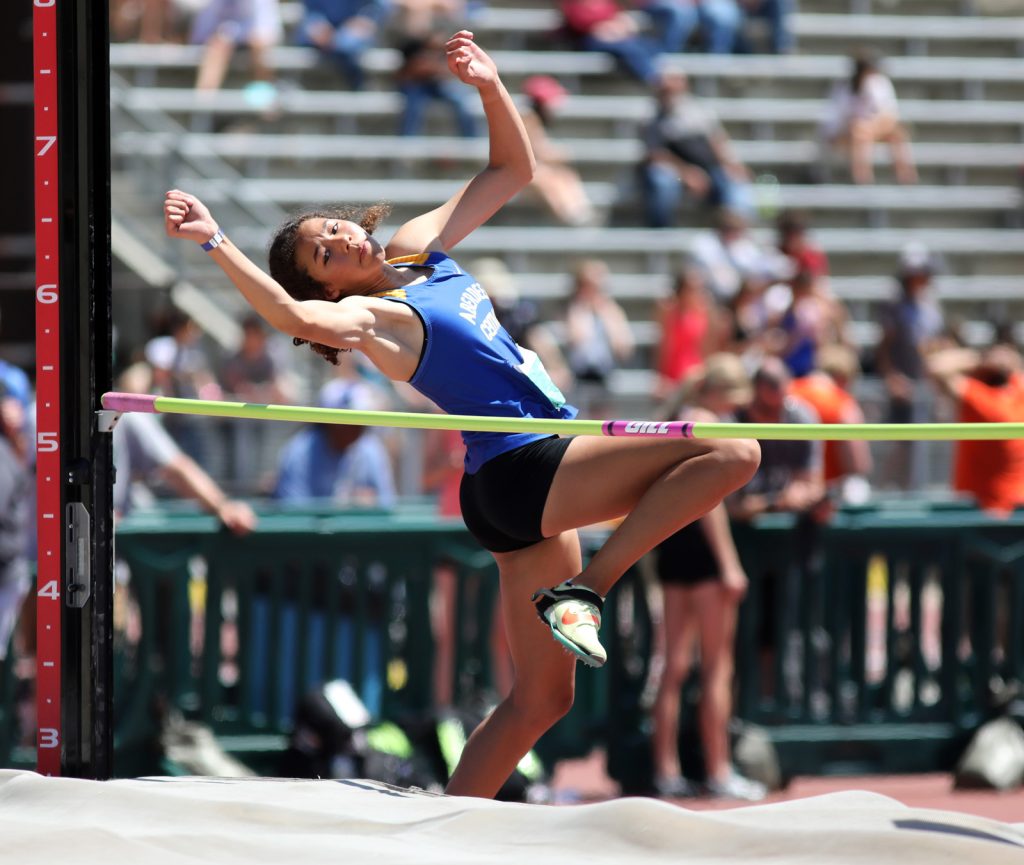 "It gets pretty loud, especially when people are racing on the track when we're trying to jump," Frank said, "so I usually just try and wait until they pass by and then I'll go."
The sophomore cleared a height of 5-feet on the day.
"That's not my best," Frank said, "but I'm just happy I placed."
Drew Salfrank capped off his junior year by earning four places at the state meet, three coming in relay races where the Golden Eagles set a new school record in the 1,600-meter relay during prelims and finished third in the finals.
"We kind of joked about it as a team, thinking oh yeah, maybe we'll get the school record or maybe next year," Salfrank said. "It turned out that we were able to get it this year and it was a pretty cool feeling."
Salfrank also ran in the open 400-meter dash and finished fourth in that event.
"I think the 4X4 is my favorite event. It seems so much easier than the open 4," Salfrank said. "But the open 4 is pretty fun when you can go out and compete against guys, and do your best and win."
The Central boys finished fourth in a tightly contested team race, despite having a few things not go their way during the three-day meet.
"Coming into the meet we thought if we had a perfect meet that we'd have a chance," Murley said, "and I still think that."
Murley said his athletes are a special group of kids who show strong character.
"That's really important," Murley said. "They represent Aberdeen really, really well."
The Central girls ended up scoring in multiple events on Saturday including a pair of relays which were kick-started by lead leg Abby Witte, who tries to set the tone right from the start.
"I think it's really important," Witte said of getting off to a solid start, "because if you come in last or near the end, then your teammates are going to lose morale."
Witte often finds herself running in lane one, which means she trails the other runners the entire way because of a staggered start.
"Being in lane one, makes you feel like you're in last, and it looks really bad for the first runner," Witte said, "but as long as it gets our team where we need to be, I'm OK with any of it."
The Golden Eagles scored in more events at state this year than last year.
"We placed in four events today, exactly what we were looking for, which is excellent," said Central girls' coach Jim Appl. "So five events this year, which is arrow up from last year."
Everybody who placed this year will be coming back to the squad next year, signaling a bright future for the squad.
"We have to keep building and building and keep improving," Appl said. "We did that all weekend long and all throughout the year. I just can't be more proud of these kids."
To see complete state meet results, click on the following link: