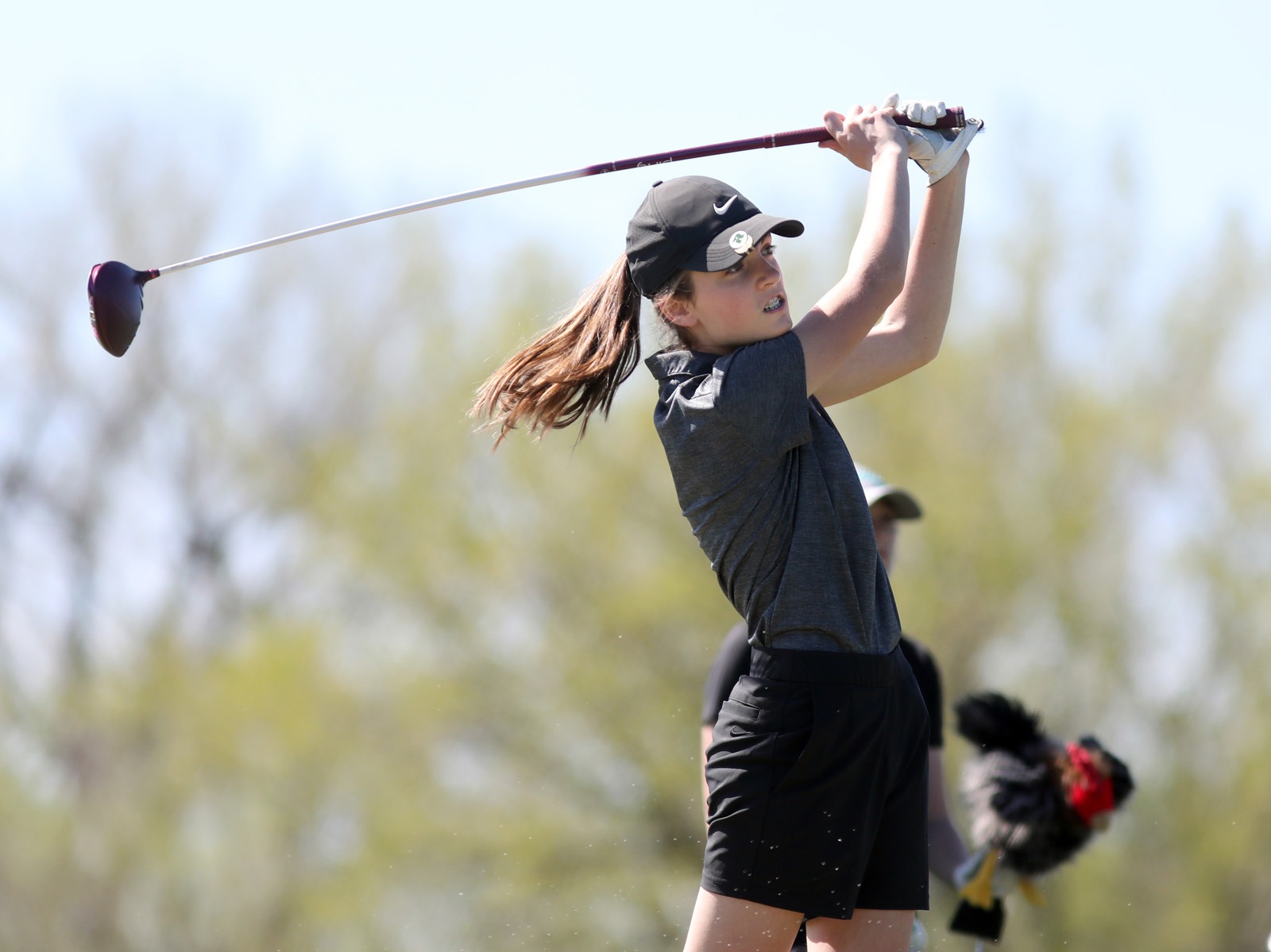 Aberdeen Roncalli came out on a mission and it's safe to say the Cavaliers accomplished it.
Roncalli won its first Northeast Conference girls' golf tournament championship since 2012 on Monday at Moccasin Creek Country Club.
"We had a little swagger going into today," said Roncalli coach Kerry Brandenburger, "so I'm pretty excited about that."
As the regular season winds to a close, Brandenburger feels it is time to get serious on the course.

"We feel like our post season starts today. That's where we wanted that swagger," she said. "We wanted some hardware today and we got it."
The Cavaliers finished with a total of 413 to run away with the team title. Roncalli eighth-grader Claire Crawford took medalist honors with a career-best total of 86. Teammate Margaret Anderson finished third with a career-best score of 94.
Crawford was a model of consistency all day long. She had identical scores of 43 on both the front nine and the back nine.
"After the first nine I added up my front nine score and I had a 43," Crawford said. "I thought well, OK, just stay in the 40s and you should be good."
Crawford was able to stay away from big numbers by staying away from trouble.
"Just stay out of the hazards, stay away from the extra strokes and keep moving," she said.
Brandenburger pointed out that Crawford never gets too excited on the course. Her even disposition plays a key role in her performance.
"I knew when she made the turn, when she showed me her scorecard, it was going to be a special day for her. She's a very confident player," Brandenburger said. "She's just so steady. The bad hole doesn't get her down for four or five holes. She's just so steady, so confident, so good. She knows what club to pick at the right time."
Crawford said a couple of variables worked in her favor like the weather and playing her home course, but in the end it was her mindset that may have been the biggest difference.
"I'm sure home course helps," Crawford said, "but just staying focused, taking one shot at a time and not getting too frustrated after a bad shot."
Brandenburger also noted the play of Anderson, who was instrumental in helping to secure the team title.
"She played very steady as well," Brandenburger said.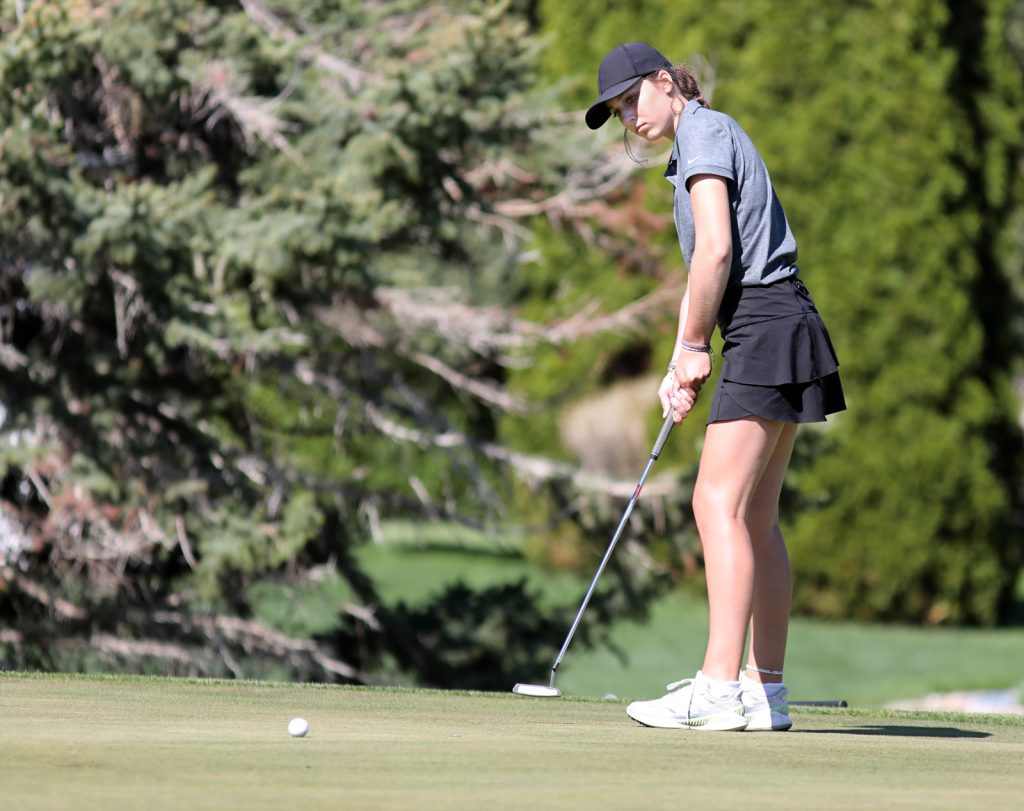 Groton's Carly Guthmiller finished runner-up with a 94.
Roncalli's Grace Seyer finished sixth with a 105, while Ava Danielson had a 128.
Brandenburger said her players are peaking at the right time of the season. That showed with the team's first conference crown in a decade.
"We knew we had a shot at this," Brandenburger said, "because we just played here two weeks ago and we had a great team score that day."
The Cavaliers are scheduled to compete in a tourney at Sisseton on Thursday, weather permitting. Roncalli then has its region meet next Thursday before the state tournament.
Brandenburger believes the squad will be able to build upon Monday's performance as it heads into the biggest meets of the season.
"That was my thought process the whole way," Brandenburger said. "Let's get psyched up. Let's get excited for today and then hopefully that will carry over."
Team Points: Aberdeen Roncalli 413, Milbank Area 471, Groton 477.
Top 15 Individual Results
1, Claire Crawford, Aberdeen Roncalli, 86; 2, Carly Guthmiller, Groton, 94; 3, Margaret Anderson, Aberdeen Roncalli, 94; 4, Ashlyn LaFromboise, Sisseton, 97; 5, Marion Mischel, Milbank Area, 105; 6, Grace Seyer, Aberdeen Roncalli, 105; 7, Addy Evans, Redfield, 114; 8, Shaylee Schuchard, Milbank Area, 117; 9, Emma Schinkel, Groton, 121; 10, Ella Kasuske, Milbank Area, 121;
11, Shaylee Peterson, Groton, 123; 12, Marie Weller, Redfield, 124; 13, Jaclyn Wiik, Milbank Area, 128; 14, Ava Danielson, Aberdeen Roncalli, 128; 15, Camila Monroy, Milbank Area, 130; 16, Cecelia Suchor, Redfield, 133; 17, Carly Gilbert, Groton, 139; 18, Saige LaFromboise, Sisseton, 151.