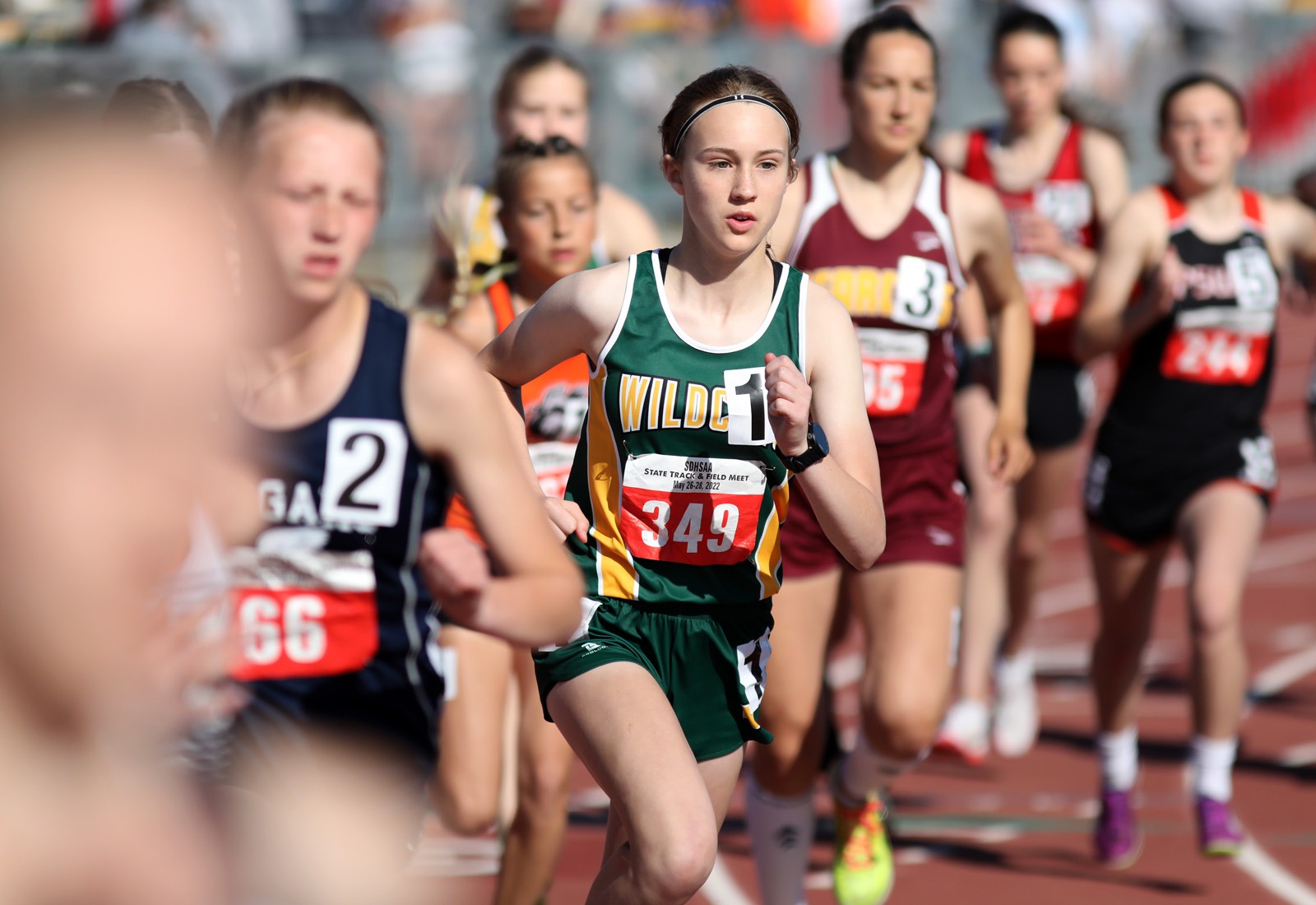 SIOUX FALLS – The State Track and Field Meet was less than 15 minutes old Friday morning when Ella Boekelheide sent a wake-up call to the rest of the Class B 3,200-meter field at Howard Wood Field.
The eighth-grader grabbed the first state title of the day at around 9:15 a.m. by pulling away down the stretch during the State Track and Field meet.
"It's a little early," Boekelheide said, "but you can't let that stop you because everyone is racing at the same time."
The defending State B cross country champion actually trailed for a brief time in the middle of the race before she felt like the pace was a bit too slow for her liking. That's when she took over.
"During the middle of the race I was a little concerned," Boekelheide said, "but at the end you just have to be confident in your training and you just have to go with it."
Boekelheide decided to make her move with about two laps remaining and then ran away from the field for the victory in a time of 11:33.48. As she often does, she checked her watch for lap splits, and noticed it was time to go.
"That's what I did until about the last 800 to go," Boekelheide said. "I saw we were kind of getting off pace a little and that's when I usually kick, so I thought it was perfect and just went with it."
Brenden Begeman placed in an event for the second straight day.
The Herreid-Selby Area junior finished fourth in the shot put one day after taking second in the triple jump.
Shot put and triple jump are a unique combination, one that Begeman tries to balance with his physique.
"There's a lot going into it. For me, I think about my weight," Begeman said. "If I get my weight up, it will make me better at shot put, but then if I lose weight it will end up making me worse and better at triple. I try to maintain a balance and make sure I'm in between, so I can be successful in both."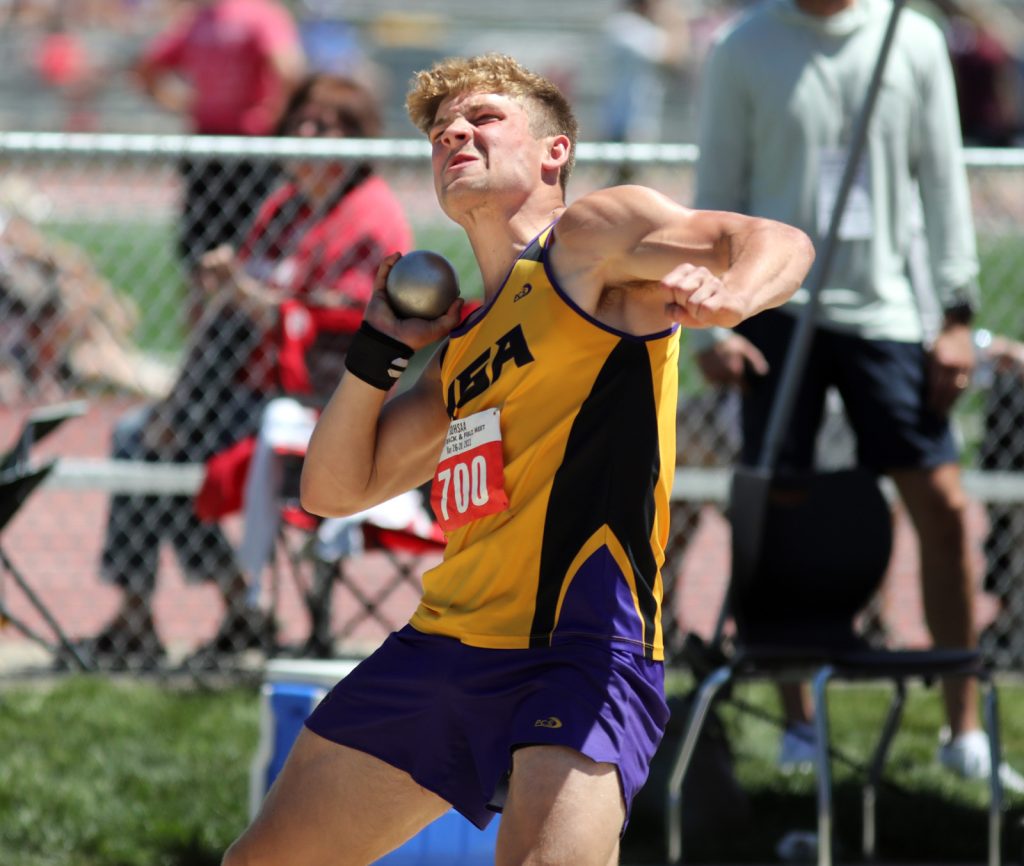 Begeman said the mental preparation is the same for both events, despite their obvious differences.
"The mindset is pretty well the same," Begeman said, "basically just stay explosive and quick in the ring (in shot put), and explosive and quick while you're taking off and cycling your legs through in the triple jump."
Begeman had a busy day, also competing in the 200-meter dash and running on the 400-meter relay squad.
He plans to make a few adjustments for next season and maybe add another event or two.
"I might try and learn the spin technique for shot put over the summer if I have time," Begeman said, "and I might try discus, too."
While the majority of the running events on Friday featured prelim races, that didn't mean they were any less competitive than finals.
Potter County was hooked up in a major battle during the 1,600-meter relay as Rayel Persoon ran the second leg in the event. The eighth-grader reeled in her opponent to give the Battlers momentum heading into the second half of their race.
"I just kept her in my eyesight," Persoon said, "and I knew that I would get there if I just kept my mind focused and didn't' let anything get in my way."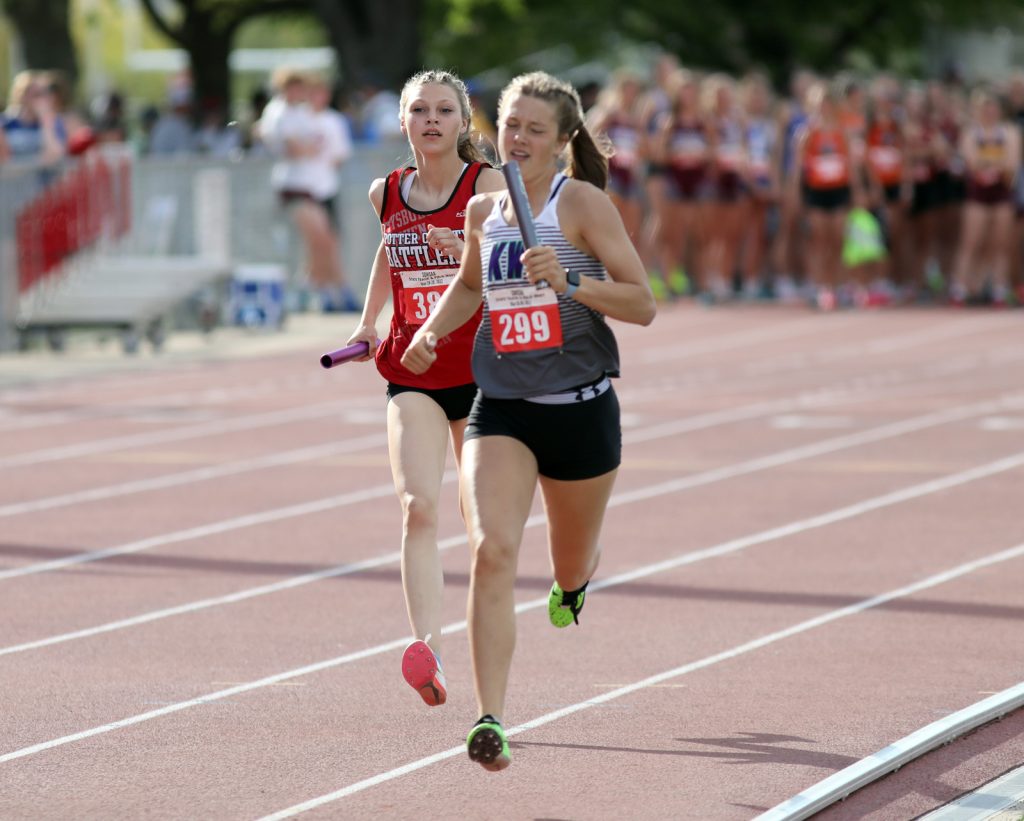 Persoon knew she just had to keep things close and give her teammates a chance the rest of the way.
"I knew that if I got it as close as I could, my team would finish it out for us," she said.
That's exactly what happened as the Battlers clocked the fastest time heading into today's finals with a time of 4:09.79.
The squad had the top time coming into the state tourney as well.
"There's quite a bit of pressure on us," Persoon said. "We just keep God in our heart. We pray before every single meet, before and after, and we just give it our all every time."
Now, the Battlers have a chance to finish things off in the finals later today.
"We're excited," Persoon said. "We're ready to have some competition with us and we're ready to get going."
Another athlete came in with a top time and he converted it into a state championship.
Kaleb Foltz topped the field to win the 800-meter run with a personal record time of 1:59.73.
The sophomore from Rosholt was sixth in the event last season.
"I dropped five seconds this year," Foltz said. "I feel I've matured a lot. I did a lot of weight training, lifting and stuff like that."
He said it also helped that he competed in front of a large crowd that cheered him on down the stretch.
"I love that feeling of the crowd," Foltz said, "just chasing them down. That 250 (mark) is where I really feel I strive."
Foltz, who also competes in cross country, has found the short race to be his liking.
"The 800 has been the best for me this year," he said. "With that weight training, again, I've grown stronger so I get that better kick in."
And there was no doubt he got a kick out of winning a state title.
"It's really awesome," Foltz said. "It feels amazing."
Aberdeen Christian had a lighter day, but still made its presence felt.
Shawnteah La Croix qualified for the finals in the 200-meter dash and did so in record-setting fashion.
"It was her first time to break 27 (seconds)," said Knights coach Sam Bjorkman. "She set a school record in the 200 with a :26.81. One of her goals for this year was to place in the 200, so making finals was very fun to see."
Christian had three girls who competed in the 3,200-meter run and all ran personal records, led by Rachel Beaner who set a school record of 12:34.37. Beaner was 12th, while teammates Grace Steger and Katie Steger were 14th and 15th, respectively.
Aberdeen Roncalli also had a bit of a lighter day, but is set up to score points when action resumes today.
Morgan Fiedler will be competing in the 100 and triple jump, Paige Schmidt will be in the 1,600-meter run, and the Cavaliers qualified for the finals in the boys' 1,600-meter relay.
"One of the privileges and responsibilities of a coach is to remind their athletes to simply do their best," said Roncalli coach Mark Stone. "Sometimes your best effort earns a medal. Other times that best effort may not earn a medal. But in the end, if it is your best effort, that's all we can ask for and something to be proud of. We are proud of our kids and looking forward to (Saturday)."
To see meet results, click on the following link: