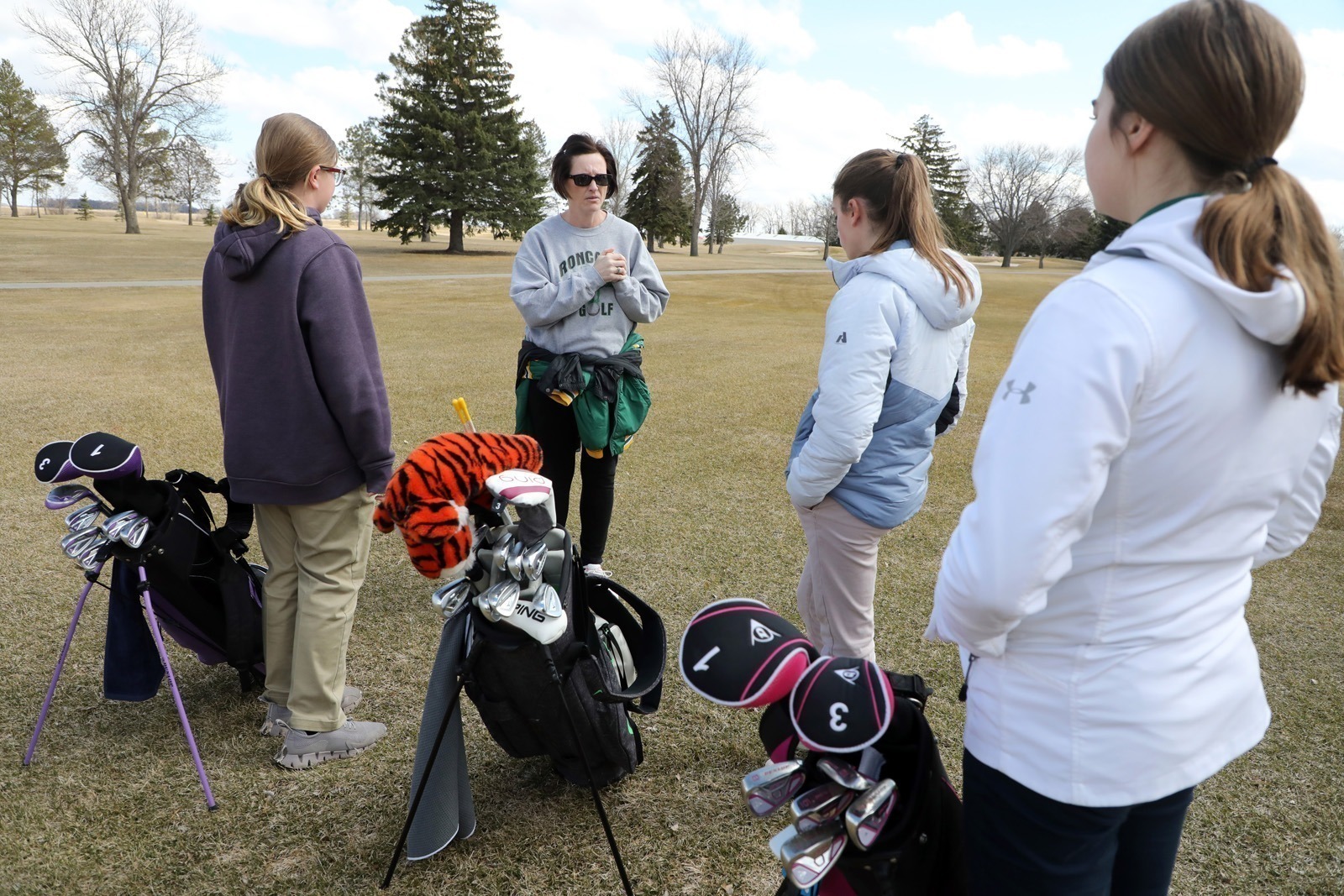 The Aberdeen Roncalli girls' golf team might be young, but the Cavaliers have learned a valuable asset while out on the course.
Regardless of how things are going, the girls manage to keep their emotions in check, something not always easy to do in the sport of golf.
"I think that their strength is the fact that they let things roll off of them," said Roncalli coach Kerry Brandenburger. "They're not really too uptight about things. If they have a bad hole, they pick up and they go to the next hole."
That is a remarkable accomplishment considering that the team's oldest member is just a freshman.
"These girls are very good about moving on," Brandenburger.
The team's top returning player is Claire Crawford. The eighth-grader just missed placing at last year's State A tournament, placing 26th.
The team's lone freshman is Margaret Anderson. Other eighth-graders include Ava Danielson and Grace Seyer.
While the Cavaliers are short on upperclassmen, they are not short on talent, according to Brandenburger.
"I have a freshman, three eighth-graders and then I have some sixth graders, and every one of them has played golf, have played the summer program in Aberdeen, so that we're not starting from the basics," Brandenburger said. "We're not starting from how to hold a club. These girls are good."
Because most of the girls played for Roncalli last season, they know what to expect from Brandenburger and she has a good idea of what she will get from them.
Brandenburger said she tends to let the girls figure things out on their own during meets.
"When we're at a meet I'm kind of a hands-off coach," she said. "I let them work through it a little bit, maybe meet them at a turn, give them some support, hugs, high fives, things like that."
Like most golf squads, the Cavaliers haven't had much a of a chance to be outside this spring. Their season opener set for Tuesday has already been canceled.
Brandenburger said the team hasn't talked much about goals for the upcoming season so far.
"We don't really set goals, yet. The girls would tell you that they want to go to state, obviously. That's their goal," Brandenburger said. "My goal is to always make it fun and make sure they learn something."