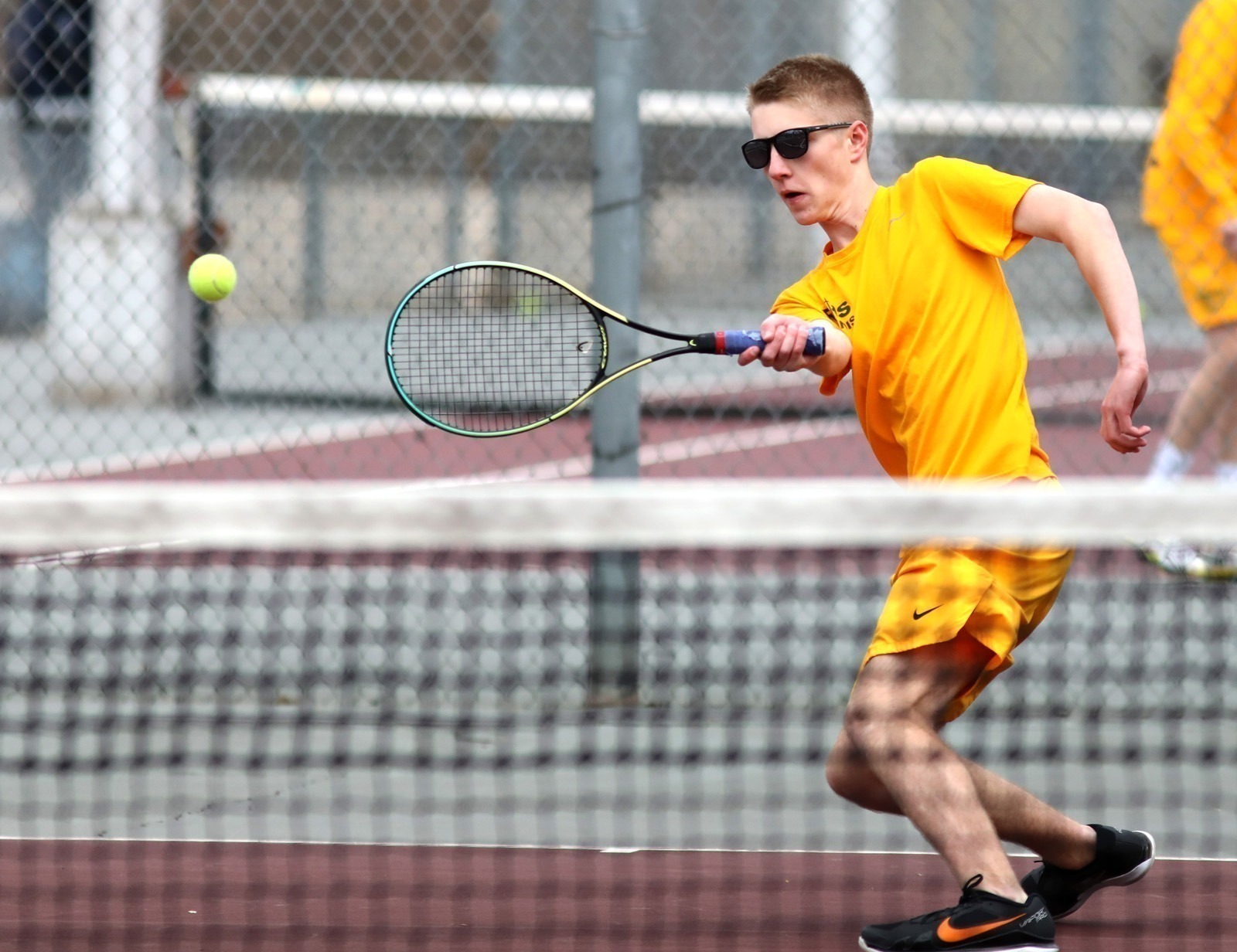 HURON – The Aberdeen Roncalli tennis team battled harsh conditions on the way to a tennis split in Huron on Tuesday. The Cavaliers scored a 9-0 victory over Milbank Area before dropping a 7-2 decision to Huron.
Winds were sustained at 30-35 miles per hour with stronger gusts, and wind chills in the low 20s when Roncalli faced Milbank, according to Roncalli coach JD Carrels.
"Definitely one of the coldest duals I've been apart of," Carrels said. "We had kids playing matches in winter coats, hats and gloves. But, power to the boys, they all battled the conditions head on and they all got wins."
The closest match came at number two singles where Cason Hellwig pulled out a 10-8 victory.
"Cason struggled to find his rhythm early and then got in a battle where neither player was able to win a game while playing with the wind until Cason found himself serving with the wind and up 9-8," Carrels said. "He knew he had to switch up his game as he'd lost the last six games playing with the wind, so he went back to the basics. He got his first serves in, kept the ball in play, and he came out with a victory."
The Cavaliers managed just two wins against Huron. While the temperatures warmed up a bit, the wind got even stronger, Carrels noted.
Palmer Johnson recorded a victory at number four singles, closing with a flurry for a 10-6 win.
"Palmer Johnson battled early on trading games back and forth until he found his rhythm and rattled out five games in a row to get the win," Carrels said.
Roncalli's number three doubles team of Landon Zikmund of Sawyer Henrich also grabbed a victory, as they "played some of best tennis they'd played all season," Carrels said. "They played loose and aggressive for the entire match, which is hard to do especially playing in such high winds."
The Cavaliers are scheduled to host the annual Rezatto Rumble on Friday and Saturday, weather permitting.
Aberdeen Roncalli 9, Milbank Area 0
Singles
Daniel Gamboa, AR, def. Bennett Street, 10-0.
Cason Hellwig, AR, def. Joe Schulte, 10-8.
Mason Carrels, AR, def. Gregory Grabow, 10-4.
Palmer Johnson, AR, def. Charles Whitesitt, 10-3.
Landon Zikmund, AR, def. Will Shanza, 10-5.
Sawyer Henrich, AR, def. Daniel Shelstad, 10-2.
Doubles
Gamboa-Carrels, AR, def. Street-Schulte, 10-2.
Hellwig-Johnson, AR, def. Grabow-Whitesitt, 10-3.
Zikmund-Henrich, AR, def. Shanza-Isaiah Korjstens, 10-0.
Huron 7, Aberdeen Roncalli 2
Singles
Roger Puterbaugh, H, def. Daniel Gamboa, 10-4.
Haykla Moo Taw, H, def. Cason Hellwig, 10-5.
Dan Moo, H, def. Mason Carrels, 10-1.
Palmer Johnson, AR, def. Lauy Kue Say, 10-6.
Lah Doh Soe, H, def. Landon Zikmund, 10-2.
Moo Gay, H, def. Sawyer Henrich, 10-1.
Doubles
Puterbaugh-Taw, H, def. Gamboa-Carrels, 10-2.
Moo-Say, H, def. Hellwig-Johnson, 10-5.
Zikmund-Henrich, AR, def. Soe-Hser Wah, 10-7.