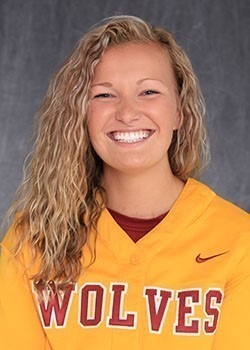 Aberdeen Central will add a softball program next season and has a head coach that can't wait to get started.
Cassidy Schaar, a former Northern State player and assistant coach at Presentation, will be the team's first head coach. The Illinois native is excited about her new position and also about the fact the softball is expanding to the high school ranks in northeast South Dakota.
"It's just an out of this world feeling to see that there's opportunities for female athletes to come to this area and really give them something different to do, something to invest in, something to look forward to in the spring," Schaar said. "It's a feeling I can't quite put into words yet just how special it is."
Softball has been a club sport that has grown in popularity, particularly in the southeast part of the state.
The South Dakota High School Activities Association voted to make softball a sanctioned sport this past winter with play scheduled to begin in the spring of 2023.
Schaar said there were about 240 girls locally that showed an interest in the sport from a survey taken at Central.
She is not quite sure where the Golden Eagles will have their home games, yet, but is hoping to work something out with Northern to be able to play on its brand new field.
Schaar competed for the Wolves and said softball has always been a big part of her life.
"Softball has always been something that provided for me whether it be mentors, friends, other coaches, experiences. Whatever it is, softball have always provided me with everything," Schaar said. "Through all my experiences and everything that I've been able to get from softball, I feel like I'm in the position now where I get to give to softball. I couldn't ask for anything more special than that."
While building a program from ground zero may seem like a bit of a challenging task, Schaar said the key piece is already in place for Central to have a successful softball program.
"I know the softball part might be from scratch, but the biggest part of our foundation is this community and the faith and the investment that people put into Aberdeen," she said. "That's the hardest piece of the puzzle and we have that."
While Schaar has previous coaching experience as an assistant at PC, being the first ever coach of a brand new program is something much different.
Schaar said she can't wait to get started.
"I think my excitement overpowers my nervousness. I have the support from everybody I need support from. Their confidence in me allows me to be confident in what I'm doing," Schaar said. "With all of those resources I can't help but just be smiling from ear to ear. I have a dream right in front of me and I'm excited to get going on it."