Players grow up dreaming of playing in a state basketball tournament. Some get the rare experience of playing in multiple state tourneys. Then there are the Marshall brothers who literally have grown up at the State B boys' basketball tournament at the Barnett Center.
They are they sons of White River coach Eldon Marshall, who has guided the Tigers to 17 straight state tournaments.
Dylan, now a senior, started coming to tournaments at the age of 1, while his brother, Nicolas, now a sophomore has never missed one.
"They're either on the bench or right across the court from us when they were too little to be on the bench. They've been here since the get go," Eldon said. "It's been a great experience for them I'm sure, and even a greater experience for them to be able to play now."

The Tigers have made the trek to Aberdeen each March. It just seems like it's the natural thing to do.
"After we won our Sweet 16 this year, we were thinking about it, and I've been here since I was 1. Like every single one that my dad has come here," Dylan said. "I've been on the whole journey, so this is like another home to us. It's just kind of crazy."
Nic has never missed a State B tournament. He said his favorite tourney was last year, because he got to compete in it as a player for the first time.
Because the Tigers have become regulars at the event, they sometimes don't always show the emotion of other squads who qualify for the Big Show.
"I just grew up coming here every single year," Dylan said. "My mom always gets mad at us, saying we don't celebrate after winning our Sweet 16 because we come here every year, but we do need to take recognition that we are here every year and it's a big thing that we have made it this far."
While it would be easy to see why the Tigers may take qualifying for the state tournament for granted, Eldon believes his sons understand the significance of the situation.
"It takes a lot of work, and it is special. It is a special deal to be able to be a part of it," Eldon said. "I think they know that though. I think that's why they put in the work that they do to train, because they've had that taste and they want more of it. They put in the work, even more so now as players."
And when you grow up in White River, playing each year in the state tournament has pretty much become the normal expectation.
"We talk about what it takes to get here and all that," Nic said. … "If you go to White River you're expected to go, so there's some pressure added to it."
How long will the streak continue? That's hard to say, but the current members on the squad hope it doesn't end anytime soon.
"That's kind of crazy when you think about it, because not everyone gets to do this," Nic said of playing in so many state tournaments. "We just have a tradition going and we're just going to keep it going as long as we can."
– Dave Vilhauer
Outside Shooting Reigns Supreme
De Smet coach Jeff Gruenhagen is in his fifth season in charge of the top-seeded Bulldogs and has articulated one of the main evolutions of the sport over recent years: the significant increase in 3-point shooting. With the influx of outside shooting, Gruenhagen has had to adjust both his offensive philosophy and his defensive game plans.
"I was brought up that you try and get the ball inside and closer to the rim because it's higher-percentage shots," said Gruenhagen. "Now, you find your team taking as many 3-point shots as 2-point shots, so I've had to incorporate more shooting drills into my practices to make us better percentage shooters."
The game has also evolved on the defensive side of the ball in order to protect the 3-point line.
"If a team has a big post player, it is hard to double-team in the post because you have to get out and guard the 3-point line," Gruenhagen said. "So many points come from behind the line right now, and that's one of our focuses defensively, whether it's switching screens or hedge screens hard to take away that shot a little bit."
Gruenhagen said that the trend of teams relying heavily on outside shooting is because shooting is one aspect of the sport that does not rely on a player's speed, size, physicality or ability to drive to the basket.
"If you're a good shooter, everyone has to respect that."
– John Jacklin
Dominance Put to Test
The 2022 State B tournament features six 20-win teams, including the Potter County Battlers who arrive in Aberdeen with a 22-1 record on the season and hold a 16-game winning streak. Despite tying the top seed and reigning champions De Smet in the wins and losses columns, Coach Bryce Hall's group earned a four seed, which reflects the dominance and quality of the rest of the field.
"There's a good balance," noted Hall. "Every team has some scorers and every team has some bigs.
We're not that big, but we have good balance across the floor."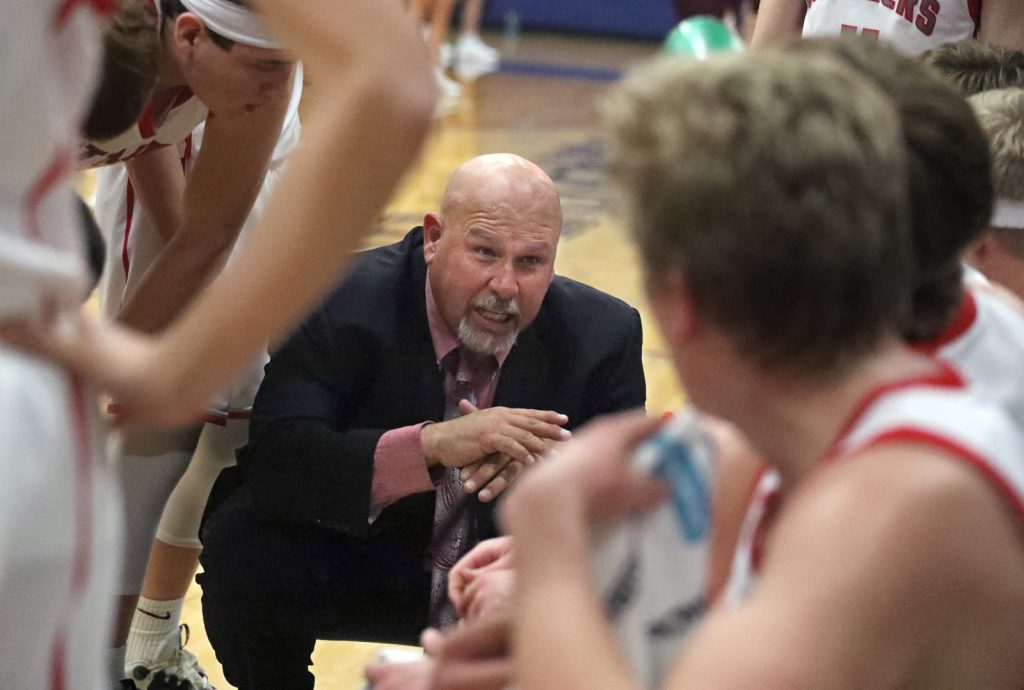 The Battlers' only loss came in January on the road against Aberdeen Christian, their first-round opponent.
"We could easily come in with four losses, too," Hall said. "We weren't playing that well in December and January. We were playing for a higher seed, but No. 4 is good, it means we've competed well."
Since their defeat to the Knights, the Battlers are unbeaten, winning all but one game by double-digits.
With a high-powered offense, Potter County cashes in on its momentum, but can sometimes concede large leads.
"We just need to be consistent, and we need to stack minutes together," said Hall. "We can't be a 12- minute team, we need to be closer to a 24 or 26-minute team."
– John Jacklin
Comeback Castlewood
The Castlewood Warriors appeared a long shot for the Class B tournament early in the season, starting 4-5. To make matters worse, Castlewood lost junior forward and key contributor Carson Kirwan to a torn ACL midseason.
However, the Warriors crawled their way into tournament contention by winning 12 of their last 13 games. Despite not being able to contribute on the court, Kirwan's leadership and positive attitude through the season-ending injury helped fuel the team's success in the latter parts of the season.
"It sucks, but it is what it is," stated Kirwan. "I'm still going to go out there and cheer on my teammates."
Kirwan has also spent the last month working with his teammates during practice, specifically the frontcourt. "I'm here for support and giving guys like Bryan Laue some post moves."
The Warriors defeated Burke last week 61-39 in the round of SoDak 16, punching their ticket to Wachs Arena for the first time since 2012. Kirwan will be on the bench serving as an emotional leader for the young starting lineup void of tournament experience.
"Most people didn't think we were going to make it," Kirwan said, "so it's crazy being here and I'm excited."
– John Jacklin
March basketball exciting as player and coach
This is the first state tournament experience for the Freeman Academy-Marion boys' basketball cooperative. Marion has been to a handful of state tourneys, the last coming in 1999, while Freeman Academy has never made it.
Bearcats coach Austin Unruh is coaching in his first state tournament but did play in a pair of them while growing up in Kansas.
"Playing in high school twice at the state championship level was some of my top memories," Unruh said. He said playing in a state tournament ranks right near the top of milestone moments like getting married and having kids. "It truly was an amazing experience."
Now, the Bearcats will get to share that same experience.
"I'm just so happy these kids get to experience the same feeling, and the excitement of the community just rallying around. There's just something special about basketball in March," Unruh said. "I grew up around it. It's just something really, really special, and I am so glad that they get the opportunity to do it."
While Unruh has yet to coach his first game, he said the atmosphere surrounding this weekend's tourney is just as he recalls it as a player.
"It feels just as exciting. Obviously, I wish I could be young again and fly around and run with these guys, but the excitement is the same, the intensity and the opportunity to go do something special feels the same," Unruh said. "It makes you feel like a kid again inside."
The Bearcats, who face White River at 7:45 tonight in the final first round game, are hoping to make the most of their new opportunity.
"We're here to have fun, we're here to win games, and we're here to make some memories," Unruh said.
– Dave Vilhauer