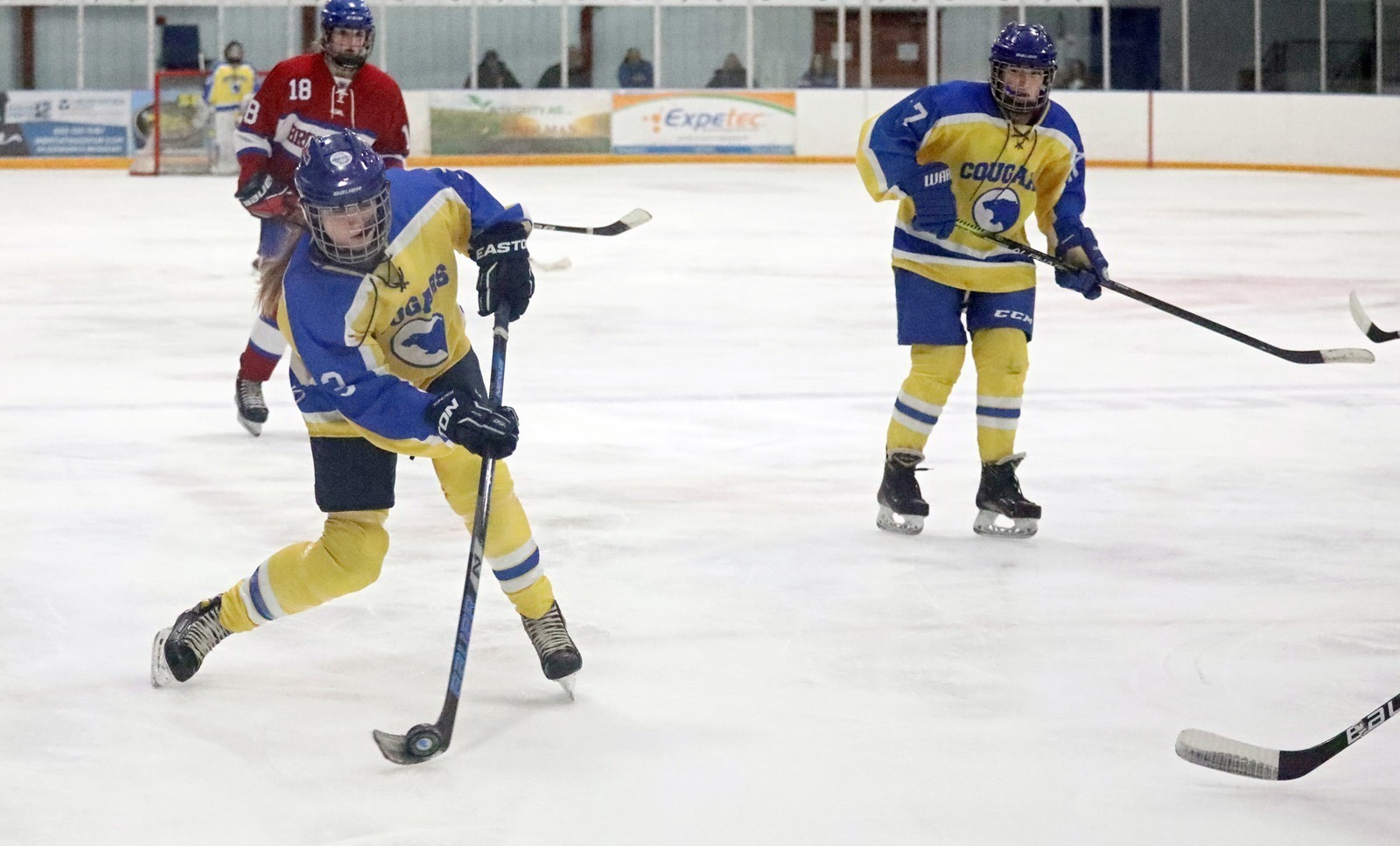 While it may have been foreign territory, the Aberdeen Cougars put forth a familiar effort Sunday at the Odde Ice Center.
Playing in something other than a state championship game for the first time in eight years, the Cougars skated past the Brookings Rangers 8-3 to grab third place in this year's State Girls' Hockey Tournament.
It was a big bounce-back victory following Saturday's semifinal loss and a fitting way to end the season.
"One of things that we talked about today was let's go out and play hockey and have fun, and I think they did," said Cougars coach Rob Weinmeister. "Obviously, when you score goals, that definitely helps, but they were supporting each other and they just had a more positive attitude."

The Rangers had a few solid scoring chances early before Addyson Keller put the Cougars up on a unique goal.
"I was just dumping the puck to get a change on the net and it took a weird bounce and it went in," Keller said. "That was my first goal this season. It was pretty insane. Honestly, I started crying because I was so happy."
After Brookings tied the game, Keller scored again followed by goals from Alyssa Roehrich and Kailyn Poppen to give the Cougars a 4-1 advantage.
The Rangers scored in the first minute of the second period and appeared to have a bit of momentum, but that was quickly erased by back-to-back goals from Alli Stoltenburg, the first coming two minutes after Brookings had scored.
"I think we just passed the puck around really well," Stoltenburg said, "and when we passed the puck around really well we had good opportunities to shoot."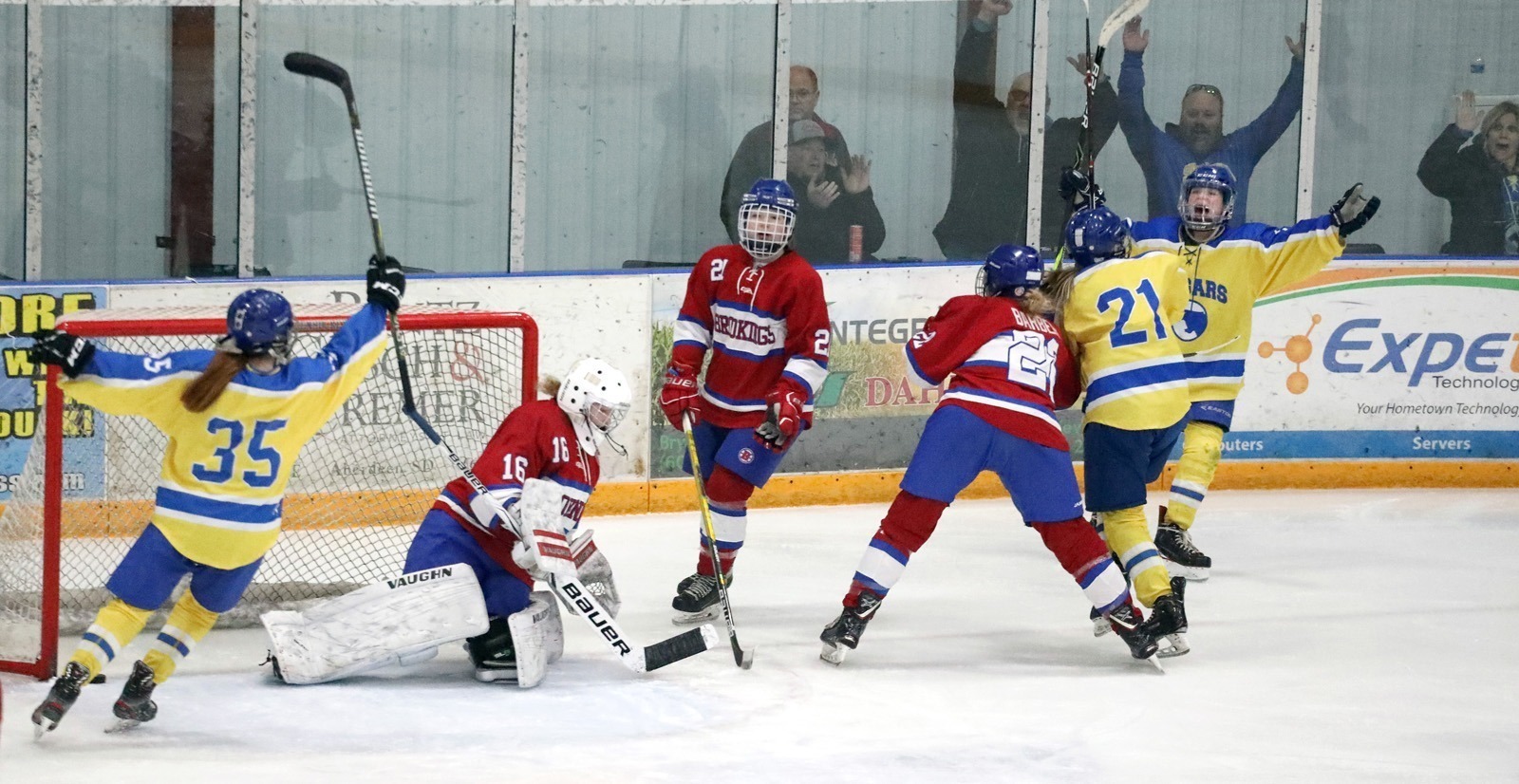 Those goals, like Aberdeen's response to the Rangers' goal in the opening period, prevented Brookings from mounting a serious comeback during the contest.
"There was a couple of times where they scored and we turned around and scored," Weinmeister said. "I think just answering that, one of the sayings is: the first three minutes after a goal is important, because the momentum either stays with that team or you can get it back. I think we were able to get some of it back sometimes, which helped a lot."
Allie Woehl scored Aberdeen's first goal in the third period before Keller capped the scoring by completing a hat trick.
Keller, just an eighth-grader spent limited time on the varsity this season, but made the most of her opportunity in the final game of the season.
"I just got a consistent amount of playing time this game," Keller said, "and I just kind of was on my game, I guess."
Aberdeen's only losses this year came to the team's playing in the title contest, where Sioux Falls capped an undefeated season with a 4-1 win over Mitchell.
The Cougars had won six of the past seven state championships heading into the weekend and were runner-up the other time. While a third place finish might pale a bit in comparison, Weinmeister was proud of his young players and what they accomplished this past season.
"Sometimes because of the standard that's been set, it's trying to keep it in perspective, too," Weinmeister said. "That's another thing that we talked about: perfection isn't reality. We're going to have failures and things aren't going to go our way and stuff, and we just have to learn to go with it and enjoy what we're doing."
Stoltenburg said those players on past state championship squads helped to pave the way for the team's current players, herself included.
"I feel like I was able to look up and see how well they played and by how well they played, I wanted to be just like them," Stoltenburg said. "I want to be able to have other people look up to me in the future."
And what a bright future it is for the Cougars, who did not have a senior on the team this year, just a handful of juniors and three sophomores in addition to a group of talented freshmen and eighth-graders.
"We're basically rebuilding," Keller said. "We have no seniors this year, so it's the same team coming back next year and hopefully we can go for first next year."
Brookings Rangers 1 2 0 – 3
Aberdeen Cougars 4 2 2 – 8
First Period: 1, AC, Addyson Keller (unassisted), 8:19; 2, BR, Taryn Richter (Miyah Foerster), 7:24; 3, AC, Keller (Rani Mattke, Aiden Raap), 6:13; 4, AC, Alyssa Roehrich (unassisted), 4:07; 5, Kailyn Poppen (Madalynn Witte), 1:21.
Second Period: 6, BR, Kinzey Grendler (Kiran Vugteveen, Savannah Barber), 16:15; 7, AC, Alli Stoltenburg (Ema Rehder), 14:13; 8, AC, Stoltenburg (Rehder), 12:19; 9, BR, Grendler (unassisted), 7:34.
Third Period: 10, AC, Allie Woehl (unassisted), 10:48; 11, AC, Keller (Raap), 3:46.
Shots on Goal: Brookings Rangers 19; Aberdeen Cougars 31.
Goalies: Brookings Rangers, Aletha Baker (10 saves) and Rorrii Quam (13 saves); Aberdeen Cougars, Ellen Orr (16 saves).