HURON – Aberdeen Christian is something of a veteran of big stage moments by now. Tuesday proved no exception, as the Knights cruised past Lyman 64-46 in the Class B Boys' Basketball SoDak 16 in Huron. The win secured Christian's third straight state tournament qualification.
"It's always a good feeling making it back to state," said Christian coach David Rohrbach. "Getting this far, obviously you want to come away with the win. I'm really proud of the guys for pulling it out."
Despite going into Tuesday's contest as the No. 5 seed, the Knights took nothing for granted against 12th-seeded Lyman, itself a state tournament participant last season. The Raiders were led by big man Toby Estes and a sharp-shooting Sam McClanahan, both of whom drew significant attention in Christian's defensive game plan.
"We really keyed in on those guys," Rohrbach said. "But then the rest of them are really good at getting to the rim, too, so we wanted to limit their effectiveness and limit them on the break, and I thought we did a good job of that."

Estes was held to just five points on a single field goal and a pair of free throws. McClanahan finished with 12 points to lead three Raiders in double figures.
But Christian responded with some offensive firepower of its own, putting all five starters in double figures by the time the night was over.
Kaden Clark and Andrew Brennen kicked off that effort with some big first-half buckets, Rohrbach said.
"(They) stepped up big time," he said. "They were both right at double digits going into halftime. By the end, we had all five starters in double figures. Obviously, we're tough to guard when you have five guys contributing to that degree."
Malek Wieker found his groove in the second half and finished with a game-best 16 points. Ethan Russell tallied 15, followed by Brennan with 12, Clark with 11 and Jackson Isakson with 10.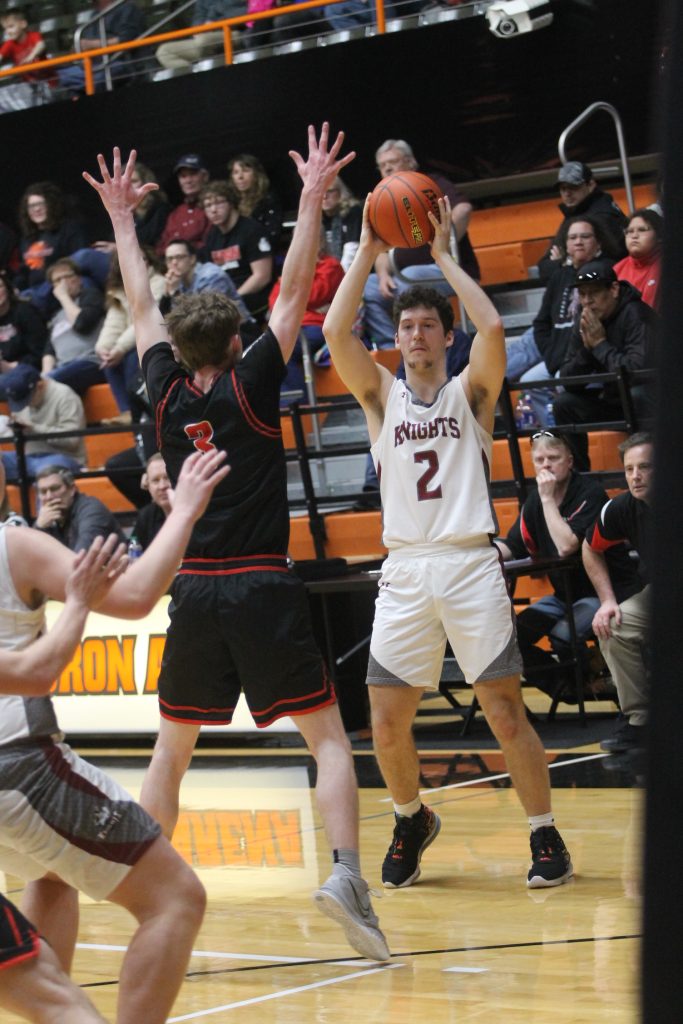 Christian will be the fifth seed in the state tournament, facing fourth-seeded Potter County in the 1:45 p.m. matchup on Thursday, March 17 at Wachs Arena. The two teams met during the regular season with the Knights prevailing 61-56 at home back on Jan. 14.
"Potter County is playing at a high level right now," Rohrbach said. "They haven't had a close game for a long time. But any time you get to state you're playing a tough opponent."
LYMAN (16-7): Colton Collins 4 3-4 11, Sam McClanahan 4 2-2 12, Stockton McClanahan 2 0-2 4, Isaac Thomas 4 1-1 10, Toby Estes 1 2-2 5, Jacob Sazue 1 2-2 4. Totals 16-35 10-13 46.
ABERDEEN CHRISTIAN (20-3): Andrew Brennan 5 0-0 12, Jackson Isakson 4 0-0 10, Ethan Russell 5 4-6 15, Malek Wieker 5 4-4 16, Kaden Clark 5 0-0 11. Totals 24-49 8-10 64.
Lyman 10 24 34 46
Aberdeen Christian 9 33 54 64
3-point field goals – Sam McClanahan 2, Thomas, Estes; Brennan 2, Isakson 2, Russell, Wieker 2, Clark. Total fouls – Lyman 8; Aberdeen Christian 10. Rebounds – Lyman 25 (Sam McClanahan 5); Aberdeen Christian 20 (Wieker 9). Turnovers – Lyman 10; Aberdeen Christian 9. Assists – Lyman 3; Aberdeen Christian 6. Steals – Lyman 8; Aberdeen Christian 10 (Wieker 4).