It was a complete role reversal this time.
Unlike their first meeting in which Potter County trailed the whole way, the Battlers forced Aberdeen Christian to play from behind en route to a 63-48 first-round win during the State B Boys' Basketball Tournament at Wachs Arena Thursday afternoon.
With thoughts of their only loss in mind, the Battlers came out on a mission.
"It was a little revenge game," said Potter County senior Grant Luikens. "I said a couple of times during the year that we want them again and beat them when it matters."

The Battlers scored nine unanswered points midway through the first quarter to grab a lead they never lost.
While Potter County was unable to gain major separation, its defense was so stout that it made making a serious charge a difficult task. The Battlers press all the time, even on their own missed baskets.
"Every game we've pressed," said Potter County coach Bryce Hall. "We've been pressing for 25 games and every game we just keep on doing it."
While the Battlers did not force a ton of turnovers, they did create the pace they wanted to take the Knights out of their offense.
"We didn't execute as well as we'd like to see. I thought they really got us out of our game at times," said Christian coach David Rohrbach. "We panicked at times, just with their traps and the pressure they put on us, and credit to them it was relentless."
There were three key plays that stood out in the contest, and they were all made by the Battlers.
Drake Bassett scored right before the buzzer to end the first and second quarters. The layups came as Christian had the ball moments earlier and was trying to get the final shots of each quarter.
"Huge momentum swings," Rohrbach said. "Those went about as good for them as it could have and about as bad for us as it could have the first quarter and the second quarter right before halftime."
The other play came in the closing minutes of the game and proved to be the back-breaker for the Knights. They had clawed their way back into striking distance and sent Luikens to the foul line down 53-48 with just more than three minutes remaining.
Luikens missed two free throws, but Seth Sharp grabbed the offensive rebound, got fouled and made both foul shots.
"He got a board when it was needed … that was a big key moment in the game that board right there and getting those two shots in," Luikens said.
Those layups at the end of the quarters and that offensive rebound proved to be vital turning points in the contest.
"Like I tell the guys all the time, just do the small things. Do the small details," Hall said. "It doesn't have to be a 7-for-11 three-point night. It could be just that one rebound on a missed free throw."
In the end, it was Potter County's pressure defense that kept the Knights from getting into a rhythm and also kept them well below their average of 60.7 points per game.
"They do a really good job of mixing up the defense. Half the time you can't tell if it's zone or man and then they switch everything. When they are in man they switch constantly," Rohrbach said. "They do a real good job with just relentless pressure and if you do dribble at someone it's an immediate trap. They do a good job of keeping you on your toes."
Luikens finished with 24 points and 10 rebounds. Bassett contributed 20 points.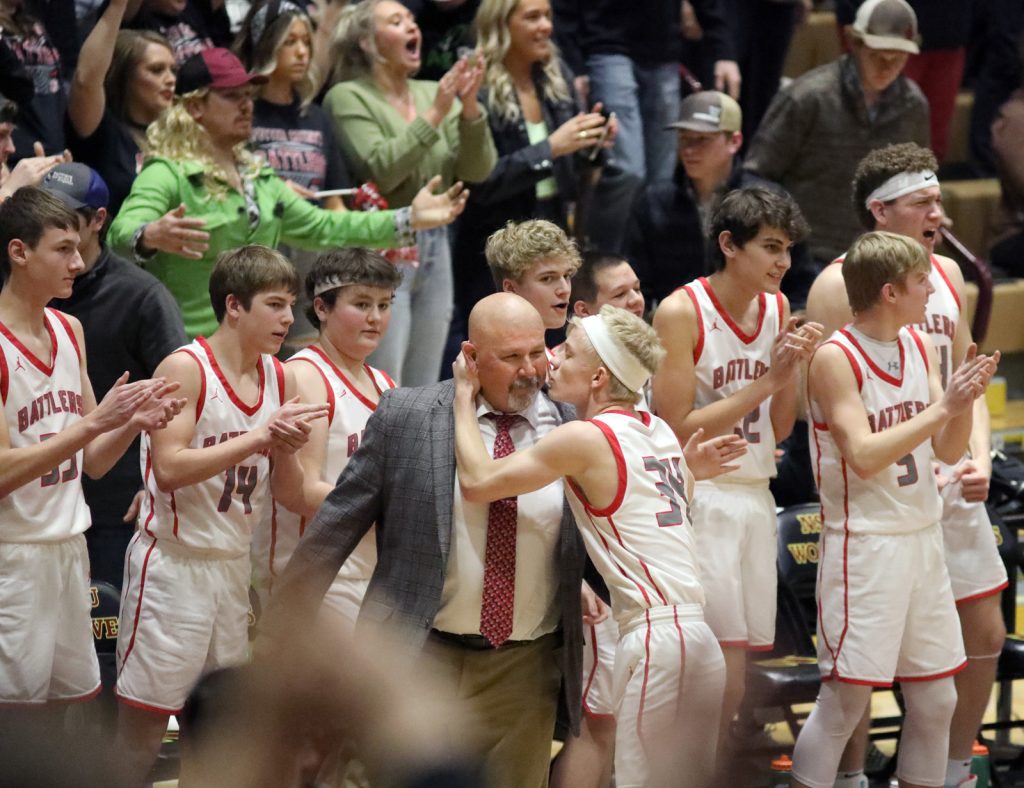 "Earlier in the season, I didn't believe in my shot," Bassett said. "Coming here, believing in my shot, and trusting in myself and trusting my teammates to feed me the ball worked out great."
Cooper Logan added 12 points and eight rebounds for the Battlers, who won their 17th straight game.
Jackson Isakson and Ethan Russell each scored 14 points, and Malek Wieker added 12 for Christian. Russell also hauled down 12 rebounds.
The Knights (20-4) take on Waubay-Summit at noon in consolation action today.
"They're a real sound team defensively, different style, but they are very sound, very solid," Rohrbach said. "We just have to make sure that we execute at a high level."
Potter County (23-1) meets top-seeded and defending state champion De Smet in the semifinals at 6 this evening.
"If you're going to be the best, you have to beat the best, they say," Hall said. "We talked about this in June. We said through team camps and then the start of the season in November, it's about getting through 20 games and getting to six, and now we have two to go. We're not going to change anything. We're going to keep doing what we do."
ABERDEEN CHRISTIAN (20-4): Andrew Brennan 1 0-0 2, Jackson Isakson 5 0-0 14, Ethan Russell 6 0-4 14, Malek Wieker 4 0-0 12, Kaden Clark 3 0-0 6. Totals 19-56 0-4 48.
POTTER COUTY (23-1): Cooper Logan 4 2-6 12, Seth Sharp 1 5-6 7, Grant Luikens 7 7-9 24, Drake Bassett 8 3-5 20. Totals 20-50 17-26 63.
Aberdeen Christian 14 22 37 48
Potter County 21 29 47 63
3-point field goals – Isakson 4, Russell 2, Wieker 4; Logan 2, Luikens 3, Bassett. Fouled out – Clark. Total fouls – Aberdeen Christian 19; Potter County 11. Rebounds – Aberdeen Christian 34 (Russell 12); Potter County 37 (Sharp 10, Luikens 10). Turnovers – Aberdeen Christian 16; Potter County 9. Assists – Aberdeen Christian 13 (Clark 4, Russell 3, Wieker 3); Potter County 5 (Logan 3). Steals – Aberdeen Christian 4; Potter County 11 (Logan 5).