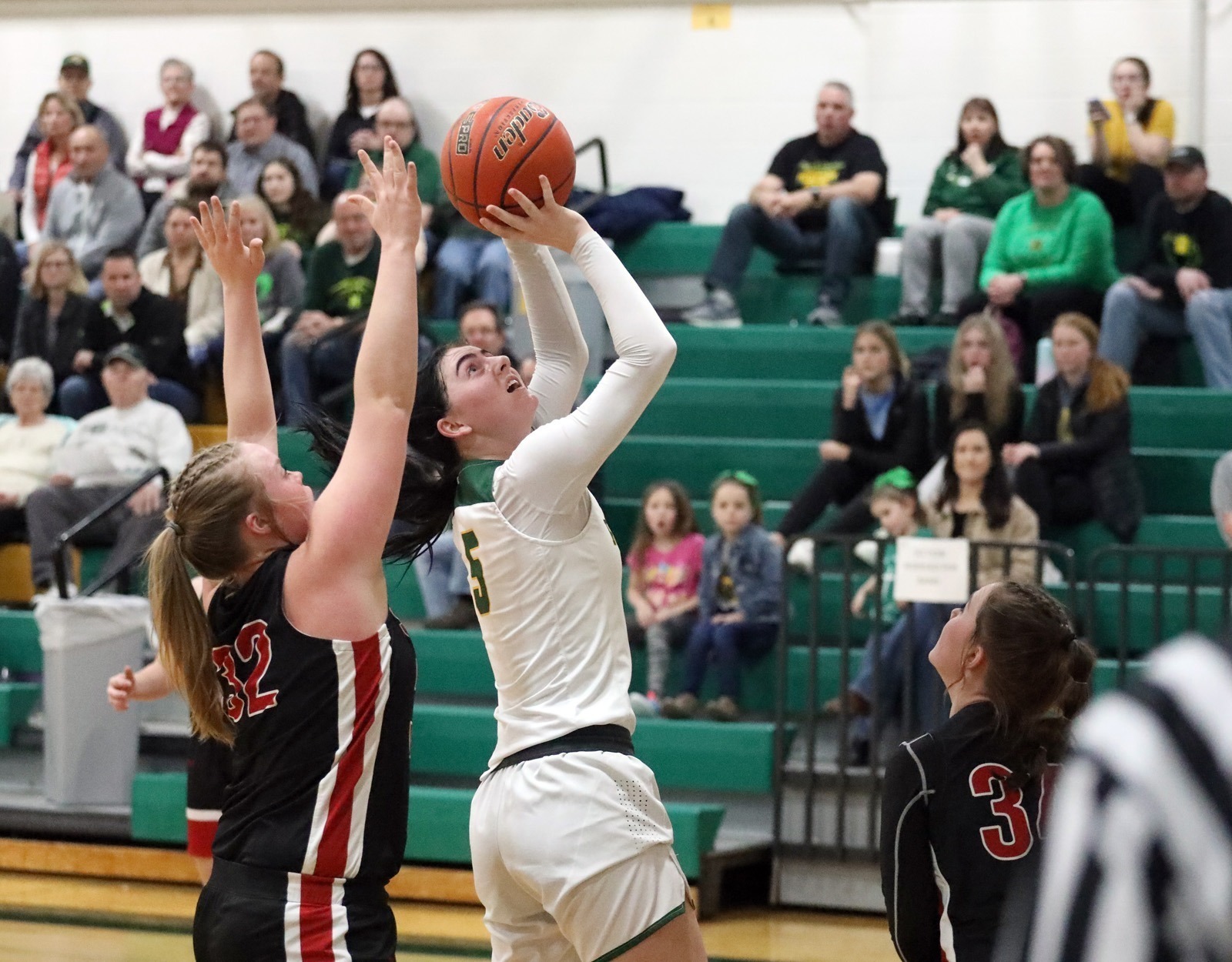 BRITTON – Aberdeen Roncalli defeated its third opponent with a winning record in four days in a victory over Britton-Hecla Tuesday night.
The top-rated Cavaliers improved to 16-1 on the season with a 47-6 Northeast Conference girls' basketball win.
Roncalli was rock solid defensively the entire way and allowed just two field goals.
"I just thought they did a good job of guarding their own girl and making sure we didn't give up dribble drive to the rim and kept them out of the lane," said Roncalli coach Derek Larson. "We just kind of executed on the defensive end."

The contest capped a busy stretch of games for the Cavaliers, who won at Groton Monday night and defeated West Central on Saturday.
Larson had a message for his girls before the contest against the Braves.
"I told them Britton doesn't care that we played (Monday) night. They're going to come out and play hard. We need to come out and play hard," Larson said. "I kind of challenged them a little bit to come with some energy. We did a great job defensively from start to finish."
Despite leading 24-2 at halftime, Larson said he wanted his squad to treat the game like it was just getting started and not like it owned a big advantage.
"We want to play from 0-0. It doesn't matter the score at the half," Larson said. "We want to still compete."
Olivia Hanson scored 17 points to lead the Cavaliers and Madelyn Bragg added 11.
Larson said the Braves threw some different looks at his team.
"They came out and played different defenses," he said. "They played some 1-3-1, some box-and-one, so they did some things that we haven't seen a ton of."
Roncalli gets a few days off before it takes on Arlington during the Warner Classic on Saturday. Tip off is scheduled for 6:30 p.m. The Cardinals are 12-5 on the season.
"They're not a super tall team, but they really play full court the entire game," Larson said. "They played some good teams and beat some good teams. That's not a team we want to overlook."
ABERDEEN RONCALLI (16-1): Madelyn Bragg 4 3-4 11, Morgan Fiedler 2 1-1 5, Jeci Ewart 2 0-0 4, Olivia Hanson 6 5-6 17, Ava Hanson 1 0-0 3, Claire Crawford 1 0-0 2, Maddie Huber 2 0-0 5. Totals 18 9-11 47.
BRITTON-HECLA (7-7): McKaelyn Zuehlke 1 0-0 2, Sterling Brassfield 1 0-0 2, Jenna Werner 0 1-2 1, Jayden Bender 0 1-2 1. Totals 2 2-4 6.
Aberdeen Roncalli 17 24 34 47
Britton-Hecla 2 2 4 6
3-point field goals – A. Hanson, Huber. Total fouls – Aberdeen Roncalli 6; Britton-Hecla 10.