WEBSTER – With the season on the line, Aberdeen Christian came up big at the Webster Armory Saturday evening.
The fourth-rated Knights hit three clutch three-pointers, made 12 of 14 free throws in the fourth quarter, got key defensive stops and earned a hard-fought 49-44 win over Warner during the semifinals of the Region 1B girls' basketball tournament.
"It feels good, because in the playoffs every game is going to be tough," said Christian coach Michael Rohrbach of his team's latest victory. "You just have to survive and advance. It doesn't matter how you win it, just so you win."
The Monarchs, who lost to the Knights by 24 points early in the season, made Christian fight for everything from start to finish.

With a game plan focused on stopping 6-foot-4 center Mallory Miller, Warner was able to keep the Christian offense in check for most of the game.
"Defensively they're good. They were taking us out of our stuff with their press and their double teams," Rohrbach said. "Credit to them. They really brought it this game and we definitely found ourselves in a dogfight."
Warner led by five points at the half and Christian eventually caught the Monarchs midway through the third period.
The momentum began to turn late in the quarter when Hanna Miller nailed back-to-back three-pointers.
"I was just kind of in the moment," Miller said. "I knew I had to pull up for the team."
The senior said the key is to believe you can make the shot.
"You just have to shoot with confidence," she said.
The Knights were clinging to a one-point lead midway through the fourth when Joy Rohrbach hit another three-pointer to give the Knights a lead they never lost. Those perimeter shots were just what the Knights needed at the moment.
"When they're cramming in so much, you still try to get it in, but there's only so much you can do," Coach Rohrbach said. "You have to go hit an outside shot to open it up."
Those three-pointers ended up thwarting a solid defensive game plan from the Monarchs, who battled the Knights the entire 32 minutes.
"A big situation and they hit threes, so credit to them," said Warner coach Stew Bohle. "We did absolutely everything we could and in the end they hit a couple of those shots, and they were backbreakers."
From there, the Knights sealed the victory from the charity stripe, making 8 for 10 free throws in the final 1:25 to stay in front.
Senior Joy Rohrbach was 7 for 8, making six straight down the stretch.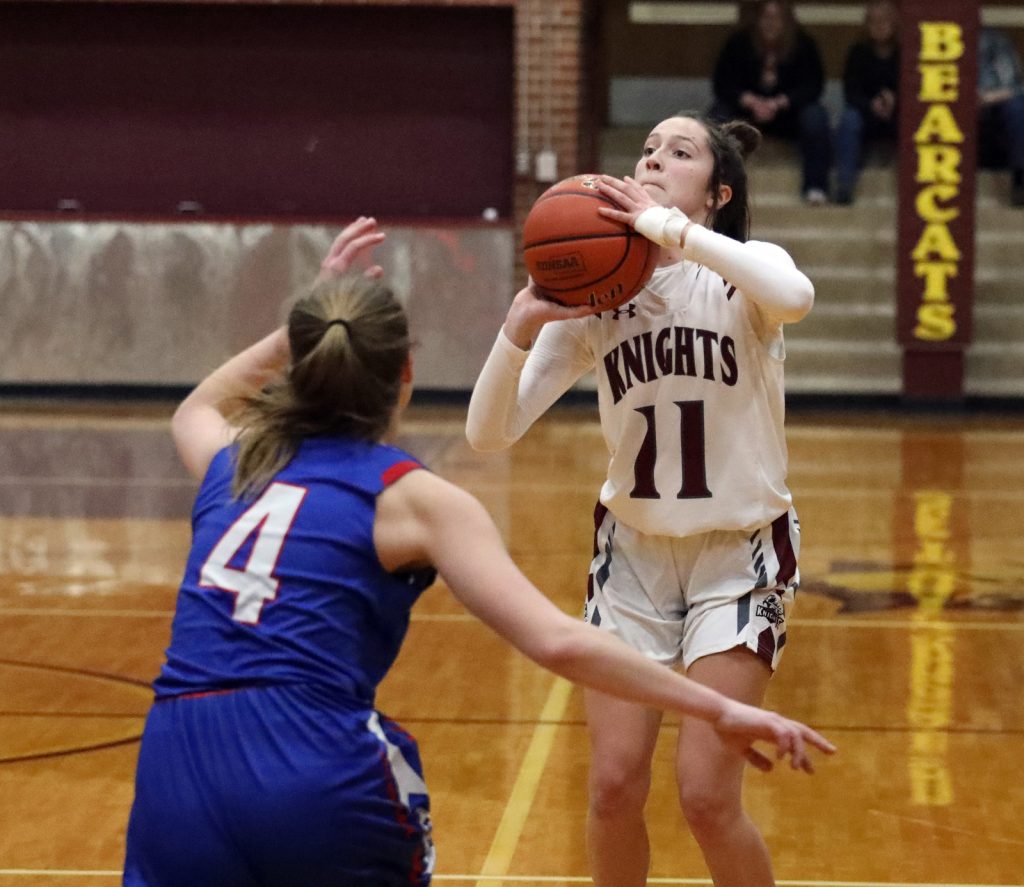 "I didn't want it to be my last game," Rohrbach said of responding to the pressure situation.
As a result, the Knights are moving on to their second straight SoDak 16.
"Free-throw shooting really saved us," Coach Rohrbach said. "Joy hit some big ones right down the stretch and then Hanna's two threes when we were down were big. I think those two things really helped turn the game."
Joy Rohrbach scored 14 points, and Hanna Miller and Grace Kaiser each contributed 12.
Kyra Marcuson had 13 points, and Ava Nilsson and Kami Anderson 11 each for the Monarchs.
Bohle was proud of the way his players responded in their biggest game of the season.
"They fought, they battled, they played with a lot of character," he said.
Christian, 19-3 on the season, meets Centerville (20-2) in the SoDak 16 on Thursday.
The Knights lost to eventual state champion White River in last year's round of 16.
"Last year was kind of a bummer," Hanna Miller said, "but we kind of took it as a win, because we played the state champions to their closest match."
WARNER (12-10): Kyra Marcuson 5 2-6 13, Ava Nilsson 4 0-0 11, Jennifer Aman 1 0-0 3, Peyton Fisher 1 0-0 2, Kami Anderson 4 3-4 11, Lauren Marcuson 2 0-0 4. Totals 17-34 5-10 44.
ABERDEEN CHRISTIAN (19-3): Joy Rohrbach 3 7-8 14, Kaylee Block 0 1-2 1, Hanna Miller 4 2-2 12, Mallory Miller 2 3-6 7, Grace Kaiser 3 6-10 12, Chloe Bosma 1 1-3 3. Totals 13-37 20-31 49.
3-point field goals – K. Marcuson, Nilsson 3, Aman; Rohrbach, H. Miller 2. Fouled out – K. Marcuson. Total fouls – Warner 21; Aberdeen Christian 11. Rebounds – Warner 25 (Nilsson 10); Aberdeen Christian 30 (M. Miller 9). Turnovers – Warner 23; Aberdeen Christian 19.