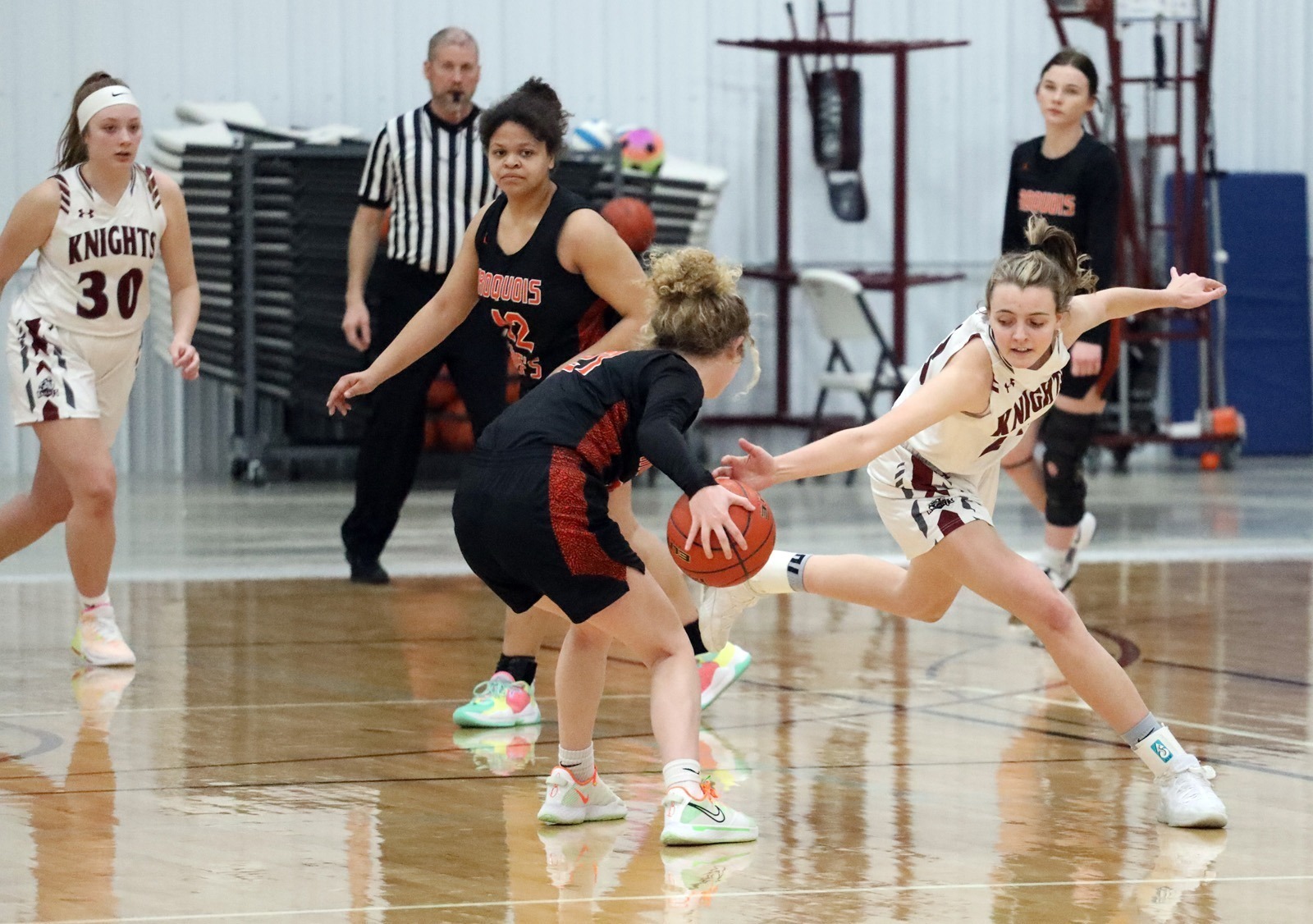 Aberdeen Christian scored a school-record 52 points in the opening half and rolled past Iroquois-Doland Friday night at the Christian School Gym.
The fifth-rated Knights moved the ball, finished off possessions and finished off Iroquois-Doland 62-28 in a non-conference girls' basketball contest.
"No matter who you play, if you move the ball you're going to get good stuff," said Christian coach Michael Rohrbach. "That first half was probably our best half of offensive basketball, they way we were moving it, attacking off the reversals, and then getting the high-lows. It was really fun to watch."
The Knights scored early and often, jumping out to a 17-2 lead in the opening part of the first quarter.

Mallory Miller scored eight points in the first eight minutes, Joy Rohrbach had seven and Grace Kaiser six.
After scoring 26 points in the opening quarter, the hosts added 26 more in the second stanza as Mallory Miller had nine, Hanna Miller eight, Rohrbach five and Kaiser four.
"We moved the ball really well," said Christian point guard Joy Rohrbach. "We've just kind of been teaching that in practice to move it well and we did that tonight."
The Knights hit inside and outside on the way to placing four players in double figures. Rohrbach hit the team's lone three-pointer.
She said the players know they need to hit from the perimeter to take some of the pressure off the inside game.
"It's just kind of mind thing," Rohrbach said. "When they're packing it in, you just know you have to shoot outside. You take what they give you."
Mallory Miller finished with 19 points and eight rebounds, Rohrbach and Kaiser each added 14 points, and Hanna Miller contributed 11 points.
Coach Rohrbach said balanced scoring just puts more pressure on opposing defenses.
"Having balanced scoring helps a lot, because we know teams are going to double Mallory," he said, "and they're going to clog it up, so the more people we can have score and the more balanced scoring we can have, it just makes us tougher to defend."
He said the key is finding a right blend when it comes to going inside or deciding to take attempts from the outside. Friday night, both were working.
"It's a tough balance to find sometimes of wanting to do both, but I thought tonight the girls had a good balance of that," Coach Rohrbach said. "Our first look is to attack, move it to open up the inside and then when they give us the outside shots, we have girls that we trust that will bury it. Just having that nice balance is what you're looking for."
Katie Dubro topped the Chiefs with 13 points.
The Knights improved to 14-2 with the victory. Next up is a Lake Region Conference contest at Ipswich on Tuesday. Of Christian's last four games, one is against top-rated Aberdeen Roncalli and another is against second-rated Corsica-Stickney.
"We've got our work cut out for us having to play the top two teams in the state, but that's who we wanted to play and we've had them circled from the beginning of the year," Coach Rohrbach said. "You're excited for those games. You're just trying to get better each game so that you can compete against those teams and give yourself a shot to win those big games."
IROQUOIS-DOLAND (3-13): Harley Nelson 3 0-0 6, Taylynn Iron Hawk 1 1-2 3, Anna Decker 2 0-0 6, Katie Dubro 3 5-10 13. Totals 9 6-12 28.
ABERDEEN CHRISTIAN (14-2): Joy Rohrbach 6 1-2 14, Kaylee Block 1 0-0 2, Hanna Miller 5 1-3 11, Mallory Miller 8 3-3 19, Grace Kaiser 4 6-6 14, Chloe Bosmsa 1 0-0 2. Totals 25 11-14 62.
Iroquois-Doland 10 18 22 28
Aberdeen Christian 26 52 60 62
3-point field goals – Decker 2, Dubro 2; Rohrbach. Fouled out – Kaiser. Total fouls – Iroquois-Doland 12; Aberdeen Christian 14. Rebounds – Aberdeen Christian 17 (M. Miller 8).