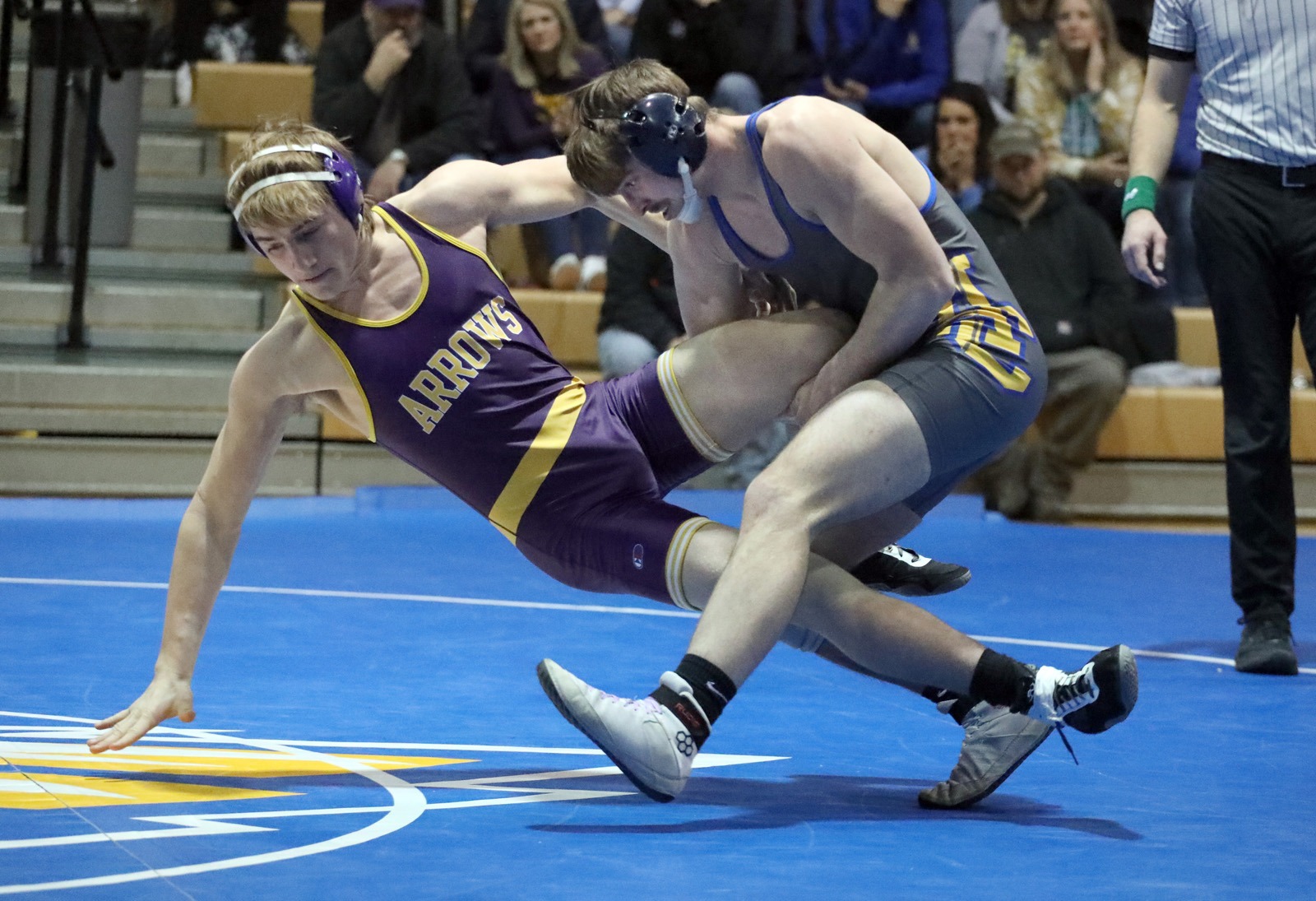 MILBANK – Aberdeen Central had three individual champions and qualified nine wrestlers for the state tournament during the Region 3A tournament on Saturday.
Pierre won the team title. The Golden Eagles finished fourth in team points.
"It was good to get nine through," said Central coach Donnie Bowden. "We're getting back up there to the numbers we had in recent years. It's the biggest number we've had in a couple of years."
Tate Huff, Rayden Zens and Mason Schrempp all won their weight classes for Central.

Huff won his two matches handily, 13-5 and 6-0.
Zens pulled off a tough 3-2 win in the semifinals before scoring an 8-5 decision in the finals against an opponent he had split with during the season.
Schrempp also had a challenge in the finals, pulling out a 5-3 victory.
Other Eagles to qualify for state included Dylan Schaunaman who was second, Samson Flakus who took third, and Bryce Beitelspacher, Ryker Meister, Logan Opitz and Cordell Rychlik who all finished fourth.
Bowden said a highlight on the day was Schaunaman's win over a Milbank Area foe who he had lost to twice during the season.
"He's one of the top kids in the state," Bowden said. "We went in there and we wrestled a solid match and we came out on top."
Bowden is hoping that his troops can make some noise at the state tournament in Sioux Falls.
"That's the nice thing about where we're at. The pressure is not on us to protect anything," Bowden said. "We're not going to have a lot of highly seeded guys. We have all to gain."
Central girls competing at state are Eva Hinkle, Madyson Gillen, Ula Martin, Katrina Gibson and Autum Gauer.
"We've had two weeks off, so they've gotten to heal up on the physical and mental side," Bowden said, "so they should be fully rested and ready to compete."
The Eagles will now try to refine a few things in the days heading into the state tourney and see what happens.
"I'm really excited to see what we can get done this next week," Bowden said, "and kind of see what the state tournament has for us."
Bryce Beitelspacher
Quarterfinals – Bryce Beitelspacher (Aberdeen Central) over Carter Gloe (Milbank) (Fall 3:10)
Semifinals – Gavin Stotts (Pierre T.F. Riggs) over Bryce Beitelspacher (Aberdeen Central) (Fall 4:18)
Cons. Semis – Bryce Beitelspacher (Aberdeen Central) over Dah Moo (Huron) (Fall 2:02)
3rd Place Match – Seth Foote (Mitchell) over Bryce Beitelspacher (Aberdeen Central) (Dec 11-7)
Elias Biegler
Quarterfinals – Brandon Sparks (Mitchell) over Elias Biegler (Aberdeen Central) (MD 9-1)
Cons. Round 1 – Elias Biegler (Aberdeen Central) received a bye
Cons. Semis – Bryce Reuer (Chamberlain) over Elias Biegler (Aberdeen Central) (Dec 6-2)
5th Place Match – Elias Biegler (Aberdeen Central) over Will Radke (Huron) (Dec 6-3)
Samson Flakus
Quarterfinals – Samson Flakus (Aberdeen Central) over Wyatt Powers (Chamberlain) (Fall 1:08)
Semifinals – Rocky Wiedman (Todd County) over Samson Flakus (Aberdeen Central) (Fall 3:28)
Cons. Semis – Samson Flakus (Aberdeen Central) over Maddox Hanson (Milbank) (Fall 0:56)
3rd Place Match – Samson Flakus (Aberdeen Central) over Wyatt Powers (Chamberlain) (Fall 0:51)
Ayden Gisi
Quarterfinals – Ayden Gisi (Aberdeen Central) over J`Shon Sedlmajer (Todd County) (Fall 5:07)
Semifinals – Lucas Chamberlin (Pierre T.F. Riggs) over Ayden Gisi (Aberdeen Central) (Fall 3:49)
Cons. Semis – Jesse Schneck (Milbank) over Ayden Gisi (Aberdeen Central) (Fall 4:10)
5th Place Match – Ayden Gisi (Aberdeen Central) over J`Shon Sedlmajer (Todd County) (Fall 2:35)
Tate Huff
Quarterfinals – Tate Huff (Aberdeen Central) received a bye
Semifinals – Tate Huff (Aberdeen Central) over Cruz Alhizer (Mitchell) (MD 13-5)
1st Place Match – Tate Huff (Aberdeen Central) over Lincoln Schoenhard (Pierre T.F. Riggs) (Dec 6-0)
Jacob Krenz
Quarterfinals – Bryan Ramirez (Huron) over Jacob Krenz (Aberdeen Central) (SV-1 3-1)
Cons. Round 1 – Jacob Krenz (Aberdeen Central) received a bye
Cons. Semis – Joshua Rydberg (Pierre T.F. Riggs) over Jacob Krenz (Aberdeen Central) (Fall 1:31)
5th Place Match – Jacob Krenz (Aberdeen Central) over Landon Novy (Milbank) (Fall 3:27)
Ryker Meister
Quarterfinals – Ryker Meister (Aberdeen Central) over Hser Wah (Huron) (Fall 0:35)
Semifinals – Joe VanOverschelde (Mitchell) over Ryker Meister (Aberdeen Central) (Fall 1:06)
Cons. Semis – Ryker Meister (Aberdeen Central) received a bye
3rd Place Match – Leyton Raffety (Milbank) over Ryker Meister (Aberdeen Central) (Fall 4:00)
Adam Moore
Quarterfinals – Spencer Eldeen (Mitchell) over Adam Moore (Aberdeen Central) (MD 17-6)
Cons. Round 1 – Brady Meyer (Huron) over Adam Moore (Aberdeen Central) (MD 11-3)
Logan Opitz
Quarterfinals – Logan Opitz (Aberdeen Central) over Colt Dunkelberger (Huron) (Dec 7-3)
Semifinals – Hayden Shaffer (Pierre T.F. Riggs) over Logan Opitz (Aberdeen Central) (Fall 0:37)
Cons. Semis – Logan Opitz (Aberdeen Central) over Joseph French (Milbank) (Fall 4:24)
3rd Place Match – Thomas Powell (Chamberlain) over Logan Opitz (Aberdeen Central) (Fall 0:26)
Cordell Rychlik
Quarterfinals – Cordell Rychlik (Aberdeen Central) over Jozey Nesladek (Chamberlain) (MD 9-1)
Semifinals – Deegan Houska (Pierre T.F. Riggs) over Cordell Rychlik (Aberdeen Central) (Fall 0:38)
Cons. Semis – Cordell Rychlik (Aberdeen Central) received a bye
3rd Place Match – Beauty Moon (Huron) over Cordell Rychlik (Aberdeen Central) (Dec 10-5)
Dylan Schaunaman
Quarterfinals – Dylan Schaunaman (Aberdeen Central) over Connor Thelen (Mitchell) (MD 10-2)
Semifinals – Dylan Schaunaman (Aberdeen Central) over Barrett Schneck (Milbank) (Dec 12-10)
1st Place Match – Jayden Wiebe (Pierre T.F. Riggs) over Dylan Schaunaman (Aberdeen Central) (Dec 9-2)
Mason Schrempp
Quarterfinals – Mason Schrempp (Aberdeen Central) received a bye
Semifinals – Mason Schrempp (Aberdeen Central) over Jeran Sammons (Huron) (TF 17-1 5:44)
1st Place Match – Mason Schrempp (Aberdeen Central) over Dominic Santiago (Chamberlain) (Dec 5-3)
Rayden Zens
Quarterfinals – Rayden Zens (Aberdeen Central) received a bye
Semifinals – Rayden Zens (Aberdeen Central) over Devyn Anderson (Chamberlain) (Dec 3-2)
1st Place Match – Rayden Zens (Aberdeen Central) over Noah Williams (Pierre T.F. Riggs) (Dec 8-5)