So close and yet so far away.
The Aberdeen Cougars had numerous chances, but could not produce the game-tying goal and fell to the Sioux Falls Flyers 1 by a 2-1 margin in the team's final home game of the season at the Odde Ice Center on Sunday afternoon.
"I thought we played really well today with the exception of a couple of minutes," said Cougars coach Jeremey Backous, "but against good teams you have to play a full game."
Sioux Falls caught the Cougars a bit flat-footed in the opening period when it scored a pair of goals within one minute of each other. While Aberdeen rebounded and controlled the contest the rest of the way, the Cougars could never get over the hump.

"I think being our last game at home it seemed like the first period we were playing a little bit tight, almost trying not to make mistakes. It just seemed like were trying a little bit too hard," Backous said. "Coming out in the second we settled down and started playing much better hockey, and as we finished the game we really took it to them. They were struggling to possess the puck."
The Cougars got to within a goal when Mason Carrels scored on a rebound off a Kasen Claymore attempt late in the second period.
"Right spot, right time," Carrels said of the goal. "I just put myself in good position."
However, that was the only time Aberdeen could find the back of the net.
The Cougars had many chances to get the equalizer, including multiple power-play opportunities in the third period, but came away empty each time.
Aberdeen outshot the Flyers 44-28, but Sioux Falls goalie Kadin Huyser was steller in net.
"It was a good effort. I wish we could have popped one in, but their goalie came up big for them," Backous said. "He played really well in net. I thought we had some good looks. It's just one of those things. You have to have some puck luck, too."
Carrels said Huyser did a solid job on stopping second-chance opportunities.
"He gave up a lot of rebounds," Carrels said, "but he always recovered so it was just tough to put it in the back of the net."
Aberdeen was just inches away on several chances of scoring the game-tying goal, including one late in the contest.
"Especially at the end there, their goalie made a good save right across the crease," Carrels said. "Obviously, just unfortunate."
It was the final game at the Odde for Carrels and his 12 senior teammates.
Interestingly enough, Carrels said he enjoyed facing Sioux Falls the most of any opponent at his home facility through the years.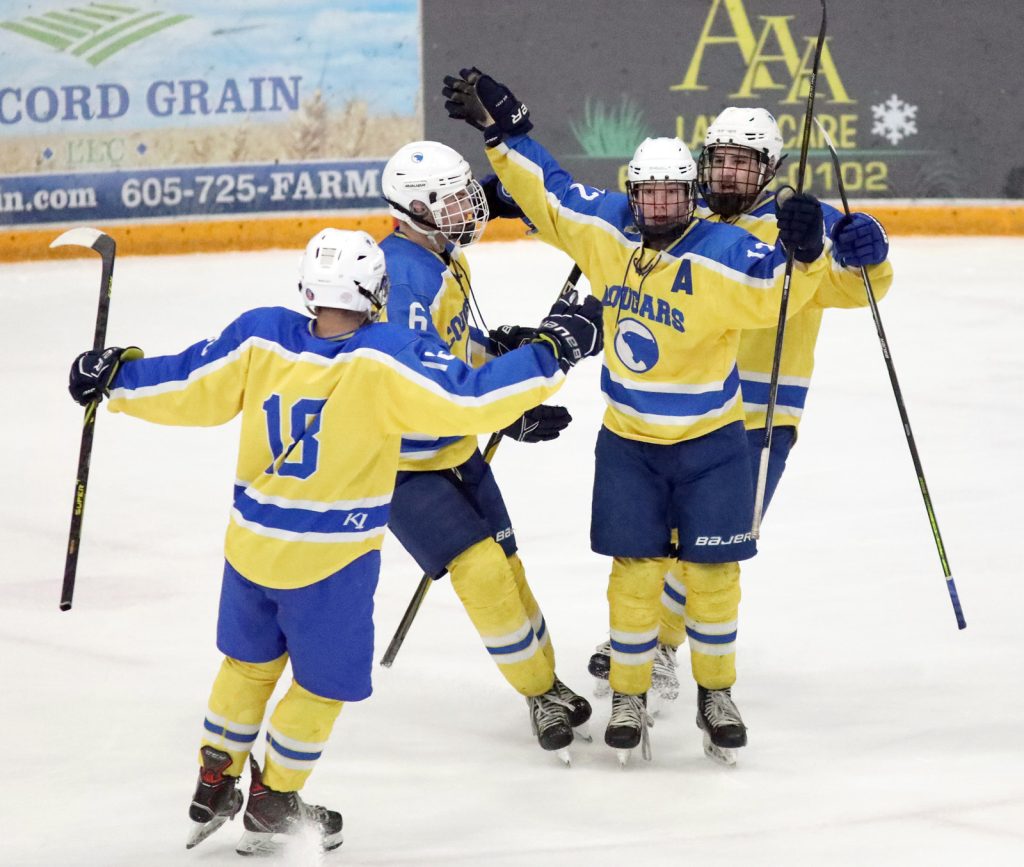 "It's always a good game against Sioux Falls. I love playing these guys," Carrels said. "Probably one of my favorite memories. I love playing them."
The Cougars are not done playing. They qualified for this year's state tournament following a solid regular season.
"We won 11 state league games this year. That's the most the boys have won in recent history," Backous said. "Credit to them and just all the work they've put in."
Making the state tournament has been a season-long goal for the Cougars this year.
"It feels awesome. I haven't been there since my freshman year," Carrels said. "I can't wait to go back and and hopefully put a good mark on."
The Cougars will likely go in as the fifth seed and face Pierre in the opening round on Friday, March 11 in Sioux Falls. Pierre defeated Aberdeen twice during the regular season, once in overtime and another in a nail-biter in regulation.
Needless to say, Carrels and the Cougars have some revenge on their minds.
"I really want to beat up on Pierre, two losses to them, they were both close," Carrels said. "Focus on beating them first and then go on from there."
Sioux Falls Flyers 2 0 0 – 2
Aberdeen Cougars 0 1 0 – 1
First Period: 1, SF, Max Mohr (Cory Perdaems, Cade Edwards), 10:07; 2, SF, Dominick Scholten (unassisted), 9:12.
Second Period: AC, 3, Mason Carrels (Kasen Claymore, Jacob Grau), 2:18.
Third Period: no scoring.
Shots on Goal: Sioux Falls Flyers 28; Aberdeen Cougars 44.
Goalies: Sioux Falls Flyers, Kadin Huyser (43 saves); Aberdeen Cougars, Carson Hundstad (26 saves).