Aberdeen Christian opened its post season by getting defensive at the Aberdeen Civic Arena Thursday night.
The third-rated Knights allowed just six points through the first three quarters on the way to a 50-18 win over Leola-Frederick during the Region 1B girls' basketball tournament.
Christian's full-court pressure played a key role in the victory.
""We wanted to press as much as possible early on to help generate turnovers and get easy baskets for our team. We just never want to let teams hang around and it's better to put them out early," Christian coach Michael Rohrbach said. "We have the length to press, which helps. Defensively, just trying to run them off the line and no easy baskets."
The Knights opened a double-digit lead in the opening quarter and extended the margin to 28 points by halftime. Christian center Mallory Miller scored 13 points to key the first-half offense.
Rohrbach said he was pleased with his team's performance, despite not having played or practicing much in the past week because of the weather.
"We definitely have some things to work on since we hadn't played in a week, especially with snow we had this week. We knew we were going to be sloppy right away to start because of the layoff," Rohrbach said. "I thought we moved the ball well later on and we accomplished a lot in our press. That allowed us to get out and running."
Miller finished with a game-high 22 points. The junior keeps a simple mindset for games, but has altered it a little bit due to the stakes of the postseason.
"Just need to play hard. You lose, you're done for the season," Miller said "You don't want it to be your last game of the season."
Miller tries to stay focused and aggressive.
"Stay calm and stay competitive in basketball," Miller said. "You just gotta want it and earn it to get further on."
The Knights improved to 18-3 with the victory. The squad keeps adding to its school-record win total.
Miller said a key to the season has been the team's chemistry.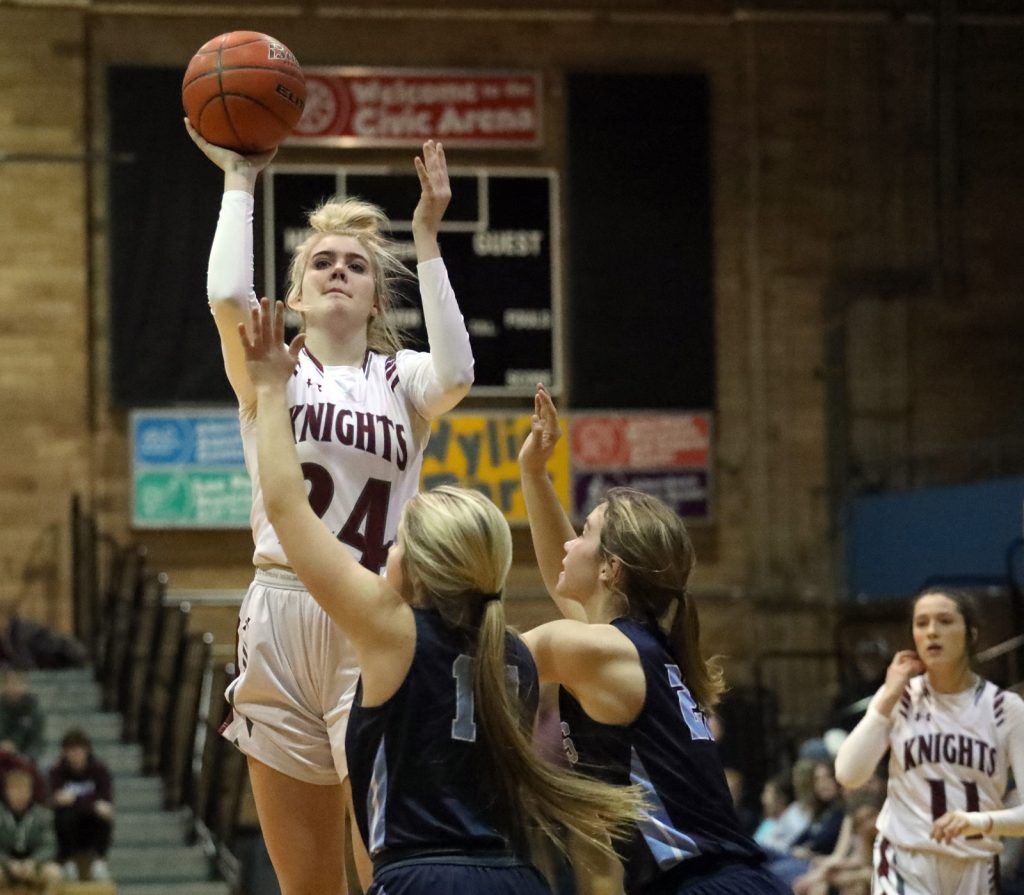 "I think our togetherness personally is what makes this team special. We are really good friends on and off the court," Miller said. "When you play like that you can tell. You can tell that we're really good friends on the court."
Hanna Miller added nine points for the Knights.
Chloe Arneson and Memphys Storm each had six points for the Titans.
Aberdeen Christian will take on Warner in the semifinals at 5:30 p.m. Saturday in Webster.
Rohrbach anticipates Warner being a tougher matchup than when they played them earlier in the season. Aberdeen Christian won that contest 47-23.
"We played them earlier in the season and I know they just got done with state volleyball. So, we know they will be a better matchup this time around because they always get better as the year goes on," Rohrbach said. "We will have to come ready and make sure we match their intensity. We also have to take care of the little things for us and limit our turnovers."

LEOLA-FREDERICK (9-12): Chloe Arneson 2 0-0 6, Lacey Westphal 1 0-0 3, Morgan Sumption 0 0-2 0, Sofi Losure 0 1-4 1, Kaitlyn Mueller 1 0-0 2, Memphys Storm 2 0-0 6. Totals 6 1-6 18.
ABERDEEN CHRISTIAN (18-3): Joy Rohrbach 2 0-0 5, Bailey Englund 1 0-0 2, Kaylee Block 1 0-0 2, Hanna Miller 3 3-4 9, Mallory Miller 9 4-8 22, Grace Kaiser 2 2-2 6, Sophie Bosma 2 0-2 4. Totals 20 9-16 50.
Leola-Frederick 4 4 6 18
Aberdeen Christian 17 32 43 50
3-point field goals – Arneson 2, Storm 2, Westphal; Rohrbach. Total Fouls – Leola Frederick 12; Aberdeen Christian 7.