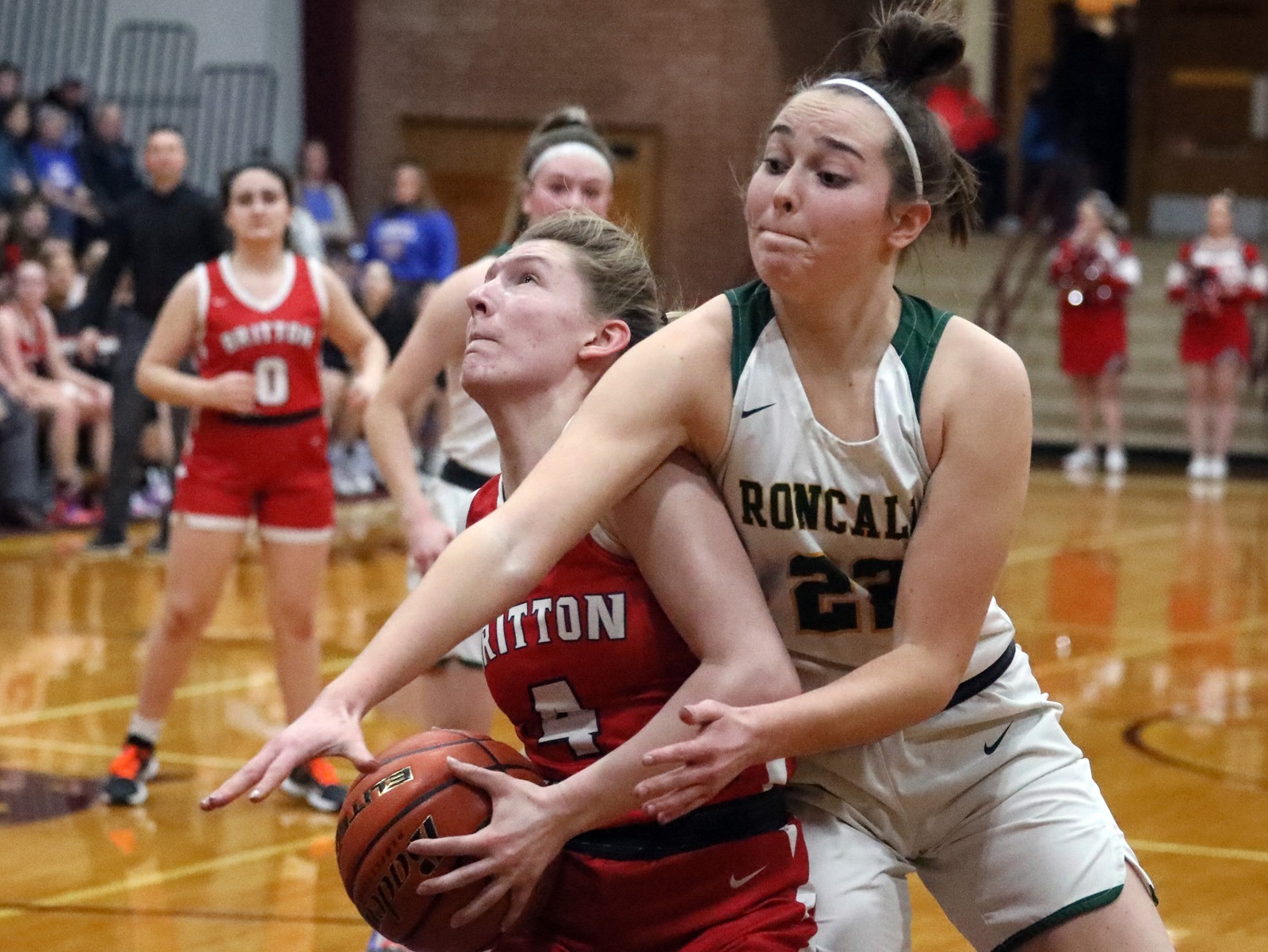 WEBSTER – Aberdeen Roncalli got a boost off its bench, played its usual solid defensive game and grabbed a 57-28 win over Britton-Hecla during the semifinals of the Region 1B girls' basketball tournament Saturday afternoon at the Webster Armory.
The top-rated Cavaliers led by just seven points after the opening quarter before Ava Hanson sparked a 24-4 second-quarter surge.
The freshman came in off the bench and scored seven points to spark the Roncalli offense.
"I thought she did a really good job of just staying under control," said Roncalli coach Derek Larson. "Sometimes we get going too fast. I thought she shot shots at a rhythm, took the ball to the basket really well and under control. I think she kind of got our momentum going in the right direction in the second quarter."

Hanson said her usual mindset is to help the Cavaliers in any way she can, especially on the defensive end.
"When I come in off the bench all I think is how can I benefit the team?" Hanson said. "I know our big role is playing defense, so how I can just play defense to better our team and then help on the offensive end to get a few points just to get us going."
Hanson, who finished with a career-best 10 points, made her first attempt, then added another on a drive, and before making a three-pointer later in the period.
"When I first came in I shot that shot and I was like, man I hope this goes in," Hanson said, "because our layups weren't really falling at the beginning of the game."
Once the Cavaliers got a rhythm established, they were able to work the ball inside to Madalyn Bragg and gradually started to extend the lead.
"I thought we did a better job of getting Madi some touches," Larson said. "We got her on the move a little more the second quarter to the second half. Our guards got her some touches which is nice."
The Braves attempted to work their possessions deep into the shot clock and spread the floor in hopes of getting to the rim. While that worked briefly, they were unable to sustain it.
"We really tried to spread them out," said Britton-Hecla coach MJ Hrabik. "We have a couple of guards that we feel confident can penetrate some gaps and make some things happen, and we did for a little bit in the first quarter."
Bragg and Olivia Hanson each finished with 13 points to lead Roncalli. Morgan Fiedler and Ella Hanson each added eight.
Goiuri Sarria had eight points and Sterling Brassfield seven for Britton-Hecla.
The Braves accomplished something this year for the first time in a decade.
"I think it's been 10 years since a Britton-Hecla girls' team has won a game in regions, so that was good for the girls," Hrabik said. "We were happy with it. At the same time, the girls aren't satisfied. The look in the locker room on the girls' faces was a look of disappointment. They're hungry and I can already tell that's going to motivate them for next year."
Roncalli, 21-1 on the season, will face Bison (10-13) in the SoDak 16 on Thursday.
Ava Hanson said the Cavaliers, who won the Class A state championship last season, don't focus on what has taken place in the past and enter each game like both teams are 0-0.
"Everything in the past is over," Hanson said.
BRITTON-HECLA (10-11): Goiuri Sarria 3 2-2 8, McKaelyn Zuehlke 1 0-0 2, Sterling Brassfield 2 2-4 7, Chloe Furman 2 0-0 5, Jenna Werner 1 0-0 2, Jaedyn Bender 1 0-0 2, Alyssa James 1 0-0 2. Totals 11-34 4-8 28.
ABERDEEN RONCALLI (21-1): Madalyn Bragg 6 0-0 13, Morgan Fiedler 4 0-0 8, Jeci Ewart 1 0-0 3, Olivia Hanson 5 3-3 13, Ella Hanson 4 0-1 8, Ava Hanson 3 3-4 10, Madisen Martin 1 0-0 2. Totals 24-48 6-10 57.
Britton-Hecla 6 10 17 28
Aberdeen Roncalli 13 37 50 57
3-point field goals – Brassfield, Furman; Bragg, Ewart, A. Hanson. Total fouls – Britton-Hecla 14; Aberdeen Roncalli 8. Rebounds – Britton-Hecla 19 (Brassfield 4); Aberdeen Roncalli 31 (O. Hanson 9, Bragg 7). Turnovers – Britton-Hecla 21; Aberdeen Roncalli 12.