A three-minute stretch of the second quarter was all Sioux Falls Washington needed.
The Warriors, led by Langford native and Northern State graduate head coach Jeff Tobin, outscored Aberdeen Central 21-7 in the second quarter, as Washington came away with a 67-52 non-conference boys' basketball victory over the fourth-ranked Golden Eagles Thursday night at Golden Eagles Arena.
After a somewhat faltering start to the night, Central had seemingly found its rhythm as the first quarter drew to a close. The Golden Eagles closed an opening deficit to just a single point at the end of the first quarter, then took the lead less than two minutes into the second quarter on a Noah Behrends reverse layup and a Spencer Barr bucket with six minutes and change to play in the first half.
But it was all Sioux Falls Washington after that.

The Warriors, playing just their fourth game of the season, sprinted to a double-digit lead by halftime and fended off every Golden Eagle advance after the break.
"Offensively, we didn't get a good rhythm going, ever," said Central coach Brent Norberg. "And defensively, just too many mistakes at the end of possessions giving up layups or wide open shots."
The opening quarter set the overall tone for the game, as Washington, despite playing without the services of senior center Angok Akot, played a physical style of game from the opening tip.
Central found itself in foul trouble then early, as its senior point guard Sam Rohlfs missed the majority of the second quarter with two fouls. Washington outscored the Golden Eagles 21-7 in that stanza.
"I think it was a pretty even game other than that," Norberg said. "It was a two-point game, then all of a sudden, bam, it was 15. Give them credit, they outworked us. … We needed to finish the half and be close, and we just weren't able to do that."
Central played to an even draw in the second half, but the deficit stood at the final buzzer.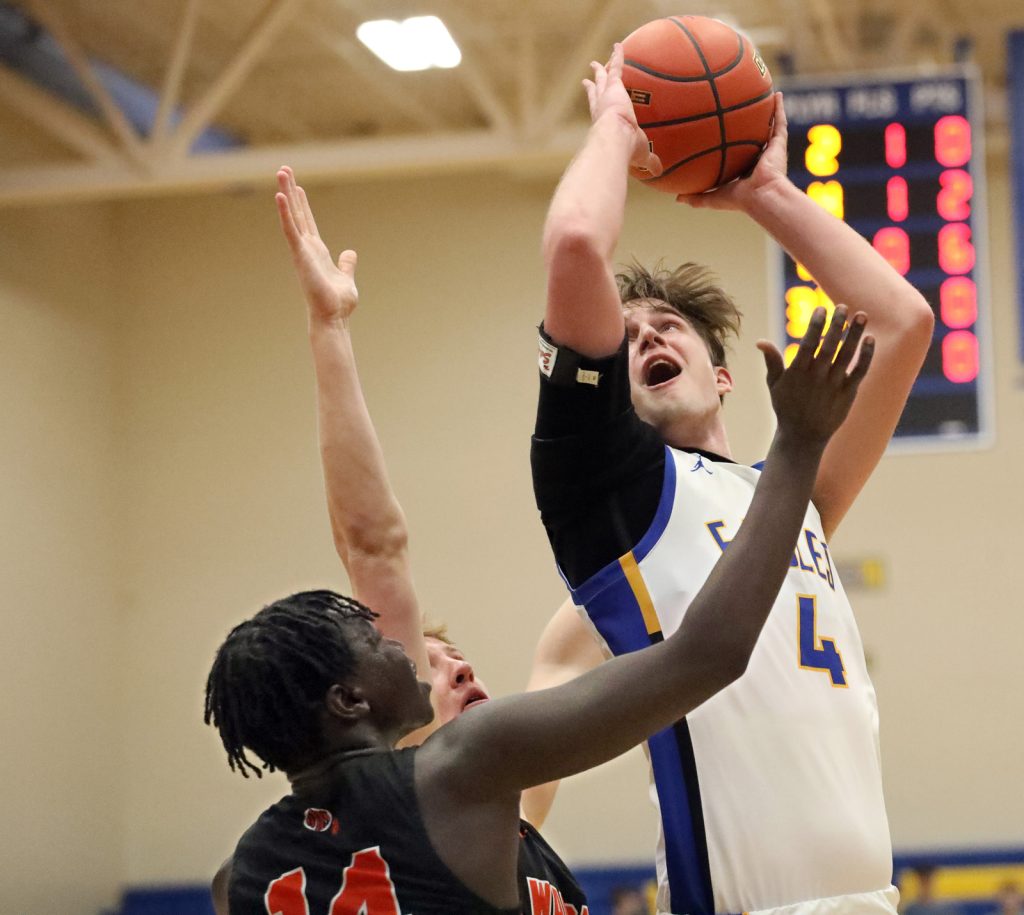 Barr finished the game with 21 points on 4-of-7 shooting from long range. AJ Hase and Rohlfs had 10 apiece. As a team, the Golden Eagles were just 26.3 percent from long range and 55 percent from the free-throw line.
Washington, meanwhile, shot the ball at a 53.5 percent clip from the field and was 77.3 percent from the line, hitting 17 of 22 attempts there. Mikele Kambalo had 19 points, four rebounds, four steals and five assists for the Warriors. Tommy Peterson finished with 16 points and Zharic Sheppard came off the bench for 11 points.
Central, 5-2 on the season, heads out on the road to face Sioux Falls Lincoln Saturday. Tipoff is set for 3 p.m.
SIOUX FALLS WASHINGTON: Mikele Kambalo 7 4-4 19, Joe Uttecht 2 0-2 4, Tommy Peterson 4 8-8 16, Patrick Obborn 1 0-0 2, Zharic Sheppard 3 4-4 11, Mandalla Mohamed 2 1-4 5, Cole Peterson 3 0-0 8, Gage Gasca 1 0-0 2. Totals 23 -43 17-22 67.
ABERDEEN CENTRAL: Alec Voegele 3 1-2 7, Noah Behrends 2 0-2 4, Sam Rohlfs 4 1-4 10, Spencer Barr 6 7-7 21, AJ Hase 3 2-3 10, Brady Rohrbach 0 0-2 0. Totals 18-42 11-20 52.
Sioux Falls Washington 10 31 44 67
Aberdeen Central 9 16 28 52
3-point field goals: Kambalo, Sheppard, C. Peterson 2; Rohlfs, Barr 2, Hase 2. Fouls: SFW 18; AC 19. Rebounds: SFW 27 (Mohamed 6, Kambalo 4, Uttecht 4); AC 26 (Barr 6, Hase 5). Assists: SFW 11 (Kambalo 5, Uttecht 5); AC 6 (Voegele 3). Turnovers: SFW 9; AC 14. Steals: SFW 9 (Kambalo 4); AC 3 (Behrends, Rohlfs, Barr). Blocks: SFW 1 (Uttecht); AC 2 (Voegele, Rohrbach).