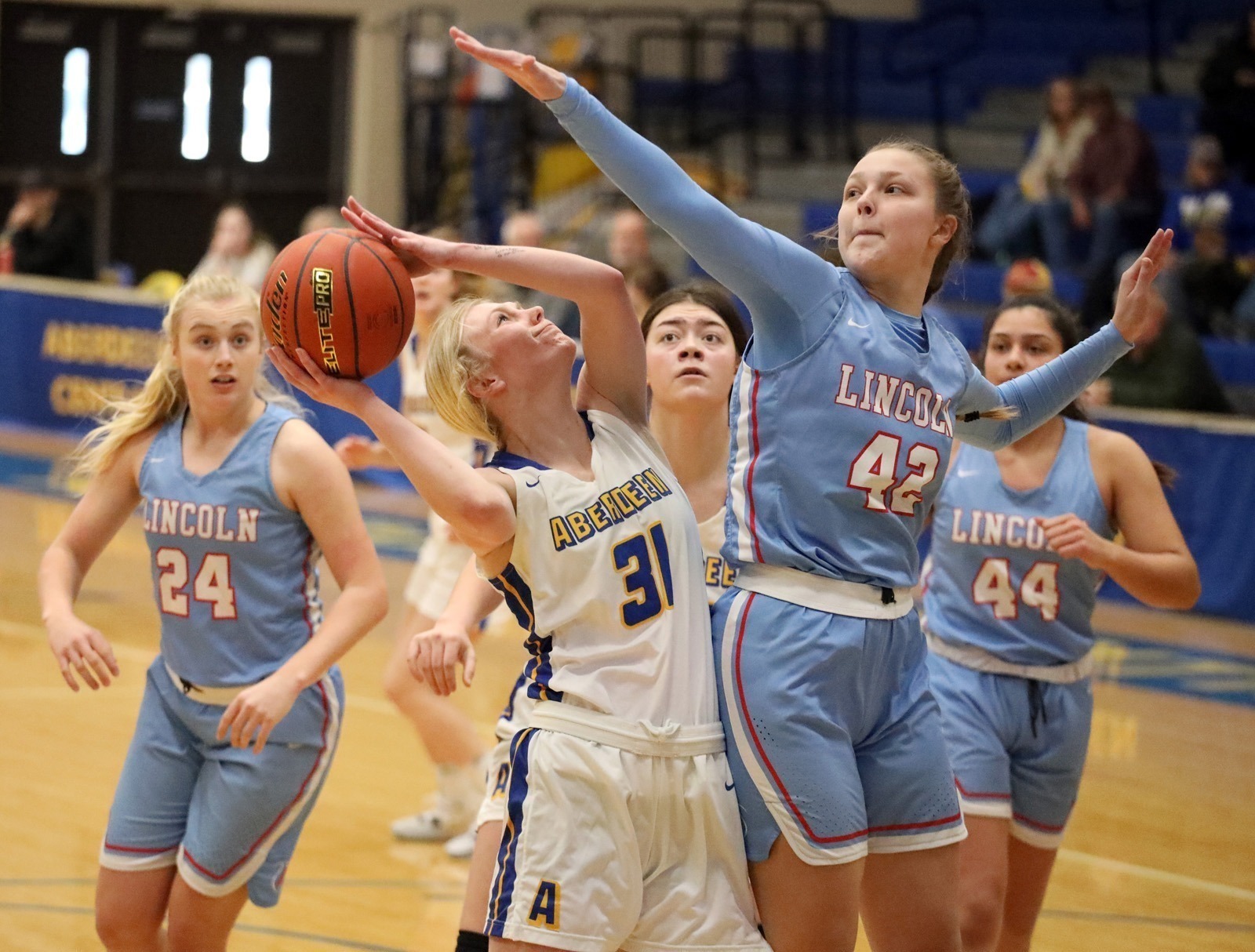 Sioux Falls Lincoln's perimeter shooting negated a strong inside game from Aberdeen Central to provide an historic victory on Saturday afternoon.
The Patriots nailed nine three-point field goals to power a 55-40 non-conference girls' basketball win, the first ever for Lincoln in three attempts all-time at Golden Eagles Arena.
Lincoln shot 50 percent from the field, including 39 percent from three-point range to offset Central's dominance in the paint, which saw the Eagles convert high-percentage attempts and also outrebound the visitors by 16.
"It;'s tough to overcome good shooting and you have to give them credit for shooting the ball well," said Central coach Mikayla Arechigo. "I was very happy about our more consistent and positive effort on the rebounding end and a lot of that has to do with having Abby Berry back in that lineup. There's things that she does just by keeping her girl off the glass that create rebounds for our other girls."
Central's ability to work the lane for baskets and also rack up a dozen offensive rebounds in the contest, did not come as a surprise to Lincoln coach Matt Daly.
"Historically, the Aberdeen Central program is a great high-low team and they teach their players how to use their bodies and get position," Daly said. "We lost all four of our posts to graduation or to redistricting, so we're not as long and as physical as we'd like to be. So we just strategically crowded the post the best we could with various defenses and we were lucky enough have a good night shooting from the perimeter."
The Patriots nailed two three-pointers barely a minute into the game and spark an 8-0 start. However, Central started getting to the rim and eventually took a 10-8 lead.
Lincoln then made another trey to end the period for a lead it never lost.
The Patriots gradually pulled away as they continued to shoot with high efficiency. They ended up outscoring Central 27-0 from behind the three-point line.
Arechigo said part of the game plan was to let the visitors shoot from long-range, but that strategy backfired.
"That's a little bit on us, too. We wanted to play a little bit more protecting the paint and the drive, because I really felt like in watching film that they relied a little bit more on the drives and kickouts," Arechigo said, "but that was not what hurt us today."
Mariah Sien had 17 points, Adyson Sand 14 and Alaina Sorensen 13 to led the Lincoln victory.
Kiana Mounga topped Central with 12 points and 10 rebounds. Kyra Griese added nine points, and eighth-grader Taryn Hermansen contributed seven as the Eagles employed a double-post offense.
"It was great to see Kiana back on the boards a little bit better. I was also happy to see Taryn and Kiana work really well in that high post area and Abby Berry as well," Arechigo said. "She just kind of gives us an option with that high post. She just has more experience in there to get those passes down to Taryn and Kiana. Hopefully, with more reps and consistency we'll be able to get those three working really well in that high post area and low post area together."
The Eagles fell to 1-7 on the season and play host to Brookings on Thursday.
Daly was happy to get the rare victory at Golden Eagles Arena against a team he believes will keep on improving as the season goes on.
"They've gotten better every single game, from the weekend they opened up with Rapid, they've been getting better every single game," Daly said of the Eagles. "They have the athletes, and they have the size, and they have the coaching. They're a good team that's going to make a run at the end of the year for sure."
SIOUX FALLS LINCOLN (4-3): Alaina Sorensen 3 4-4 13, Addie Fawcett 1 2-2 5, Mariah Sien 8 0-1 17, Alicena Honner 2 0-0 4, Kierra Lubovich 1 0-0 2, Adyson Sand 5 0-0 14. Totals 20-40 6-7 55.
ABERDEEN CENTRAL (1-7): Taryn Hettich 3 0-0 6, Kyra Griese 4 1-2 9, Abby Berry 2 0-0 6, Kiana Mounga 6 0-0 12, Anna Malchow 1 0-0 2, Taryn Hermansen 3 1-2 7. Totals 19-43 2-4 40.
Sioux Falls Lincoln 11 23 35 55
Aberdeen Central 10 20 27 40
3-point field goals – Sorensen 3, Fawcett, Sien, Sand 4. Total fouls – Sioux Falls Lincoln 12; Aberdeen Central 14. Rebounds – Sioux Falls Lincoln 15 (Lubovich 5); Aberdeen Central 31 (Mounga 10). Turnovers – Sioux Falls Lincoln 11; Aberdeen Central 22. Assists – Sioux Falls Lincoln 13 (Fawcett 5, Sien 5); Aberdeen Central 9 (Hettich 3, Griese 3). Steals – Sioux Falls Lincoln 9 (Sorensen 3, Sien 3); Aberdeen Central 5 (Hettich 3).