Groton lived in transition Thursday night, using its full-court press and a series of Aberdeen Roncalli turnovers to claim a 59-35 Northeast Conference boys' basketball victory at Roncalli Gym.
The visiting Tigers pressed from the opening tip, but didn't let up in the half court setting either, making buckets hard to come by for the Cavaliers. Roncalli was also beset by foul trouble, sending the Tigers to the free throw line 14 times in the first half alone.
The combination spelled the end of Roncalli's modest three-game win streak while Groton improved to 6-0 on the season.
"That's how we always play," said Groton coach Brian Dolan. "But we've really been working since Christmas about having great pressure without overextending and without gambling. … Self-scouting us, we're giving up too many baskets on the other end because we gambled in our press."
The Tigers' patience paid off, as Roncalli was unable to find a consistent offensive rhythm.
"Those first couple possessions that they had, we … kind of knew what was coming and we were able to defend their actions, but at the same time, when you don't get offense and when their entire offense becomes transition due to the fact that they're causing turnovers, that's hard to bounce back from," said Roncalli coach Dan Gallagher. "They do their press very well, and they've got great athletes to run it."
Roncalli stayed within an arm's length, so to speak, in the first quarter, but foul trouble sent two starters to the bench for a good portion of the second quarter and a third starter had three fouls.
Groton took advantage, pushing its lead to double digits quickly in that second stanza. Roncalli's first points of the second quarter did not come until the 4:20 mark when Zee Mounga made it a 23-9 contest with his first two points of the game.
The Tigers, leading 31-19 at the break, then came out of halftime firing. Jayden Zak drilled two straight three-pointers from the corner and Groton forced Roncalli into a handful of quick turnovers.
Dolan said that was a point of emphasis in the locker room at halftime.
"(Roncalli) kind of crawled back in it there at the end of the first half," Dolan said. "Not saying they had the momentum, but we didn't either. It was a momentum-less game at that point. We've got to go out and take the momentum back."
Enter Zak, a senior guard, who found himself open in the corner, a place where he had missed earlier in the game.
"(Coach) told me to shoot the ball," Zak said. "I got it over in the corner and I faded away, and I knew it wasn't going in. So when we got out of the locker room in the second half, I knew I had to stop fading away. And sure, it goes in once I stop fading away."
The two threes were Zak's lone field goals of the game, though the senior did go 5-for-6 from the line and finished with 11 points.
"I was happy for him knocking those two down," Dolan said. "We're still missing too many bunnies at the rim trying to get too cute sometimes or we might have had a few more points tonight."
Kaden Kurtz finished with a game-best 16 points for the Tigers. Lane Tietz had 11 and Wyatt Hearnen added 12 off the bench.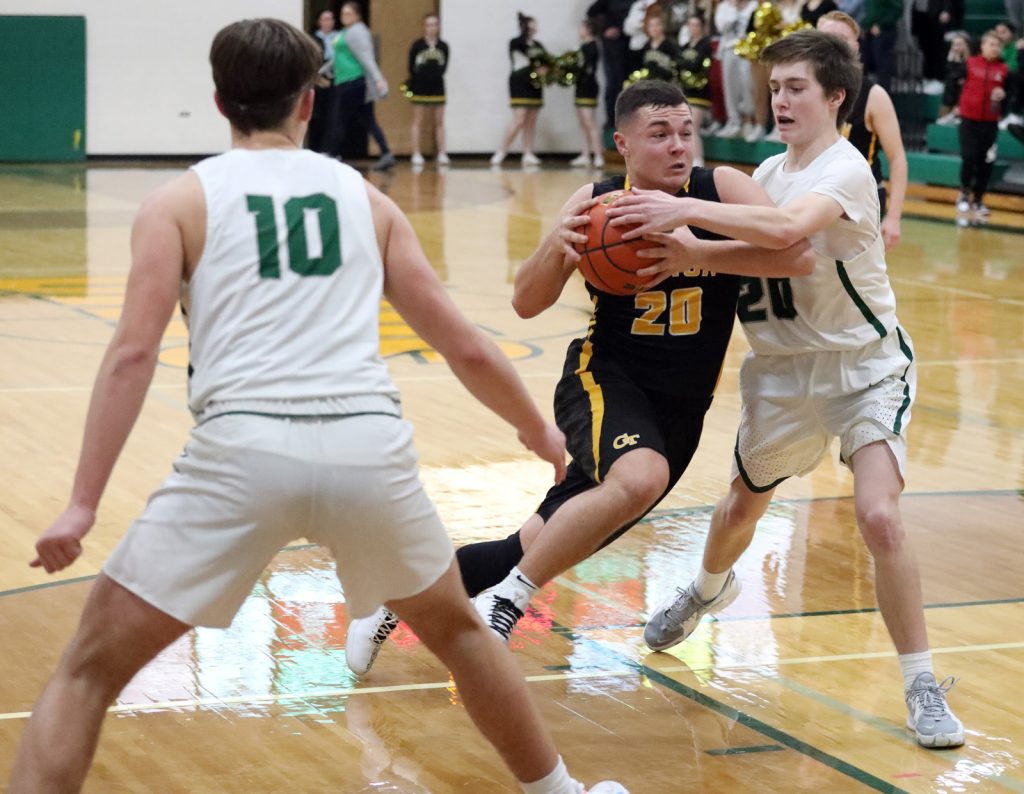 As a team, the Tigers went 14-for-19 from the line, while Roncalli was just 5-for-13.
Maddox May and Darwin Gambler led the way for Roncalli with seven points each.
"We forced up a lot of shots," Gallagher said. "We tried to take shots that might not have been there, and it's hard to get those to go in. I thought we made a couple, but we were taking a lot of contested shots, where our offense is predicated around moving the basketball to find those kickout open threes or getting inside touches to Maddox May. With their pressure it didn't come today. They did a good job of forcing contested shots."
Roncalli is slated to head to Warner Saturday for a Region 1B matchup. Groton will head to Redfield Saturday to take on Deubrook Area as part of the Redfield Classic.
GROTON (6-0): Lane Tietz 5 1-2 11, Kaden Kurtz 5 5-5 16, Jayden Zak 2 5-6 11, Jacob Zak 3 3-4 9, Wyatt Hearnen 6 0-2 12. Totals 21 14-19 59.
ABERDEEN RONCALLI (3-4): Maddox Miller 1 0-0 3, Zee Mounga 2 0-0 4, Caden Shelton 2 0-0 4, Keegan Stewart 1 0-4 3, Maddox May 3 1-2 7, Darwin Gambler 2 2-3 7, Aiden Fisher 1 2-4 5, Jayden Monroe 1 0-0 2. Totals 13 5-13 35.
Groton 12 31 50 59
Aberdeen Roncalli 7 19 28 35
3-point field goals – Jayden Zak 2, Kurtz; Miller, Stewart, Gambler, Fisher. Total Fouls – Groton 16; Aberdeen Roncalli 21.