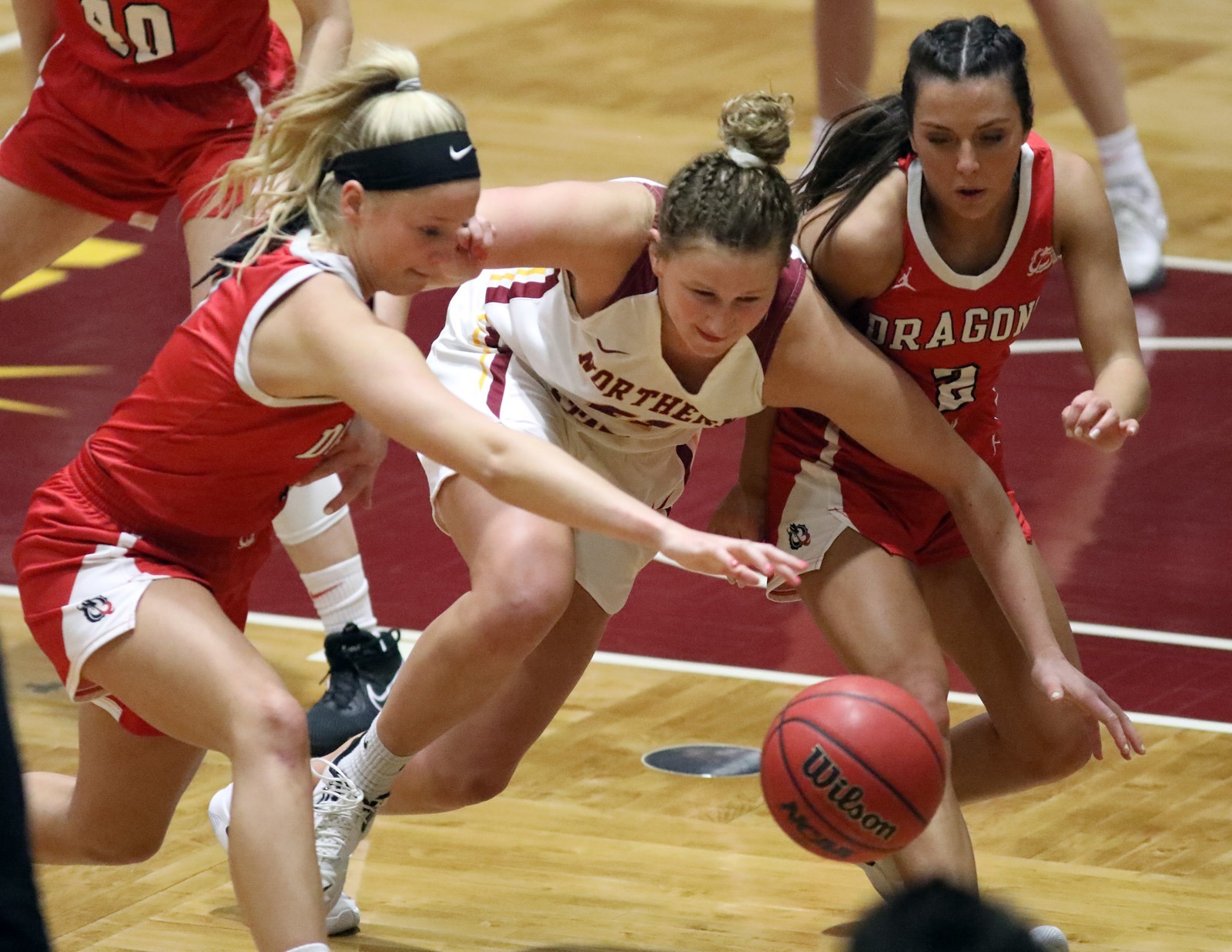 Minnesota State Moorhead used long-range shooting on offense, clogged the passing lanes on defense and knocked off Northern State in women's college basketball Sunday night at Wachs Arena.
The Dragons nailed nine three pointers and forced 21 turnovers en route to a 67-50 Northern Sun Intercollegiate Conference victory.
"A lot of our passes were turnovers because we tried to force it into the post and didn't' pass away from the defense. I'm going to take some credit for those, which is unfortunate, because I tried to go a little later into the shot clock," said Northern coach Paula Krueger. "We probably should be making two or three passes and looking at the first shot that we can take so we alleviate some of that feeling like we need to force the ball inside."
The Wolves led 11-6 in the opening quarter before the visitors started to make their move.

The Dragons outscored Northern 20-6 thanks in part to four three-point field goals. Moorhead was able to maintain a lead the rest of the way, connecting on 9 of 21 from three-point range.
"That's what we have to do. When you're looking to pass first, you're going to miss shots," said Moorhead coach Karla Nelson. "You have to start getting yourself confident and looking for that shot, and then you can pass out of a shot look."
The Wolves stayed within striking distance until the final period when Moorhead pulled away. The Dragons scored 20 fourth-quarter points, eight of them on second-chance opportunities. The visitors ended up with 20 more attempts from the field than Northern.
"We have five pillar words," Krueger said. "We talk about being passionate, we talk about being tough, disciplined, being loud and playing united, and I'm not sure right now that those pillars, that we're leaning on them the way that we should be."
The outcome was a big contrast to Northern's double-digit win over Moorhead to start the NSIC season. Nelson said her team has improved since that first meeting, plus noted the Wolves played without starter Kailee Oliverson.
Of course, Moorhead's defensive effort played a prominent role in the rematch as well.
"The one thing we've been doing during all of our struggles, is we have been getting better defensively," Nelson said. "We have been making it harder for teams to score on us."
Rianna Fillipi topped Northern with 15 points and Lexi Roe followed with 10.
Peyton Boom poured in 23 points for the Dragon to lead all scorers.
"We were supposed to bring some help and we didn't do a very good job of that," Krueger said. "She's a really good basketball player, but any time you give their best kid 23 points you're going to have a tough time winning a game."
Northern slipped to 6-7 overall and 3-5 in league action. The Wolves have now dropped four in a row.
Krueger said there is a lot of season left for the Wolves to get back on track.
"As hard as it is to say that it's early in the year because you've played 13 games, we're still not even halfway through the season," Krueger said, "so we've got a lot of basketball yet to play and we have time to get this thing turned around."
To see complete stats, click on the following link:
https://nsuwolves.com/news/2022/1/2/womens-basketball-wolves-fall-in-2022-opener-to-msu-moorhead.aspx