Mitchell scored three unanswered goals in the middle period to help fuel a 6-4 win over the Aberdeen Cougars in girls' hockey action Saturday afternoon at the Odde Ice Center.
The score was tied at 2-2 before the visitors took control.
"We came out pretty good in the first period. Then we kind of had a lull and then we finished pretty strong, and then the second period we had some issues of our own that we were trying to figure out," said Aberdeen coach Rob Weinmeister. "We just weren't hustling and they were beating us to some pucks. You're not going to win a game when you get outhustled."
While the Marlins outshot Aberdeen by 14, Weinmeister some of his team's problems came before the pucks were fired on net.

"We made mistakes before the goals went in," he said. "We had breakdowns in other areas which led to those opportunities. Those are the things that we have to do better."
The Cougars did pull to within one goal with 15:12 remaining, but Mitchell added an insurance goal with 4:31 left and was able to close out the win.
Kelsey Amick had a hat trick for the Marlins, scoring once in each period. Kate Nash added a pair of goals.
Madelyn Witte, Sydney Hofer, Kailyn Poppen and Morgan Jones each scored once for the Cougars.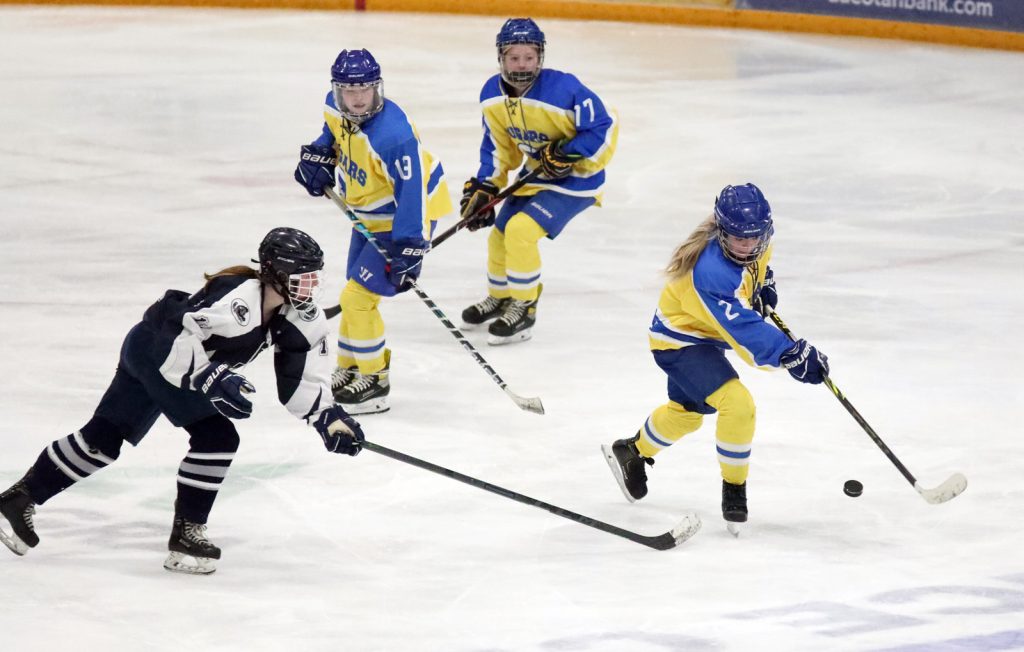 The victory was the second for Mitchell over the Cougars this season. The Marlins feature older, physical players while Aberdeen is predominantly underclassmen.
"We need to learn how to play a little bit more physical game," Weinmeister said. "This was a very physical game compared to most of our games. We have to learn how to play like that."
Weinmeister believes that his younger girls are getting stronger and games like the one on Saturday will only help them for the stretch run.
"The positive that we take away is we're getting better and we are learning to push back a little bit," Weinmeister said. "We have to continue to do that and we will. That's only going to help us in the long run."
Mitchell Marlins 2 3 1 – 6
Aberdeen Cougars 2 1 1 – 4
First Period: 1, AC, Madelyn Witte (Kalin Hepper, Lauren Scheel), 13:19; 2, M, Kate Nash (unassisted), 12:19; 3, M, Kelsey Amick (Brynlee Sabers), 4:02; 4, AC, Sydney Hofer (Kailyn Poppen), 2:05.
Second Period: 5, M, Nash (unassisted), 9:33; 6, M, Amick (Sabers), 8:37; 7, M, Sabers (Amick, Brooke Jarman), 6:22; 8, AC, Poppen (Morgan Jones), :22.
Third Period: 9, AC, Jones (Poppen), 15:12; 10, M, Amick (Jarman), 4:31.
Shots on Goal: Mitchell Marlins 41; Aberdeen Cougars 27.
Goalies: Mitchell Marlins, Sadie Kludt (23 saves); Aberdeen Cougars, Ellen Orr (35 saves).