After rare back-to-back setbacks, the Aberdeen Cougars were searching for a way to get back in the win column. They definitely earned a 'passing' grade in that quest at Odde Ice Center on Sunday afternoon.
The Cougars had multiple assists on multiple goals to record an 8-2 girls' hockey victory over the Huron All-Stars.
"We focus on the passing all the time. I'm always yelling at them to look and move the puck across," said Cougars coach Rob Weinmeister. "We try to use the whole ice, so it's good when those things come together."
From their first goal of the game, when Ema Rehder scored on assists from Morgan Jones and Madeline Sandvig, the Cougars took their time to search for the open player against a Huron team that is short on numbers.

"We were just focusing on our passing a little more. We knew it was going to be a little slower of a game because they only have eight players," said freshman Allie Woehl, who scored two goals in the contest. "We had more energy coming out. We just passed more and we were thinking about more of what to do, like what we would do at practice and putting that into game situations."
Both of Woehl's goals came on feeds from Sydney Hofer, who also scored a goal herself.
Sandvig scored a goal on assists from Alissa Roehrich and Rehder. Jones scored on assists from Rehder and Sandvig as the Cougars' attention to passing paid off.
"We haven't really been passing very well, but today was really crisp," Woehl said, "and we were looking around, just focusing where we should move it to and the smart plays."
Aiden Raap and Roehrich also scored for the Cougars in the triumph.
Aberdeen ended up getting 47 shots on goal, nearly twice as many as Huron.
"We focus on getting shots on net. That's important," Weinmeister said. "We try to move the puck around to the front. One thing we were trying to focus on today is get our shots off quicker, which we still need to do a better job of."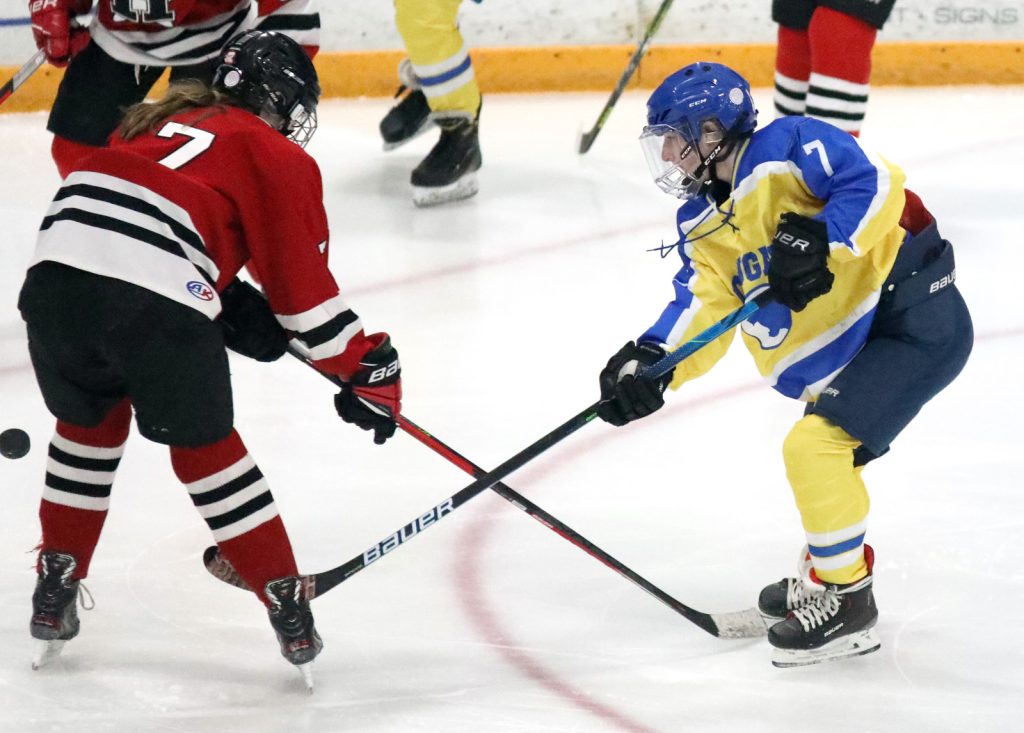 Huron did grab momentum briefly in the second period, cutting the margin to 3-2 before the Cougars regained control.
Weinmeister said his young squad still has things to improve as they head into the second half of the season.
"We have to work on consistency, we have to work on the mental toughness side of it, especially when things don't go our way," Weinmeister said. "I always tell the girls the other team has a say in how the outcome is and we can't get frustrated by that amongst ourselves."
The Cougars are battling through illness and injuries which showed up this past weekend with a pair of losses. The squad does not play again until Jan. 7, so the break comes at a good time.
"It's been a rough weekend as far as the injuries and things didn't go our way the last two games, so to finish like this was good, especially going into the Christmas break," Weinmeister said. "To finish the first half of the season with a win like this was good for us."
Sunday's victory will have a lingering impact, according to Woehl.
"It was really nice," she said. "Even the school week is going to be better just knowing we won the last game of the weekend."
Huron All-Stars 0 2 0 – 2
Aberdeen Cougars 3 2 3 – 8
First Period: 1, AC, Ema Rehder (Morgan Jones and Madeline Sandvig), 13:03; 2, AC, Aiden Raap (Kaylee Dixon), 12:25; 3, AC, Alissa Roehrich (unassisted), 8:40.
Second Period: 4, H, Kylee Small (Devin Hunter), 14:05; 5, H, Azalea Rashaad (Small), 11:42; 6, AC, Jones (Rehder and Sandvig), 5:38; 7, AC, Sydney Hofer (Rani Mattke), 1:33.
Third Period: 8, AC, Allie Woehl (Hofer), 10:10; 9, AC, Sandvig (Roehrich and Rehder), 7:11; 10, AC, Woehl (Hofer), 2:11.
Shots on Goal: Huron All-Stars 24; Aberdeen Cougars 47.
Goalies: Huron All-Stars, Marissa Ready (39 saves); Aberdeen Cougars, Ellen Orr (22 saves).