The end result wasn't what the Aberdeen Cougars were hoping for, but the effort throughout the team's season opener was something to build upon.
The Cougars dropped a 5-4 decision in overtime to the Oahe Capitals in boy's hockey action Friday night at the Odde Ice Center.
"We didn't come out on top," said Cougars coach Jeremey Backous, "but I couldn't be more proud of the boys for the effort they gave tonight."
Aberdeen jumped in front with two goals in the opening period. Jacob Grau started the scoring, and then Brady Huff took a pin-point pass from Jadon Jorgenson and found the back of the net for a two-goal lead.

The Capitals stormed back with three second-period goals, two by Ashton Griese.
The Cougars then surged in front on back-to-back goals by Jaxon Danielson and Carson Myhre before the visitors tied the game with 6:50 left in the third on Carter Sanderson's second goal of the contest.
Sanderson then ended the game with another goal midway through the overtime period.
"That's a tough one to lose. I'm proud of the effort of the boys tonight," Backous said. "When you give up three in the second period, it's easy to pack it in and they kept battling and found a way to get back in the game. We took it to overtime. I wish it would have ended different, but it is what it is."
The Cougars, who have had a couple of lean years, feature a blend of 13 seniors to go along with some solid newcomers this season.
"I think we're just a deeper team. We've got a good three lines and a good fourth line that will go and help the team when we need them to contribute like you saw tonight," said Cougars senior captain Kasen Claymore. "The third line, we had three kids that scored their first varsity goal tonight, so that's a pretty good game."
That blend of veterans and youth has been working well so far in practices and it was on display against Oahe.
"It was a heckuva hockey game, I thought. We've got some young talent and then some of the seniors we have providing good leadership," Backous said. "Practices have been really good and that's where it starts for us, our efforts in practices and pushing each other every day to get a little bit better."
While a setback is not what the squad wanted for its season opener, Claymore said there were positives the team can build on going forward.
"Pierre is a team that we've never really skated with and tonight taking them to overtime I think is a step in the right direction," Claymore said. "This organization is going in a good place."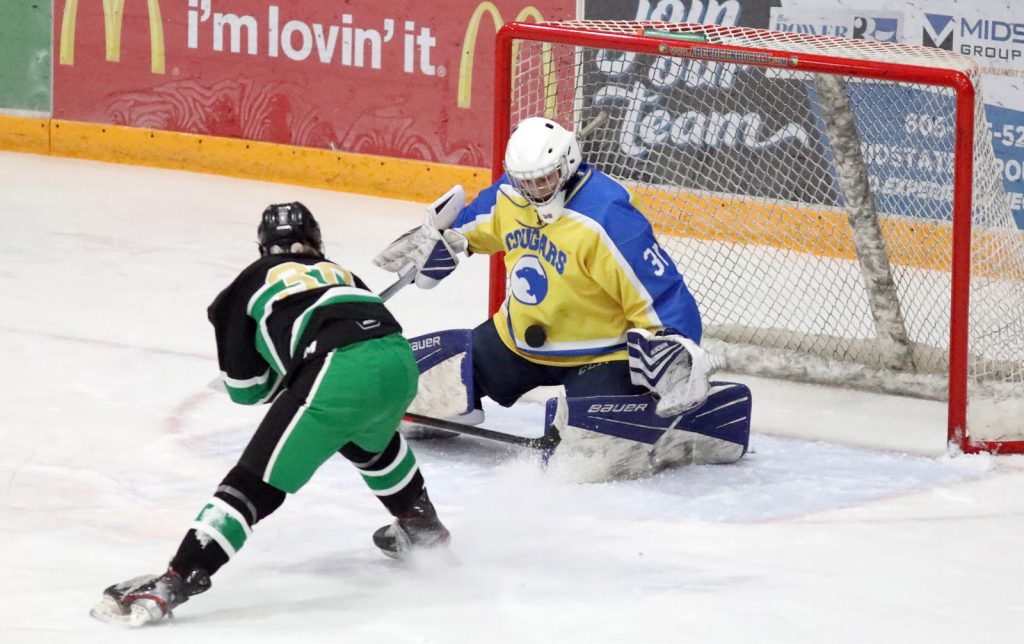 Both teams had numerous opportunities throughout the contest, but each team's goalies was up to the task. Carson Hundstad stopped 27 shots in goal for the Cougars.
"I thought our goal tender made some big saves for us early in the game, which gave us a little bit of momentum to play off of," Backous said. "I thought he played well and really in all zones I thought we played pretty well, tonight."
The Cougars are right back in action when they host Huron at 8 tonight at the Odde Ice Center.
Oahe Capitals 0 3 1 1 – 5
Aberdeen Cougars 2 0 2 0 – 4
First Period: 1, AC, Jacob Grau (Mason Carrels, Jacob Scheel), 7:30; 2, AC, Brady Huff (Jadon Jorgenson), 2:01.
Second Period: 3, OC, Ashton Griese (unassisted), 9:16; 4, OC, Carter Sanderson (unassisted), 8:16; 5, OC, Griese (Dre Berndt, Sanderson), 3:07.
Third Period: 6, AC, Jaxon Danielson (Carson Myhre), 15:18; 7, AC, Myhre (Phillip Zens, Chanden Nieman), 8:43; 8, OC, Sanderson (unassisted), 6:50.
Overtime: 9, OC, Sanderson (Griese), 5:01.
Shots on Goal: Oahe Capitals 32; Aberdeen Cougars 27.
Goalies: Oahe Capitals, Carter Schulz (23 saves); Aberdeen Cougars, Carson Hundstad (27 saves).