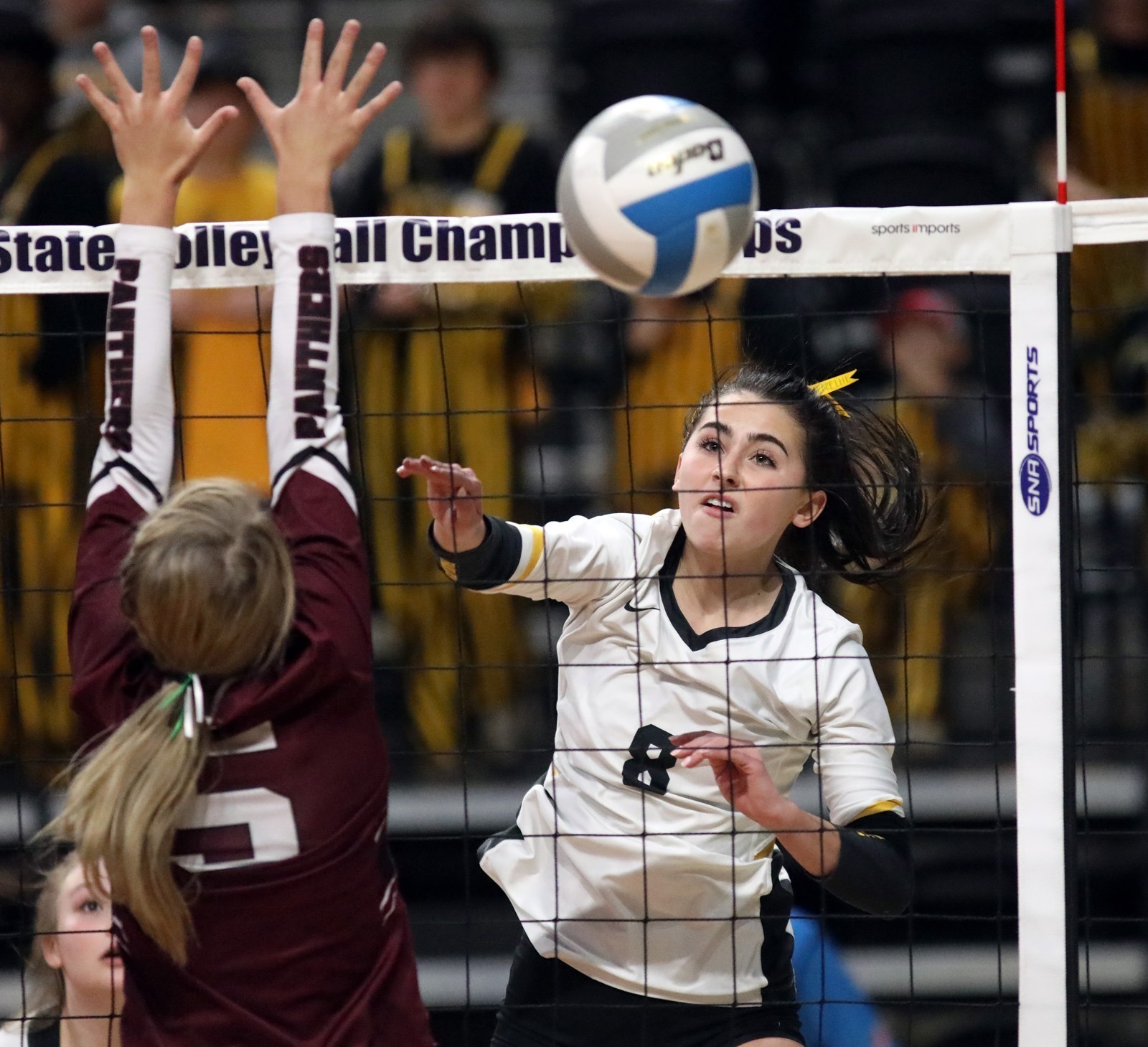 Area athletes are well represented on the Class B All-State Volleyball teams as selected by the South Dakota Volleyball Coaches Association.
There are five members of area teams who were chosen, including three on the first team: Isabel Aesoph of Faulkton, Ella Haven of Northwestern and Ava Nilsson of Warner. Among the second team members is Mary Fites of Aberdeen Christian. Katelyn Schroeder of Hitchcock-Tulare was an honorable mention selection.
Other first team picks in Class B are Mya Boomsma of Wolsey-Wessington, Hadley Carlson of Arlington, Jayda Kenyon of Chester Area, and Karly VanDerWerff of Platte-Geddes.
Other second team selections are Mackenzie Hemmer of Colman-Egan, Adisyn Indahl of Burke, Copper Lurz of Philip, and Julia Weber of Bridgewater-Emery.

Other honorable mention picks are Dani Deffenbaugh of Kimball-White Lake, Avery DeVries of Platte-Geddes, Tyra Gates of Miller, Grace Parry of Arlington, and Tiffany Pelton of Avon.
Here is a look at the local selections:
Isabel Aesoph: This senior racked up 457 kills, 59 aces, 547 digs, and 16 blocks to help lead the Trojans to a fourth place finish at the state tourney. "Isabel is a very well-rounded athlete with a strong competitive edge," said Faulkton coach Mallory Schlechter. "She was always able to make a play both offensively and defensively. She was a great leader and role model for our team this season."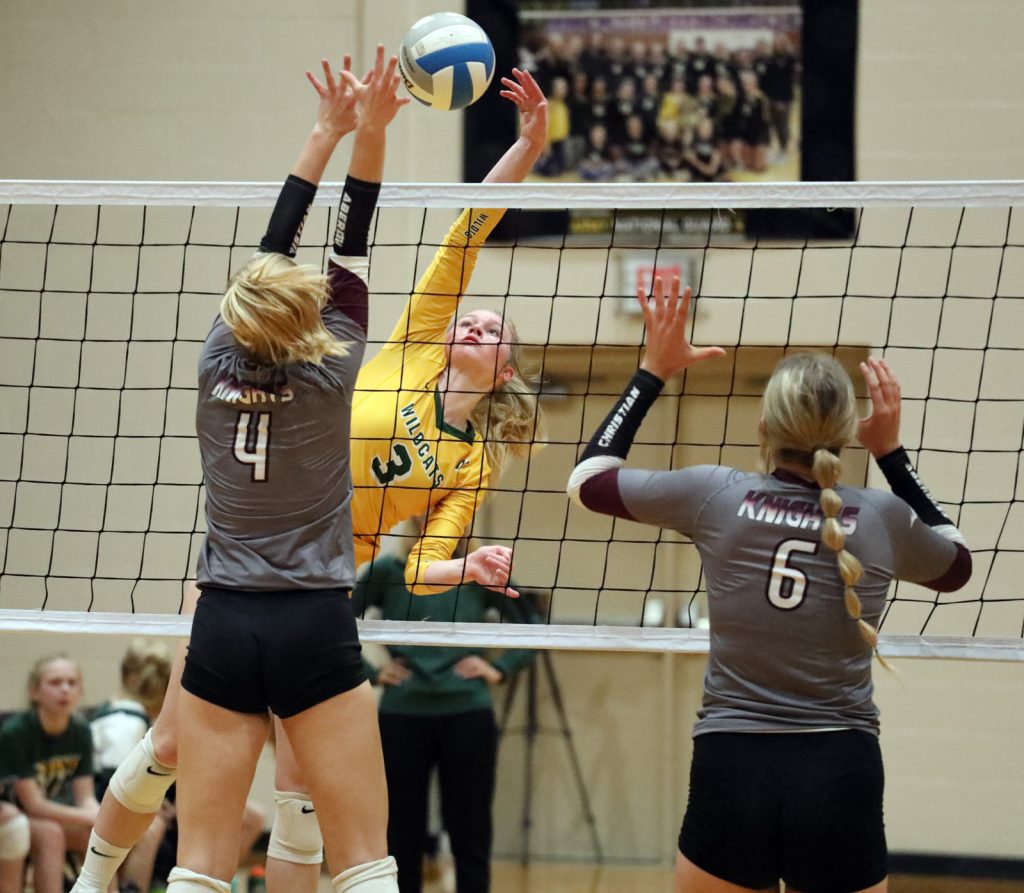 Ella Haven: Haven, a junior, was a force for the Wildcats from all spots on the floor. She had 451 kills, 313 digs, 72 aces and 53 blocks to lead the team in every category except set assists. "She transformed herself from a 3-rotation middle blocker into a 6-rotation passing outside hitter," said Northwestern coach Nora Groft. "The work she put in in the off-season showed on the court. She is our captain and a fiery competitor."
Ava Nilsson: This sophomore was at the hub of the Class B state champions. The setter finished with 988 assists (9.59 per set), 111 kills, 71 ace serves, 247 digs and 45 blocks. "Ava inspires others to play hard because she is a positive role model," said Warner coach Kari Jung. "She has a high volleyball IQ, and knows where to put the ball offensively."
Mary Fites: This senior helped lead the Knights to their first ever state tourney appearance. She had 311 kills (and recorded her 1,000th), 55 ace serves, 294 digs and 32 blocks this season. "Mary has been a key part of the growth and recent success of the Aberdeen Christian volleyball program," said Knights coach Maggie Jett. "She is a standout athlete who works hard on and off the court, and she is the type of player that any coach would want on their team because of her coachability, her team-first attitude, along with her drive and quality character."
Katelyn Schroeder: Just a freshman, Schroeder had 374 kills (4.56 per set), 41 aces, 383 digs and 41 blocks for the Patriots this season. "Katelyn was our go-to player all year as she has a dynamic swing for a freshman and plays an outstanding back row," said Hitchcock-Tulare coach Jordan Opp. "Katelyn is constantly thinking how to make herself and her teammates better. It will be fun to watch what type of volleyball player she will become the next three years."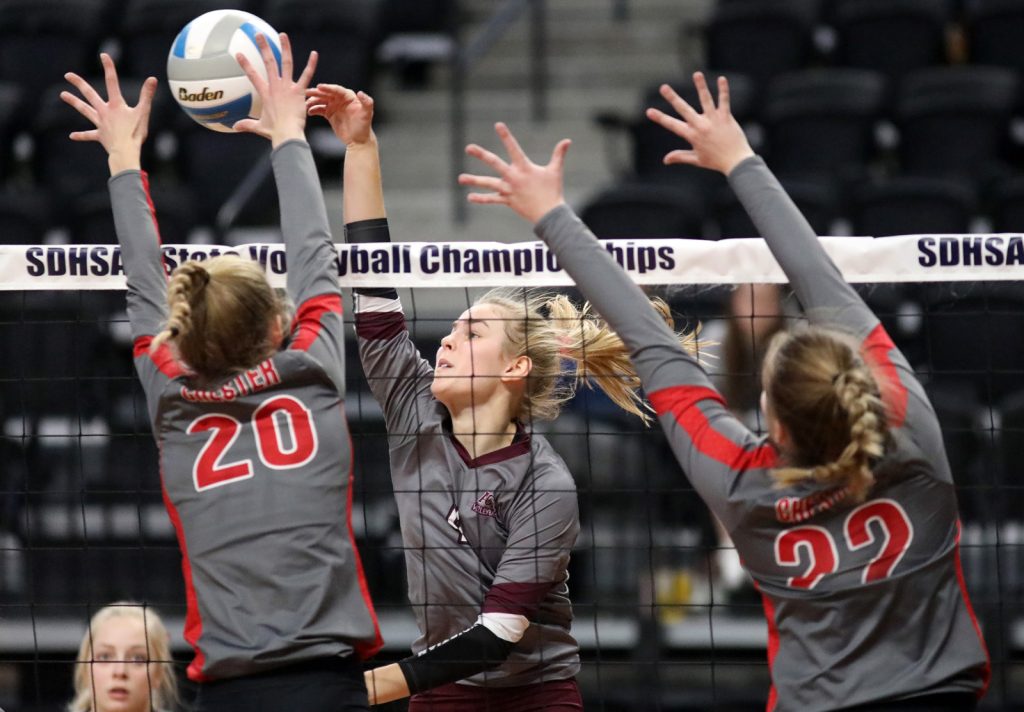 Class AA first-team selections are Liz Kopp of Brandon Valley, Abby Meister of Harrisburg, Bergen Reilly of O'Gorman, Brynn Kirsch of Sioux Falls Lincoln, Elizabeth Denevan of Sioux Falls Roosevelt, and Joslyn Richardson and Ellie Walker of Sioux Falls Washington.
AA second-team selections are Emily Dale of Huron, Ayvrie Kaiser of Pierre, Lizzie Tyler of Mitchell, Brogan Breck of O'Gorman, Baily Plourde of Sioux Falls Lincoln, Mya Vandrovec of Sioux Falls Roosevelt, and Jadyn Schetnan of Sioux Falls Washington.
Class A first-team members are Ellie Brozik of Winner, Olivia Kieffer of Rapid City Christian, Logan Miller of Dakota Valley, Audrey Nelson of Madison, Lily Ranschua of Garreton, and Sydney Tims and Katie VanEgdom of Sioux Falls Christian.
Class A second-team selections are: Tevan Erickson of Elkton-Lake Benton, Jocelyn Manzano of Mount Vernon-Plankinton, Abby Siemonsma of Hill City, Jorja Van Den Hull of Dakota Valley, and Emma Yost of Wagner.
Class A honorable mention includes Jaelyn Benson and Logan Bly of Garretson, Brooke Berens of Parker, Anna Egge of Rapid City Christian, Kyla VanDonkersgoed of Sioux Falls Christian, and Mataya Ward of Belle Fourche.