Aberdeen Christian was in a hurry to get things done Tuesday night at the Aberdeen Civic Arena.
The second-rated Knights used their speed and athleticism to spread the floor and run the floor on the way to a 66-38 non-conference boys' basketball win over Britton-Hecla.
"We like to play fast and we're very comfortable playing that way," said Christian coach David Rohrbach. "We have multiple guys that can handle the ball."
Pace of play has been an emphasis this season for the Knights, who improved to 4-0 on the season.
"We've been working on that a lot, this year especially," said junior Ethan Russell. "That's been a focus to get out and run more with the faster guys we've got now."
The Braves also like to play up-tempo, but they did not have the resources to go end to end against Christian for a full 32 minutes.
The game began to get away from the visitors midway through the second period when the Knights went on a 13-2 run to close the half.
"We're down a few guards. Our style of play is to play fast. The pace in the first quarter was alright, but man they kind of wore us down. They are long and if they get one step on you, they're at the basket in a hurry," said Britton-Hecla coach Troy Knecht. "They spread the floor out and they are a matchup problem, and we just didn't have the horses tonight to deal with it."
Russell caused the Braves major problems early in the contest, consistently beating his defender off the dribble for high-percentage shots or kick out passes to wide open teammates for perimeter attempts.
He said that was the plan going into the contest.
"It's just all about making it easier on ourselves," Russell said. "When I drive we've got a lot of shooters so I trust them to kick it out if they double."
Standing at 6-foot-6 with the ability to hit from the outside and put the ball on the floor, Russell (who had 17 points and nine rebounds) is a load for opposing defenses to handle.
"Ethan really set the tone right away attacking the hoop," Rohrbach said. "We told him just be aggressive, use your size, whether it's posting up, attacking the rim. Very few teams will have an answer for his length and then his athleticism."
When Russell wasn't doing damage inside, Malek Wieker was causing havoc outside, nailing four three-point field goals on the way to a game-high 24 points.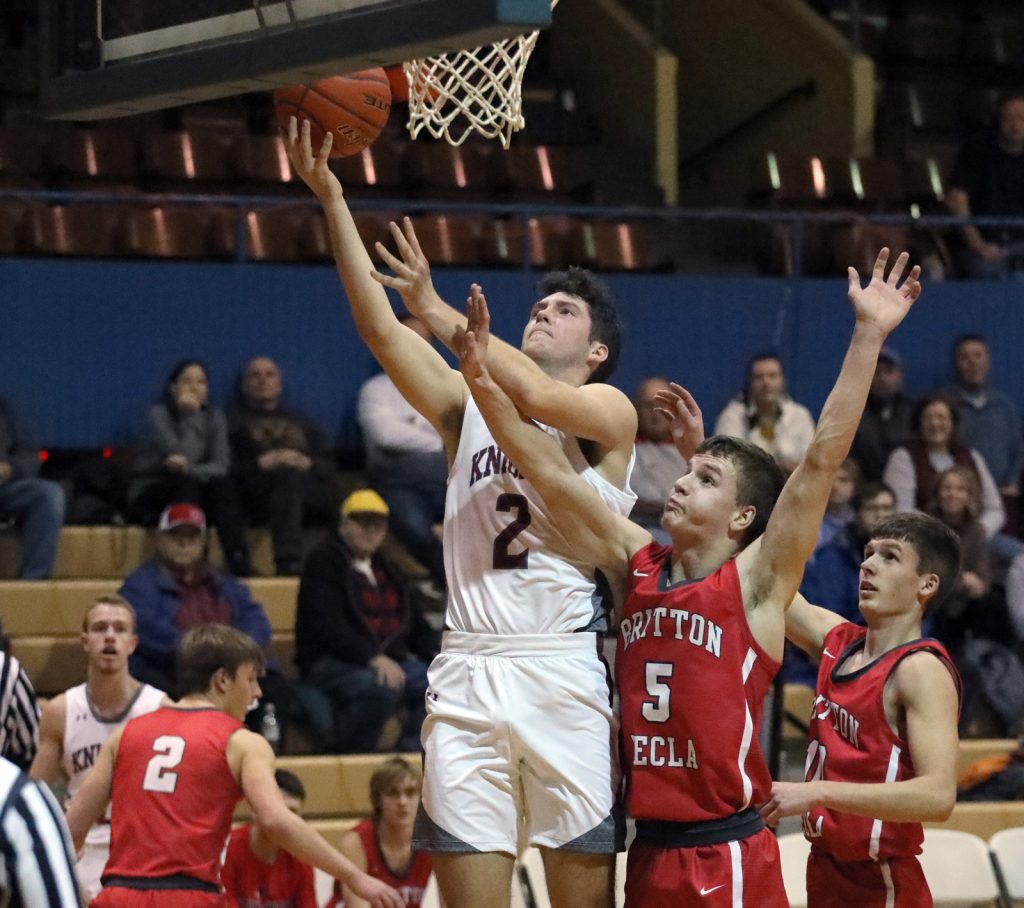 The taller Knights presented all sorts of matchup issues for Britton-Hecla.
"Not many Class B teams have that length all the way around and then Wieker of course he got it going; really good shooter," Knecht said. "You have to be right on him and early on it was good, but we ran out of energy to do it."
Aidan Fredrickson led the Braves with 14 points.
Knecht said the season will be a work in progress.
"Our goal is just to get better every game," he said. "We want to be the team that nobody wants to play at the end of the season."
Christian returns to action on Tuesday, Dec. 28 when it faces third-rated White River at the Corn Palace in Mitchell.
"This is a game that we've had circled all year," Rohrbach said. "For one, just the venue and the classic, and then obviously it being White River, a perennial power. It should be a lot of fun. We're looking forward to it."
BRITTON-HECLA: Aidan Fredrickson 6 2-2 14, BoDell Davidson 1 0-0 2, Ashton Mills 2 0-0 4, Dawson Treeby 3 0-0 9, Ty Fagerland 4 0-0 9. Totals 16 2-2 38.
ABERDEEN CHRISTIAN: Andrew Brennan 1 1-2 3, Jackson Isakson 4 0-0 9, Ethan Russell 8 0-0 17, Malek Wieker 9 2-2 24, Kaden Clark 1 0-0 2, Abe Holscher 3 0-0 8, Blake Rich 1 0-0 2, Joey Johnson 0 1-2 1. Totals 27 4-6 66.
Britton-Hecla 13 19 36 38
Aberdeen Christian 16 35 53 66
3-point field goals – Treeby 3, Fagerland; Isakson, Russell, Wieker 4, Holscher 2. Total fouls – Britton-Hecla 8; Aberdeen Christian 10. Rebounds – Aberdeen Christian 34 (Russell 8, Clark 7). Turnovers – Aberdeen Christian 12. Assists – Aberdeen Christian 13 (Brennan 3, Isakson 3, Wieker 3, Clark 3). Steals – Aberdeen Christian 9.