Northern State's length translated into a long night for Presentation College Saturday night.
The Wolves consistently rotated out on shooters and made scoring difficult on the way to an 83-47 non-conference men's basketball victory during the Dacotah Bank Classic at Wachs Arena.
"We had some weird matchups, because we had lost two players, one before the game and another during the game to illness," said Northern coach Saul Phillips. The Wolves then lost a start to injury and were forced to use people out of their normal spots. "So that makes for some real challenges in terms of rotations, in terms of containing the ball. Our guys did an admirable job all night long on that."
With open looks hard to come by, the Saints shot just 3-of-19 from three-point range and were held to their second-lowest point total of the season.
"They do a great job with their rotations," said PC coach Stan Holt. "They're very well coached and they stay in their defensive stance and they rotate really well."
Meanwhile, on the other end of the floor, the Wolves made the extra pass to find open teammates for high-percentage shots. Northern was charted with 20 assists on the evening.
"We're not a selfish team," said Jacksen Moni. "We like to move the ball and when we move the ball, we play really well."
Moni led the Wolves with 27 points, many of them coming off pin-point passes from Northern center Cole Bergan.
"He's a great passer. He's probably one of the best big men that passes the ball like he does," Moni said. "He was able to find me and I was able to hit them."
Bergan finished the game with 13 points and a team-leading seven assists. The former Aberdeen Central standout also dished out seven assists in Friday's victory.
"He had 14 assists on the weekend. For a big, that's a huge number," Phillips said. "I think one of the things that makes this team really special is that we have four big men, in Jacksen, in Jordan (Belka), in Cole, and in Kobe (Busch) that all move the ball really well. They all are extremely skilled."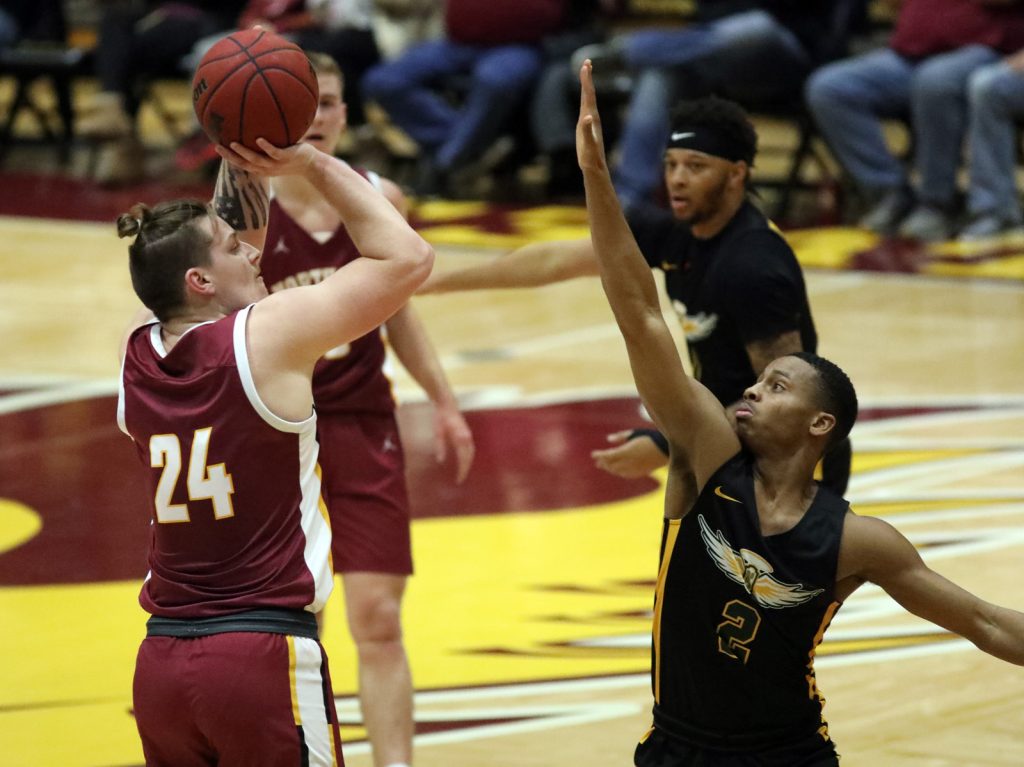 The Wolves played with a double-digit lead after the opening 12 minutes and were up by 27 points early in the second half before the Saints made a run and eventually cut the deficit to 55-39 with 12:51 remaining. However, Northern responded with 15 unanswered points to regain control.
"We did fight back. It was a major emphasis for us," Holt said. "I talked about with our team both before the game and at halftime that I didn't think we'd done a great job, especially in the last game and other games this season as well, of not responding when things got tough and we need to do a better job of that."
The Saints definitely responded, but were unable to sustain it.
"We were down 25. We pushed it to 16. I thought we had a chance to really cut it a little bit more," Holt said. "We didn't end up doing that, but I'm proud of the way we tried to respond to a couple of their runs."
Dwight Felton led PC with 11 points and Jeremiah Gilyard followed with 10. The Saints play at North Dakota next week to conclude a demanding month of basketball.
"It's been a really jam-packed, tough November," Holt said, "and I'm hoping that we learn from some of this."
Belka added 18 points to the Northern total and Busch contibuted nine.
The Wolves now have Northern Sun Intercollegiate Conference games the rest of the way. They will be attempting to win their fifth straight NSIC championship.
"We've played a tough enough pre-season schedule to know that we're going to be in the mix if we play well," Phillips said. "We're excited about it."
To see a complete box score, click on the following link:
https://nsuwolves.com/sports/mens-basketball/stats/2021-22/presentation-college/boxscore/9360