RAPID CITY – The effort and heart were there, but the desired result was just out of the grasp of the Faulkton Trojans Saturday afternoon.
Faulkton battled back from one deficit after another before finally succumbing to Platte-Geddes 22-25, 25-8, 25-18, 20-25, 15-12 in the third place match during the Class B State Volleyball Tournament at The Monument.
"Our girls played strong. They weren't ready to give up, yet," said Faulkton coach Mallory Schlechter. "We always give them that credit. We're going to keep fighting no matter what the score is and no matter what's happened throughout the match. We're going to give it our all."
That was definitely evident during the match.
After Faulkton won the opening set, the Black Panthers took control in the second and third sets, and then bolted out to a 6-2 lead in the fourth.
Platte-Geddes was still leading 16-12 before the Trojans mounted a comeback and finished strong to tie the match.
The Trojans were then staring at another difficult task after Platte-Geddes scored the first five points of the fifth set.
"That would bring a lot of teams down," said Faulkton senior Sydney Campbell, "but I'm proud of all of our girls for stepping up even when we were down, to try to fight ourselves back into the spot."
The Trojans made it all the way back to 13-12, but were unable to get over the hump.
Still, the squad showed a lot of resolve to keep battling.
"I'd say that says a lot about our team," Campbell said. "We've gotten ourselves into a lot of rough patches before and we always end up with a lot of fire to try to get ourselves back into it. Today we just didn't start soon enough and we fell a little short."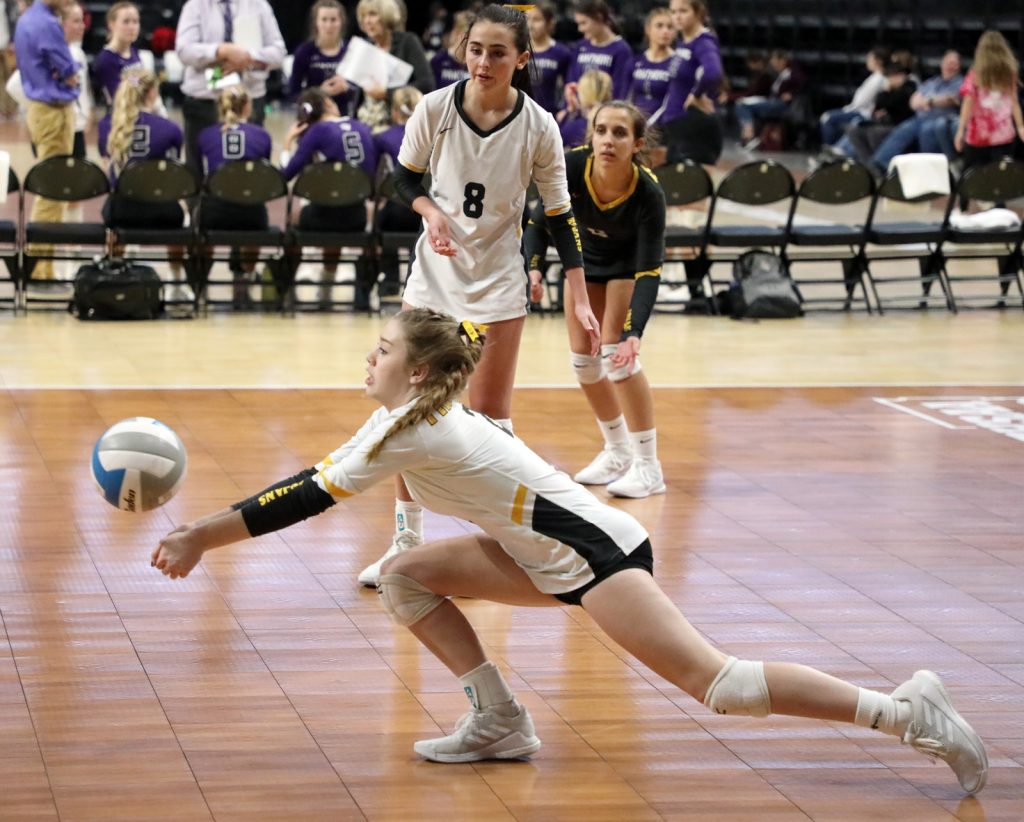 Camryn Deiter led the team with 17 set assists to go along with 15 digs. She talked about the atmosphere surrounding a tight match in the state tournament.
"I try not to let nerves get to me. I try to turn it into anticipation, but the environment there is unbelievable and I wouldn't have wanted this season to end any other way," Deiter said. "I thought we played great despite the outcome, despite what happened (Friday in a loss to Warner). I'm so proud of my team."
Isabel Aesoph and Shayna Heitmann each had 15 kills to lead Faulkton.
The Trojans concluded the season with a 27-8 record and a fourth straight state tournament appearance, despite losing some solid players from last year's team.
"We were all thinking what's going to happen this season? We had no idea, but I think we came out so good," Deiter said. "We made it to the state tournament, we pushed for every single point post season. I'm very proud."
This year's team featured a blend of upperclassmen and younger players.
Schlechter believes the program is in good shape moving forward.
"That was one thing about our program. We had a lot of younger girls and we had a lot of older girls," Schlechter said. "We're really sad to see those seniors go, but I think they've trained our younger girls really well, so we're still looking good for the years to come."
Serving: Faulkton 3 aces (Sydney Campbell 1, Isabel Aesoph 1, Gabby Kast 1); Platte-Geddes 15 aces (Karly VanDerWerff 4, Avery DeVries 4, Regan Hoffman 2, Baleigh Nachtigal 2, Cadence Van Zee 2, Hadley Hanson 1).
Hitting: Faulkton 36 kills (Aesoph 15, Shayna Heitmann 15, Carly Cotton 5); Platte-Geddes 61 kills (VanDerWerff 27, Van Zee 21, Hoffman 10).
Setting: Faulkton 36 assists (Camryn Deiter 17, Kast 16); Platte-Geddes 58 assists (DeVries 51).
Digs: Faulkton 100 (Campbell 23, Aesoph 21, Cotton 15, Deiter 15, Trisha Cramer 10); Platte-Geddes 75 (Van Zee 16, VanDerWerff 16, Hanson 15, DeVries 12).
Blocks: Faulkton 2 solos 14 assists (Kelli Stoecker 2 solos 5 assists, Kast 3 assists, Deiter 2 assists, Aesoph 2 assists, Heitmann 2 assists); Platte-Geddes 1 solo 2 assists (VanDerWerff1 solo 1 assist, Hoffman 1 assist).
Records: Faulkton 27-8; Platte-Geddes 34-5.