GROTON – Aberdeen Christian did something it's never done to advance to a place they've never been.
The Knights defeated Northwestern for the first time in school history and advanced to the round of SoDak 16 in volleyball for the first time as well.
Christian staged two epic rallies to defeat the Wildcats 18-25, 25-19, 26-24, 29-27 in the semifinals of Region 1B Thursday night.
"They fought so hard," said Christian coach Maggie Jett. "I told them before the game we have all of the tools to beat this team. We just have to go out and do it. We can play point for point with this team and as long as we stay with them we can come out on top."

After splitting the first two sets, the Knights appeared to be in trouble in the third set, trailing 22-15 and 23-17 before pulling out the pivotal set.
Christian again found itself in a difficult spot in the fourth set trailing 21-14 before mounting a huge comeback to set up a dramatic finish.
"That's just kind of a forte of our team," said Christian senior Mary Fites, who recorded her 1,000th career kill in the victory. "We dig ourselves into holes and then we dig ourselves out."
It was sophomore Chloe Bosma who stepped up to the service line and served seven straight points to give the Knights a 23-21 lead.
"It's very nerve wrecking," Bosma said, "but if you just take a deep breath, you'll be fine."
Each of those serves was crucial as the Knights changed the momentum late in the match.
Bosma said her teammates played a key role in giving her confidence on the serves.
"Mainly, I just wanted to keep them in and keep them playable," Bosma said, "and it sure helped because all of my teammates turned their heads and said, 'you got this,' so that helped."
Ironically, Bosma hasn't served much this season until lately.
"We had her serving last game, because she has been working so hard on her serve," Jett said. "We've been seeing that progressing and seeing what a weapon that could be. She stepped up tonight. She did amazing."
From there, the Knights had five match points before finally winning the sixth one as the defending State B champions did not go away quietly.
Once a Northwestern kill attempt sailed long on the final match point, the Christian celebration was on as the Knights secured a spot in next Tuesday's SoDak 16.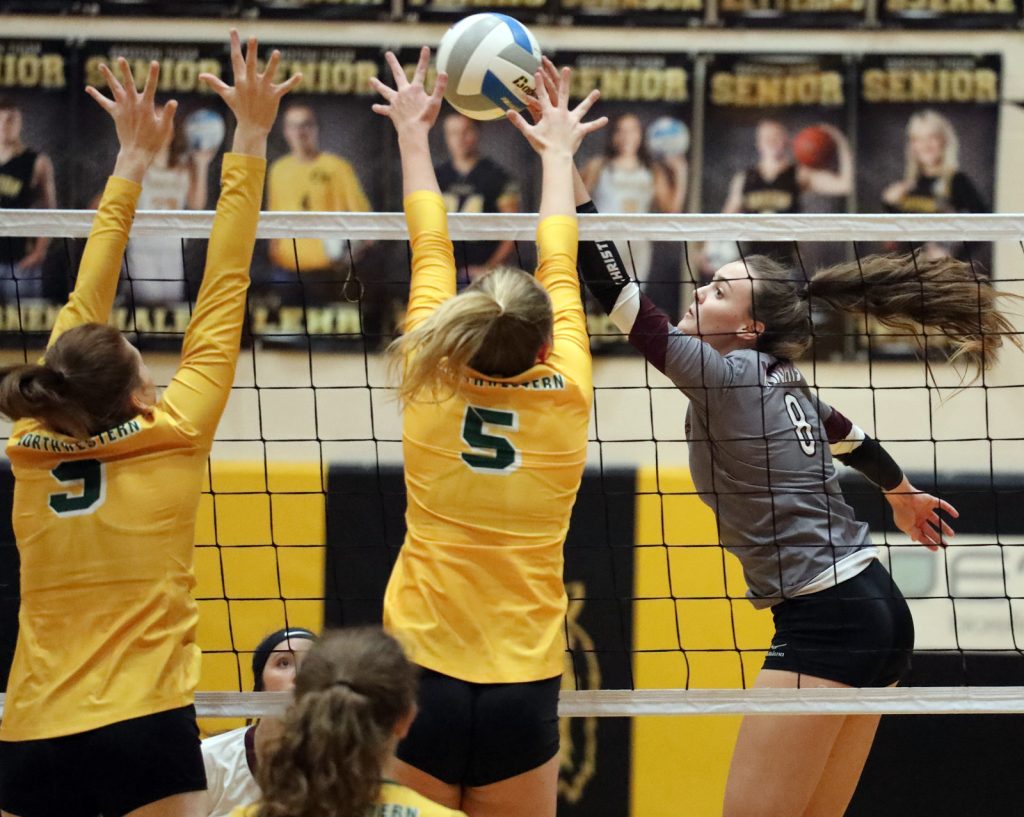 "This feels so good. We've worked for this for so long," Fites said. "It's really nice to be able to get here. I am so grateful to God that I have a chance to play volleyball every single day. I'm so grateful that I got to make the Sweet 16 with these girls."
Mallory Miller finished with a match-high 17 kills to go along with four blocks. The 6-foot-4 junior was a dominant force at net all match.
"We just can't match that middle. We had no answer for that," said Northwestern coach Nora Groft. "If we couldn't get them out of system, there's nothing we could do. She's just swinging right over the top of us, tipping straight down. We can't get there."
Miller is part of a tall front line that caused problems for the much shorter Wildcats.
"On paper we don't match up with Aberdeen Christian very well. They're 6-4, 6-1, 5-10, 5-10 and our biggest kid is 5-8. Most of us are 5-6 at the net," Groft said. "They're super athletic and we're not. We're a skilled team. Our kids have very high volleyball knowledge, but we just couldn't match up with them athletically on the other side and we just don't."
Mack Stoltenberg had 14 kills, Ella Haven 10 and Haiden Grandpre nine for Northwestern, which finished its season with a 28-6 record.
"If somebody would have told me at the end of last season that we'd be 28-6 this year I wouldn't have believed them," Groft said. "These kids have come so far."
Fites finished with 14 kills for the Knights. Kaylee Block contributed 44 set assists and four blocks.
Christian, 22-3 on the season, will face Philip 31-6 in the round of SoDak 16 on Tuesday.
While the Knights had reason to celebrate a milestone win, there is more work to be done as the team chases its first ever state tournament berth.
"I've been saying we're not done yet. I'll just keep saying that," Jett said. "One game at a time. It's been our motto the entire season. We're playing one game at a time. We're not getting ahead of ourselves. We're just going to keep prepping for the next game and play our game."
Serving: Aberdeen Christian 80-87 7 aces (Emily Schwan 12-15 3 aces, Chloe Bosma 17-19 2 aces); Northwestern 85-88 4 aces (Emma Grandpre 15-15 2 aces, Ashley Haven 14-14 1 ace).
Hitting: Aberdeen Christian 68-91 51 kills (Mallory Miller 25-29 17 kills, Mary Fites 36-43 14 kills); Northwestern 133-162 50 kills (Mack Stoltenberg 25-29 14 kills, Ella Haven 41-51 10 kills, Haiden Grandpre 18-22 9 kills).
Setting: Aberdeen Christian (Kaylee Block 76-81 44 assists); Northwestern (Brooklinn Halvorson 131-131 38 assists).
Digs: Aberdeen Christian 103 (Joy Rohrbach 29, Hanna Miller 19); Northwestern 82 (A. Haven 26, E. Haven 15, Teryn Sparling 10).
Blocks: Aberdeen Christian 6 solos 8 assists (M. Miller 2 solos 2 assists, Block 1 solo 3 assists); Northwestern 6 assists (Stoltenberg 2, E. Haven 2).
Records: Aberdeen Christian 22-3; Northwestern 28-6.