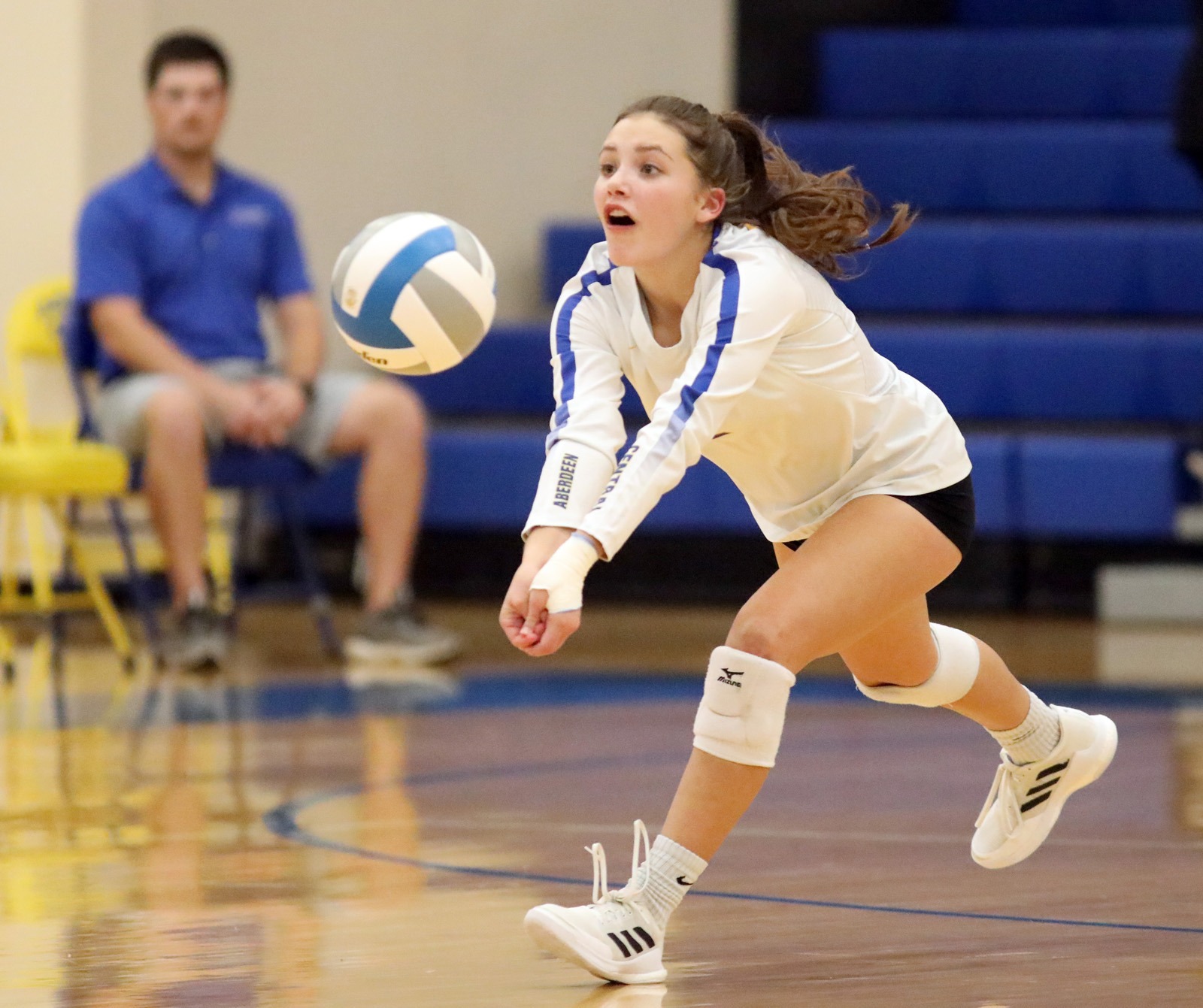 Yankton came out with a sense of urgency and picked up a key volleyball victory over Aberdeen Central Saturday evening.
The Gazelles were the aggressor all match long on the way to a 25-16, 25-18, 25-22 Eastern South Dakota Conference win at Golden Eagles Arena.
"We only had a couple of leads in set three and that was it for the evening," said Central coach Jackie Bindenagel. "Yankton played a great match and we just couldn't seem to find any traction."
The visitors set the tone pretty much from the first serve of the match. Yankton bolted out to a 9-2 lead and was never in trouble in the opening set.

Both teams came in with nearly identical records and are fighting for playoff positioning.
"We wanted to come out confident and strong just like that," said Yankton coach Chelsea Law. "We came from a 4-hour road trip and we want to get wins, just like Aberdeen Central, scrappy defense, strong hitters. They want the same thing. We wanted to be reliable, be consistent, those were our words, kind of our theme for the day."
The second set was much the same as the first one as Yankton got off to an 11-4 start and never trailed after that. While the Eagles did close the gap to 16-14, they were never able to get on track.
"We seemed really disorganized. We were flat at net. Our defense seemed a little bit slow. I just felt like they were a step off the whole way through," Bindenagel said. "We were just real flat today and we paid for it."
Central scored the first three points of the third set, but that lead soon evaporated as once again Yankton was the front-runner most of the set. A 7-1 surge gave the Eagles a 20-18 lead.
Yankton then outscored the Eagles 7-2 to close out the match, three of the points coming on kills by Jordynn Salvorti.
"They are aggressive. They're confident, but sometimes that mental game kind of starts to slip," Law said of her players.
"We've been working on that and you could see that. There wasn't a person that didn't do something when they had a chance to do that. Our outsides had moments, our middles had moments, our setters, everybody was just able to do something with it."
Salvorti led the victory wtih 13 kills and Chloe McDermott added 10. Payton Moser had four of the team's 10 ace serves.
Grace Kuch topped the Eagles with nine kills. Sydney Evans contributed three aces and 23 set assists.
Yankton improved to 11-12, while Central slipped to 10-11. Both are jockeying for playoff positioning.
"It's a fun pressure and good pressure for Yankton volleyball," Law said, "because it's been a while since we've been able to do this."
Central hosts Mitchell on Tuesday, a team with a 9-8 record so it will be another key match.
"We knew Yankton was very similar to us. They've gone five with Harrisburg and Huron. We knew this would not be a slough match," Bindenagel said. "Same thing with Mitchell, so we're all right in the middle of the pack right now."
Needless to say, the last few matches to close out the regular season will all play a pivotal role in determining playoff seeding.
"We just talked about being forward focused," Bindenagel said. "I just told them remember how this feels, because it's not a fun feeling. We just need to fight for every match from here on out."
Serving: Aberdeen Central 4 aces (Sydney Evans 3, Abby Berry 1).
Hitting: Aberdeen Central 23 kills (Grace Kuch 9, Leah Gough 4, Karly Wellman 3, Kiana Moung 3).
Setting: Aberdeen Central 19 assists (Berry 15).
Digs: Aberdeen Central 47 (Evans 23, Ayrlie Waldo 7, Meghan Mork 6, Anna Malchow 4, Gough 4).
Blocks: Aberdeen Central 1 solo 5 assists (Kuch 1 solo 1 assists, Wellman 2 assists, Mounga 2 assists).