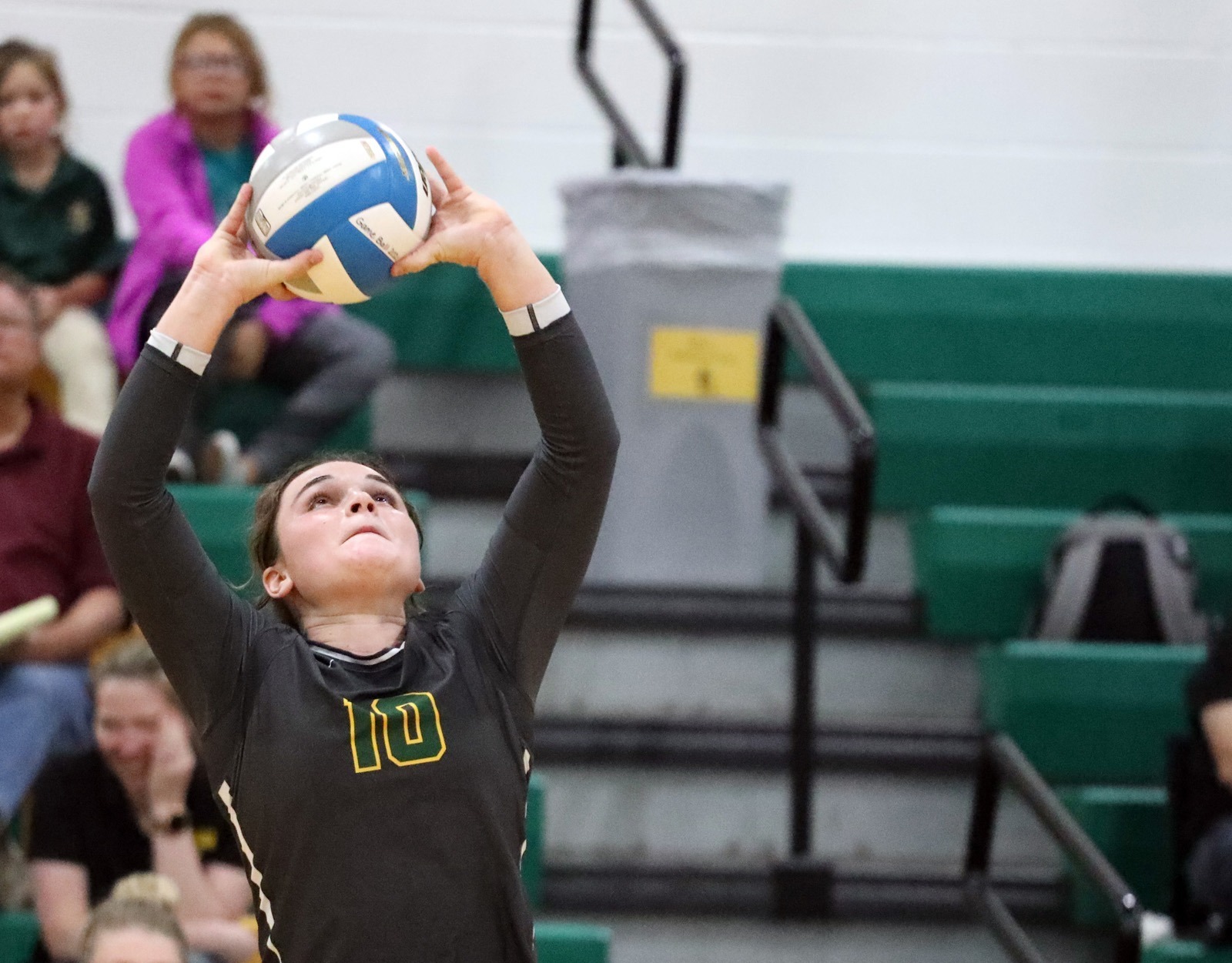 CLARK – From the back line to the front line, Aberdeen Roncalli found its way past Clark-Willow Lake for a Northeast Conference volleyball win Thursday night.
The Cavaliers recorded eight ace serves and 48 kills on the way to a 25-23, 25-8, 18-25, 25-21 victory.
"We really found our fuel from the service line and with our blocking tonight," said Roncalli coach Mandy Smid. "We had some new people that led in different areas."
The Cavaliers won a tight first set then took control by rolling to a double-digit win in the second set.

The hosts fought back to claim the third, before Roncalli picked up the pace to claim the fourth set.
"When we got control of our errors and figured out our rhythm we really clicked to finish the match," Smid said.
Jeci Ewart led the victory with a dozen kills. Jaidyn Feickert had a team-leading four ace serves.
Olivia Hanson was perfect in 127 sets with 41 assists.
Summer Seefeldt powered the Cyclones with five kills, two aces and 41 digs. Macy Steen topped the squad with six kills.
The Cavaliers, 11-5 on the season and winners of three straight matches, host Belle Fourche this afternoon at Roncalli Gym. First serve is set for 4 p.m.
Serving: Aberdeen Roncalli 88-96 8 aces (Jaidyn Feickert 10-13 4 aces); Clark-Willow Lake 58-66 6 aces (Logan Hurlberg 2 aces, Summer Seefeldt 2 aces).
Hitting: Aberdeen Roncalli 129-150 48 kills (Jeci Ewart 29-34 12 kills); Clark-Willow Lake 13 kills (Macy Steen 6, Seefeldt 5).
Setting: Aberdeen Roncalli 149-149 44 assists (Olivia Hanson 127-127 41 assists); Clark-Willow Lake (Hulbert 25 assists).
Digs: Aberdeen Roncalli 94 (Ella Hanson 23, Hayley Schmidt 20); Clark-Willow Lake 181 digs (Emma Mitchell 42, Seefeldt 41, Sara Thonvold 27).
Blocks: Aberdeen Roncalli 3 solos 3 assists (Ava Hanson 2 solos 3 assists).