In order to move on in the football playoffs, you have to make plays and Aberdeen Roncalli made them on both sides of the ball Thursday night.
The Cavaliers used two huge plays to help fuel a 14-6 win over Redfield in the opening round of the Class 11B playoffs at Swisher Field.
One came on defense when Brenden Livermont returned a fumble 44-yards for a score, and the other came on offense when quarterback Jackson Isakson broke free for a 61-yard touchdown run.
That was all the Cavaliers needed as their defense did the rest.

"You have to give coach (Dan) Gallagher, our defensive coordinator, a lot of credit," said Roncalli coach Billy Young. "He really worked hard. He had these guys pegged down. He drilled our guys all week on what to expect."
That preparation helped to preserve the win at the end when the Pheasants were driving. Redfield had the ball at the Roncalli 19-yard line with 1:12 left and one last attempt, but the Cavaliers ended the drama by stopping a half-back option play when Matthew Martinez tackled the ball carrier before he could throw it.
"They've done a double pass in the past," Young said. "We had one guy designated to sit there on the hitch or the double pass or anything like that. We had another guy playing deep. I think we had it covered on both ends. That was one that we had seen on film and scouted out."
The Cavaliers got on the board first when Maddox May forced a fumble and Livermont picked it up and scored.
"Maddox forced the fumble and Josh Schaunaman got a great block on one of the guys, and just gave me the open lane to score the touchdown," Livermont said.
It was the first career touchdown for the junior lineman.
"It's never happened before," Livermont said. "I didn't even know what to do (afterward). I just threw the ball right up in the air."
The Pheasants closed the gap to within 7-6 late in the first half when Easton Miller fired a 12-yard TD strike to Paul Juarez.
It remained a one-point game until Isakson, who suffered a rib injury in the first half, broke free and ran 61 yards for a TD to give the Cavaliers a bit of breathing room.
"I just saw hole and the adrenaline kicked in," Isaksonsaid. "I just started running. I couldn't even feel anything when I was running, the adrenaline was there."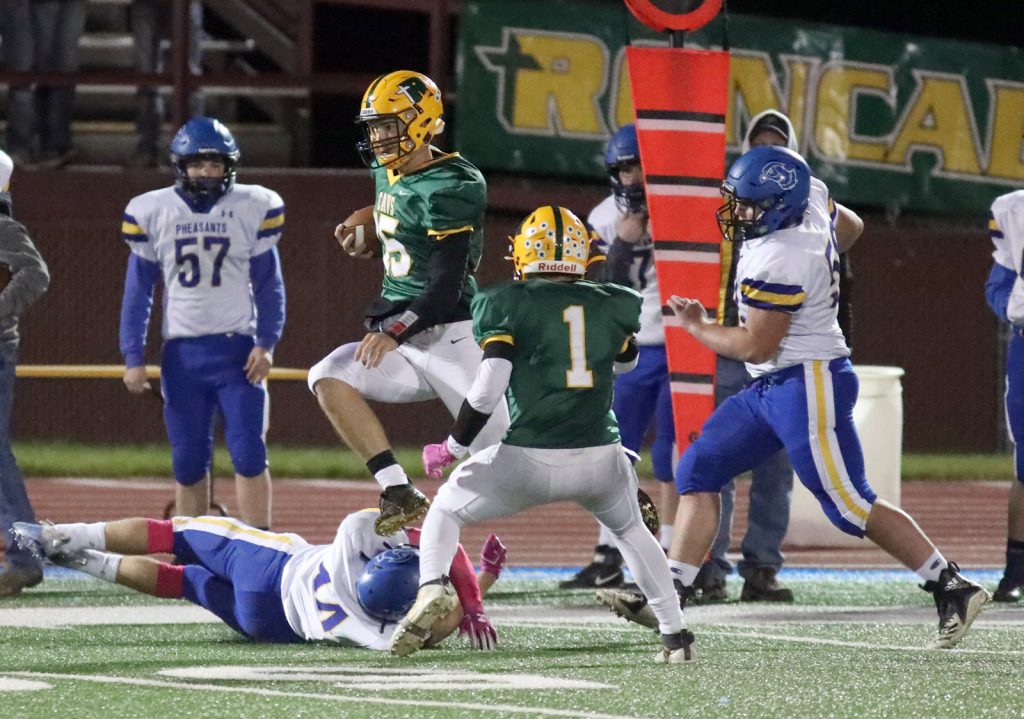 The Pheasants actually finished with more yards and first downs in the contest, but could not overcome a few big plays from Roncalli.
"I knew coming into this week it was going to be those weird, crazy-fluke plays. It's mistakes you can't make in the playoffs," said Redfield coach Masen Oltmanns. "Props to them. They're a good team. They do really well with their scheme with the players they have. They made some big plays and that was the difference in the game."
The contest was much closer than the first meeting that Roncalli won last month.
"They got way better," Livermont said of the Pheasants. "It's a way different team than we saw in September."
In the end, while the Cavaliers gave up some yardage, they were able to make enough stops when they needed to.
"First of all, it started up front with the line. They did a great job with the run," Isakson said. "The linebackers filled in the holes very well and then (defensive backs) Andrew Brennan and Philip (Zens), Philip was playing with only one hand tonight and still got the job done. Credit to all those guys."
Millar finished with 221 yards passing on the night and Juarez hauled in eight passes for 152 yards. They were a part of a senior group which helped to transform the Redfield program.
"This group of seniors we had, the leadership, the ownership they had with this team, they led our team to our first winning record in 10 years. That was something the senior group wanted to do and they achieved it," Oltmanns said. "I couldn't have asked for a better group for my first overall coaching job, especially head coach. I couldn't have asked for a better group to help lead the team."
Roncalli, 7-2 on the season, will get another home game thanks to Beresford knocking off Mount Vernon-Plankinton. The Cavaliers will host Beresford at 6 p.m. Thursday at Swisher Field. It will mark the first time since 2016 that Roncalli will have hosted a second-round playoff contest.
"It's going to be fun to have another home game," Isakson said.
Redfield (5-4) 0 6 0 0 – 6
Aberdeen Roncalli (7-2) 0 7 7 0 14
Second Quarter
AR – Brenden Livermont 44 fumble recovery return (Jackson Isakson kick), 3:15.
R – Paul Juarez 12 pass from Easton Millar, :31.
Third Quarter
AR – Isakson 61 run (Isakson kick), 5:57.
OFFENSE: Redfield rushing 31-61 (Mason Whitley 15-31, Mason Fey 4-29 Sean Domke 2-4), passing 18-34-0 for 229 (Miller 17-33-0 for 221, Peyton Osborn 1-1-0 for 8), receiving (Juarez 8-152, Keaton Rohlfs 5-50, Nolan Gall 4-17, Fey 1-8), first downs 15; Aberdeen Roncalli rushing 34-166 (Isakson 11-77, Maddox May 13052, Abe Kretchman 7-37, Ben Rohl 2-4), passing 2-8-0 for 26 (Isakson 2-8-0 for 26), receiving (Rohl 2-26, first downs 8.
DEFENSE: Redfield, Cam Schmidt 8 tackles including one sack,, Grady Fey 5 tackles including one sack, Whitley 6 tackles; Aberdeen Roncalli, Kretchman 7 tackles, Matthew Martinez 7 tackles, Anthony Brunmaier 6 tackles including one sack, May 5 tackles including one sack, Zane Backous 5 tackles including one sack.