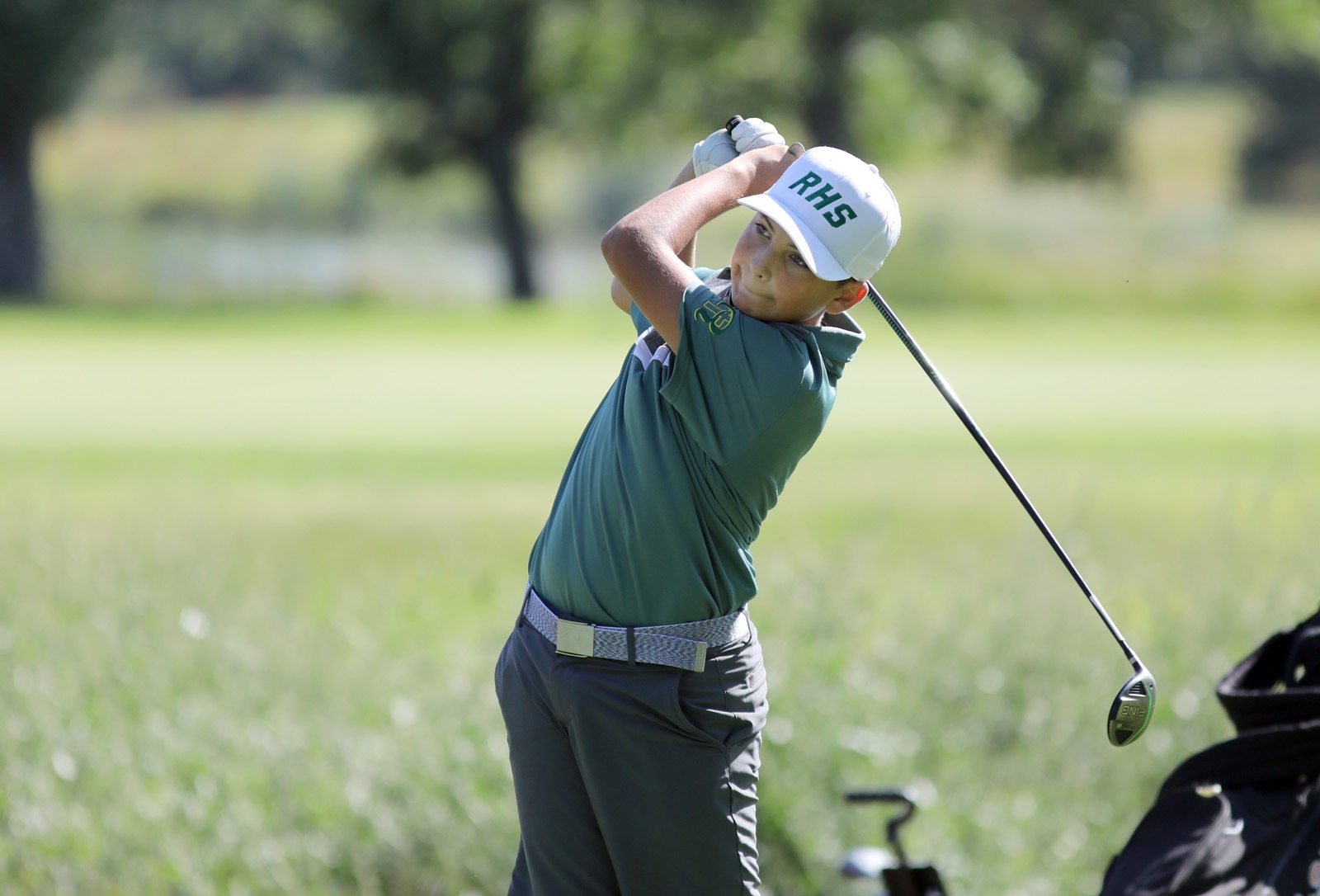 MADISON – Aberdeen Roncalli is second in team points and Mason Carrels is second individually following the opening round of the Class A State Golf Tournament in Madison on Monday.
The Cavaliers, who led the team points for the majority of the first day, finished with a score of 332, three strokes behind Tea Area, and seven strokes in front of West Central.
"It was one of those days that kids in my eyes kind of played towards their potential," said Roncalli coach Jon Murdy. "The scores didn't necessarily shock me with the players. I was more shocked that everybody kind of did it on the same day. All the kids played well from start to finish."
Carrels finished with a 76 to sit two strokes behind leader Eric Munson of Tea Area. Kaleb Jost of Sioux Falls Christian is in third with a 77.
"For the most part he played his style of golf and just kind of enjoyed the day, which was kind of nice to see," Murdy said of Carrels. "He hasn't done that in a while, the way he enjoyed the day on the golf course."
Roncalli's Finn Anderson and Sawyer Henrich both shot 82s and are tied for 11th. Andrew Gerlach and Jesse Hernandez both fired 92s and are tied for 43rd.
Anderson, just a seventh-grader, flirted with the lead at various stages on the day.
"The one thing that I love with Finn is he doesn't really overthink things a lot," Murdy said. "He's has the exact mindset that you want for a golfer."
Carrels said familiarity with the course (Roncalli played its region there last week) helped Anderson.
"The more confident he can get with a golf course the better he plays it," Murdy said. "He's comfortable with the golf course. He understands how it plays. He understands where he should be."
Murdy also pointed out that Henrich has developed more of a leadership mindset as the season has progressed.
"It's kind of helped us with the team roll over into that as well," Murdy said.
Riley Steen of Sisseton is also tied for 11th with an 82, while Caleb Barse of Tiospa Zina is tied for 17th with an 83.
Groton's Brevin Fliehs is tied for 31st with an 89.
When play resumes today, the Cavaliers will be right in the hunt for a state team championship. However, with the youth of the team, Murdy is not about to put that kind of pressure on his golfers.
Murdy said his players just need to go out and play their best, and then see what happens from there.
"We try to relay to the kids that it's a two-day tournament. We have to put a mental erase on this. It's a whole new day (Tuesday)," Murdy said. "Anything can happen. We have to make sure we get in the right frame of mind to play 18 more holes of golf."
To see complete first-day results click on the following link: