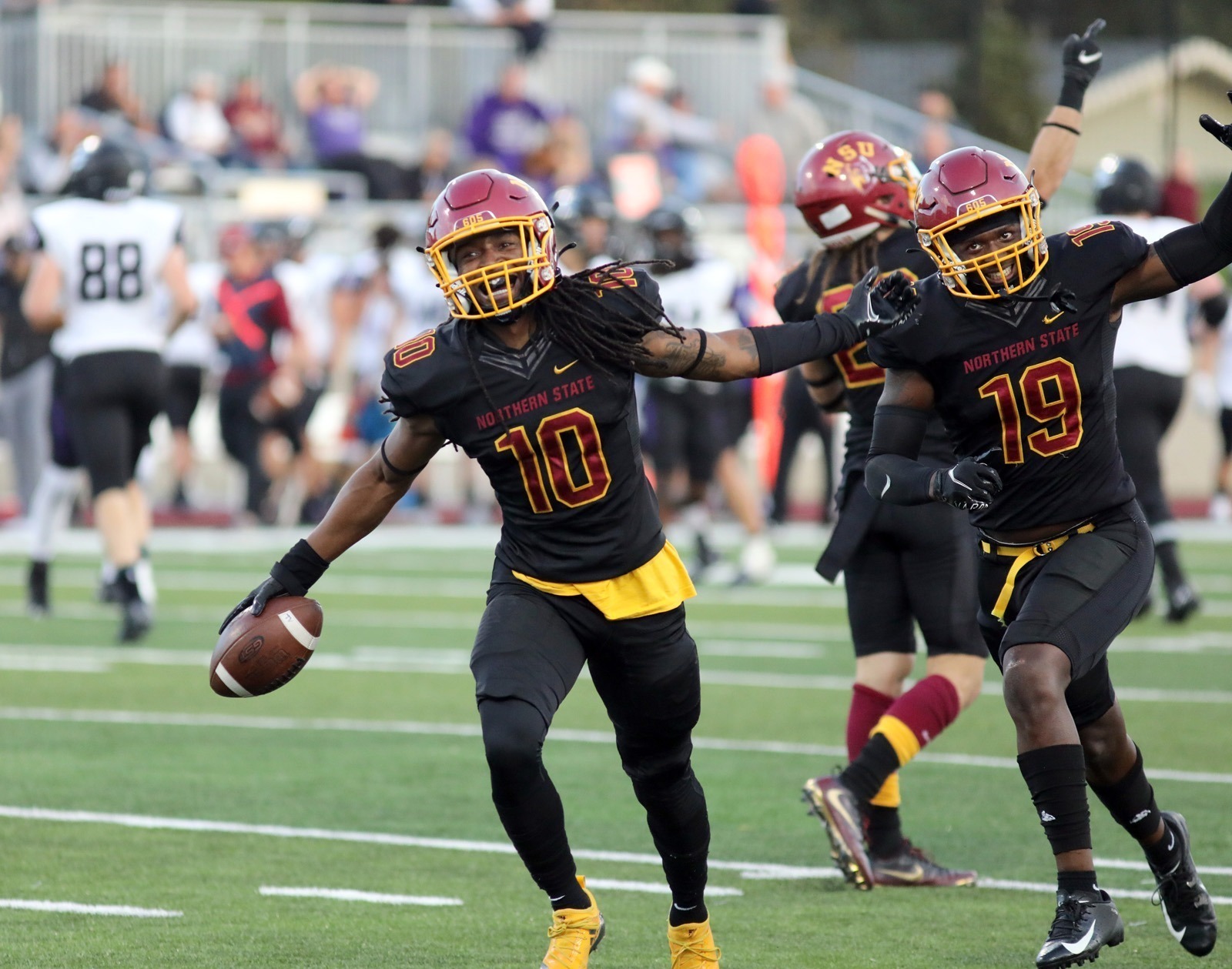 PRESS RELEASE
Aberdeen, S.D. – The Northern State University football team recorded a commanding win over the University of Sioux Falls, 41-10, in the 6th Annual Ag Bowl. The Wolves scored early and often, notching 21 points in the first, nine in the second, seven in the third, and three in the fourth.
THE QUICK DETAILS
Final Score: NSU 41, USF 10

Records: NSU 3-1, USF 2-2
Attendance: 4723
HOW IT HAPPENED
· Northern jumped on Sioux Falls early with a 24-yard rushing touchdown by Vance Barnes on their first drive of the contest
· Dakota Larson grabbed the first receiving touchdown of the evening for NSU, a 30-yard reception from Hunter Trautman at 8:28 in the first, giving the Wolves a 14-0 lead
· Isaiah Cherrier extended the lead in the first on a 37-yard rushing scoring as the quarter clock ticked down
· Payton Eue and Dewaylon Ingram tallied back-to-back scores for the Wolves in the second; a 32-yard field goal and 10-yard reception, which gave Northern a 31-0 lead
· Sioux Falls closed out the scoring first half with a 31-yard field goal from Nick Hernandez and the two teams entered the locker room with Northern up 31-3
· Trautman and Jimmy Kepouros tallied the game's longest reception in the third; an 89-yard touchdown pass and the Wolves went up by 35 points
· The Cougars scored their lone touchdown of the loss with just ten seconds remaining in the third, a 1-yard run by Ja'Tai Jenkins
· Eue added his second field goal at 12:06 in the fourth, a 35-yarder that capped off an 11-point evening for junior
· The Northern offense tallied 21 first downs, 110 yards rushing, and a game high 379 yards passing
· NSU averaged 4.2 yards per rush and 14.0 yards per completion with 489 yards of total offense in the win
· They were efficient with the ball converting on 7-of-12 third down situations and 4-of-5 red-zone chances
· The Wolves defense held USF to their lowest rushing total of the season, recorded two interceptions and one sack, and gave up their lowest point total of the season
· Two Northern State receivers notched over 100 yards in the game, with four notching at least five receptions
· The win is the first for the Wolves over the Cougars in the NCAA Division II era, snapping a 4-game losing streak
NORTHERN STATE STATISTICAL STANDOUTS
· Hunter Trautman: 375 yards passing, 26-of-35, 3 touchdowns,
· Isaiah Cherrier: 55 yards rushing, 9.2 yards per rush, 1 touchdown
· Vance Barnes: 34 yards rushing, 1 touchdown, 103 kick return yards
· Jimmy Kepouros: 144 yards receiving, 28.8 yards per reception, 89-yard long, 1 touchdown
· Dakota Larson: 103 yards receiving, 1 touchdown
· Chase Teiken: 11 tackles (8 solo, 3 assisted), 1 break-up
· Donovan Lucas: 2 interceptions, 12 interception return yards, 1 break-up
· Jack Braun: 4 tackles, 1.0 sack
·         Payton Eue: 2 field goals, 5-of-5 PAT, 31.5 yards per punt, 62.6 yards per kickoff
Post Game Presser: https://youtu.be/O6fHbU5DISY
Box Score: https://nsuwolves.com/sports/football/stats/2021/sioux-falls-ag-bowl-/boxscore/9214
UP NEXT
The Wolves are back at Dacotah Bank Stadium next Saturday, hosting the University of Mary. Kickoff is set for 2 p.m. in the Annual Gypsy Days game. For a full list of game day promotions CLICK HERE. Fans are also reminded that all game day information and protocols are posted on the Dacotah Bank Stadium homepage.