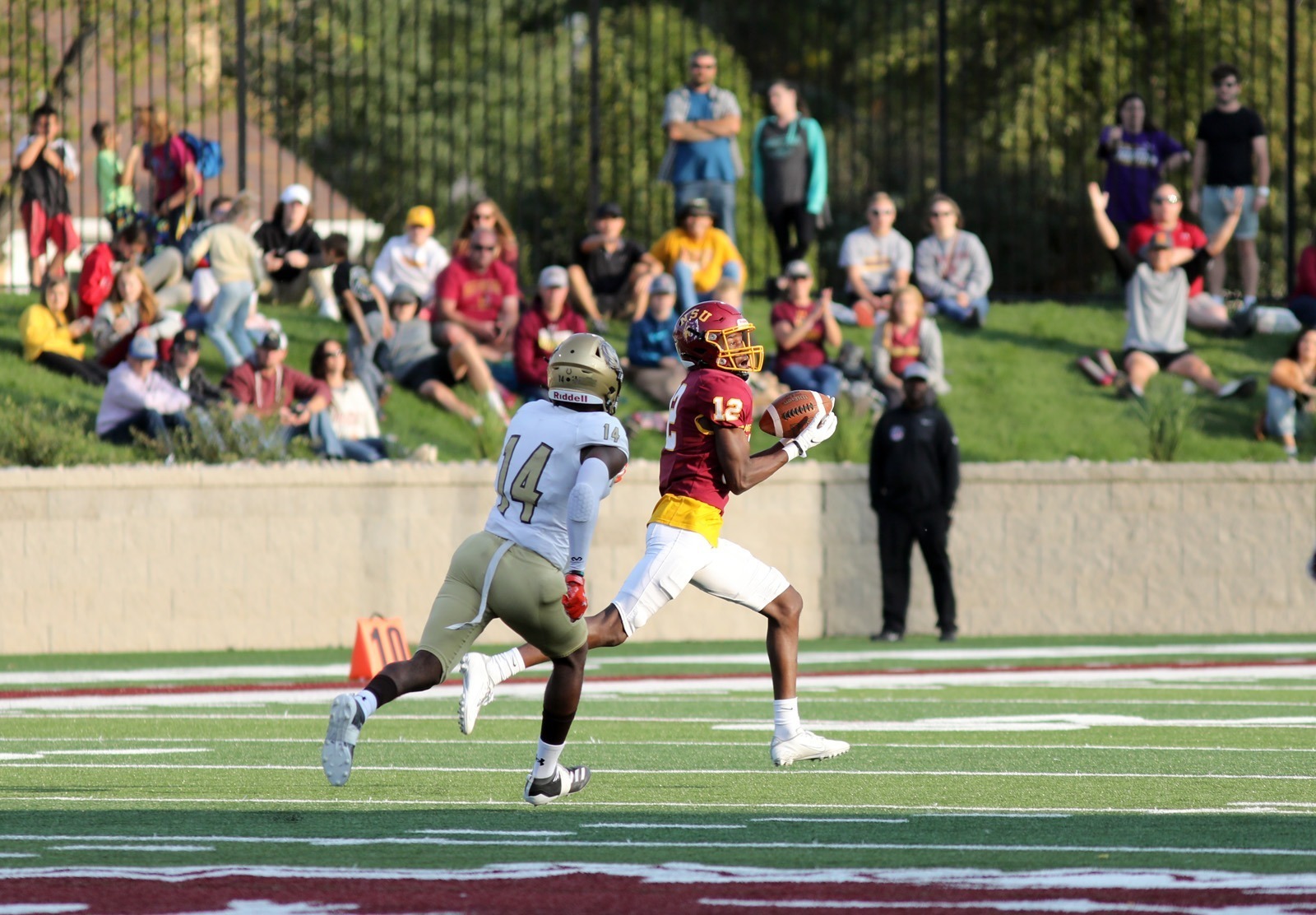 It doesn't get much better than this.
A beautiful evening, a standing room only crowd, a new state-of-the-art stadium and an opening night victory.
"What a day for Aberdeen and Northern State. That was quite an opening," said Northern State football coach Mike Schmidt after the Wolves defeated Southwest Minnesota State 30-13 in front of nearly 6,000 fans at Dacotah Bank Stadium Saturday night.
To be sure, the Wolves had a few struggles against their Northern Sun Intercollegiate Conference foe, but at the end of the night, Northern had taken control.

"I'm really happy that we showed we can win in a variety of ways tonight," Schmidt said. "We've got a lot of playmakers and that's going to be a key component as you get through this season."
One of those playmakers is wide receiver Dewaylon Ingram, who caught a pair of touchdown passes from Hunter Trautman during the contest.
Ingram said there was a lot of energy in the stadium.
"I liked it," Ingram said. "The environment was electric out there."
Ingram finished with 165 yards receiving, 35 of them coming on a nifty catch down the sideline to help set up Northern's final touchdown.
"It's more chemistry and 'Traut' reading the DB and how he played it," Ingram said of the play. "He just put to it where I could only grab it. I just made the play for him."
Northern's defense played better as the game wore on after giving up an early lead on a short field.
"We just came out a little flat tonight. We were a little under prepared to start," said linebacker Nate Robinson. "They were running the ball down our throats. We have to be more physical. In the second half we definitely turned it up a little bit for sure."
While Schmidt was pleased with his team's performance, he knows the Wolves will need to be better in the red zone, where they were stopped on downs once and had to settle for field goals other times.
"We have a find a way to finish those drives," he said.
To that end, Schmidt decided to go for a fourth-and-three at the end of the half. While it didn't work out, he was trying to send a message to his team.
"We were the better the football team tonight. We weren't showing it for a portion of it. I want to challenge our team. I want them to respond," Schmidt said. "I want them to rise up in those moments and see what we're made of in some of these early times. We wanted to push it a little bit in the first half. We wanted to be super aggressive. I just believe in our guys."
Trautman finished with 308 yards passing and three touchdowns in the victory.
Payton Eue kicked three field goals.
Northern, 1-1, has now experienced a wide range of emotions in just two weeks, feeling the heartbreak of an overtime loss against Minnesota State and the exhilaration of a first ever win in a new stadium.
"You just have to stay even keel with it all. You can't get too high, you can't get too low," Robinson said. "You just have to keep your head on straight. You have to keep going."
To see complete statistics, click on the following link:
https://nsuwolves.com/sports/football/stats/2021/southwest-minn-st-dacotah-bank-stadium-inaugural-game-/boxscore/9212