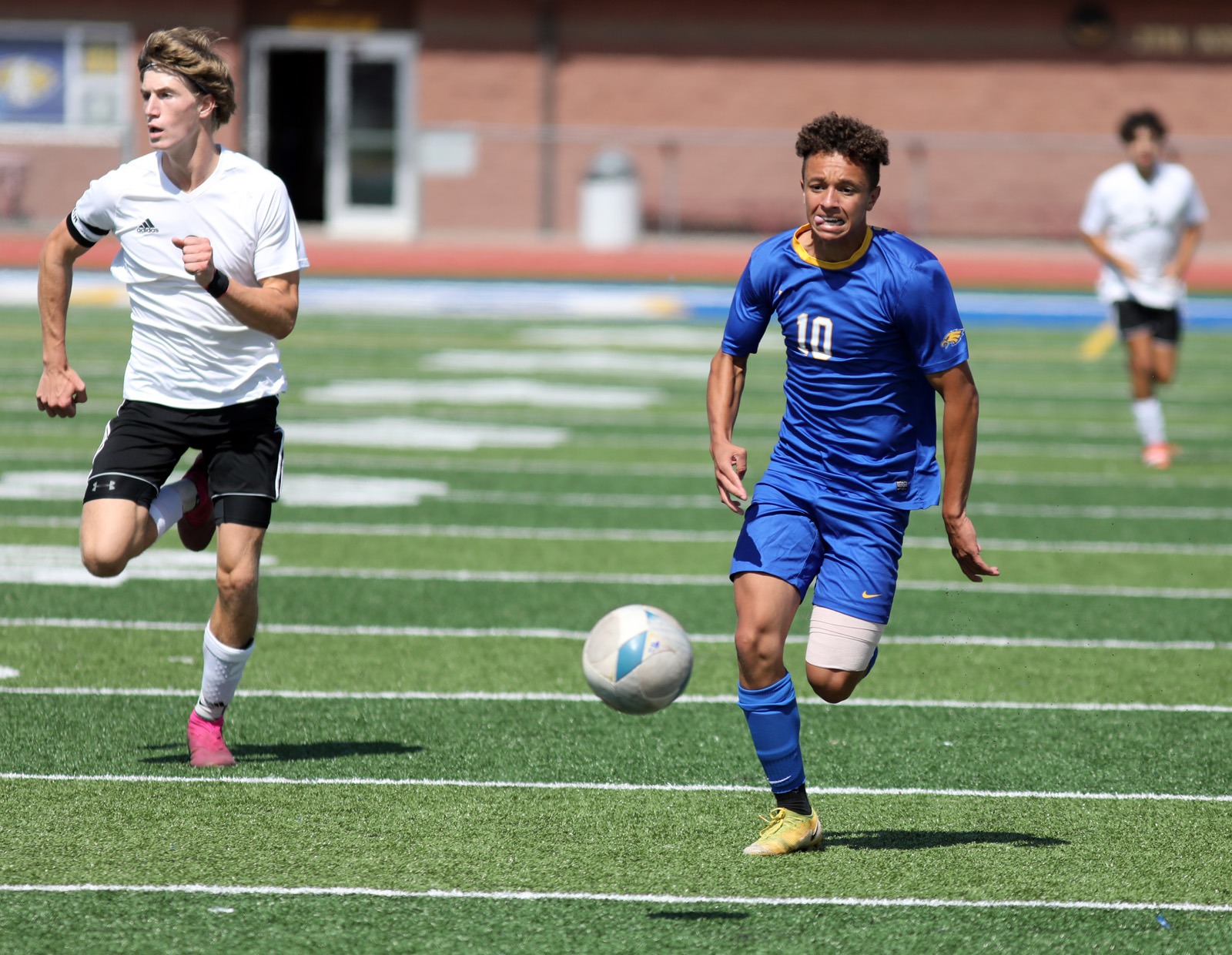 A change in position and a change in team style has Jelani Peters excited about this soccer season.
The four-year starter for Aberdeen Central is no stranger to life on the pitch. However, the senior has a new role with the squad this season.
"Last year was kind of defensive and offensive. Now, I have to worry about scoring a lot more," Peters said. "I like it better. I like to score."
The left wing also finds himself as a part of a new-look Central offense that features a more wide-open style. A lot of that comes from the addition of foreign exchange student Marcos Ramos Garcia from Spain as well as new head coach Lance Mohr who took over for Steve Cogley three games into the season.
"I feel better about this team than any other team to be honest, because Sekou (Gogue) and Denon (Deuter), Jameson (Palmer) and Zee (Mounga) in the back, they're really good at centerback," Peters said. "Marcos in the middle too, he plays different because he's from a different country, so then it makes us play a different way, too."
Garcia is used to playing a more aggressive game, can attack from anywhere and also gets his teammates involved.
"We used to focus on just receiving the ball and passing, but now we have a new coach and Marcos is here and they see that, what Marcos is doing is working, so they're thinking that we can do it, too," Peters said. "Marcos dribbles more and takes more far shots and is more deadly on the field."
As a result, the second-rated Golden Eagles have gotten off to a 6-1 start to the season. Their defense has been stellar too, not allowing a single goal in the past four games.
A big part of that has been the defense along with goalie Camden Fauth.
"I think our back line is doing really good this year, Camden, too," Peters said. "We only have three goals scored on us all year."
While Peters has become a key weapon for the Eagles, interestingly enough he wasn't even planning on playing soccer when he was younger.
"I was going to play football," Peters said. "I decided on playing soccer because one of my friends told me I should because it's fun. After that, my dad (Zamani) and me just trained a lot over the years."
Peters got the opportunity to learn from some of the best players ever to play for the Golden Eagles, including two-time Gatorade Player of the Year Marcus Hluchy.
The young Peters did his best to soak up as much knowledge as possible at the time.
"When those kids played I was in seventh grade. I was trying to play as good as I could to be like them," Peters said. "Me and Marcus used to train every day together. He helped me a lot, too."
Peters said Hluchy provided as much mental advice as physical instruction.
"I was young then," Peters said, "he made me realize that I had to just grow up and stop acting like a kid."
Needless to say that has happened in a big way.
As Peters' first ever soccer coach. Mohr has had a chance to witness the maturation process every step of the way.
"I'm really proud of not only his growth as a player, but as a person," Mohr said. "He's learned from moments that have tested him as a player and continued to develop the right attributes and use those as learning lessons."
A case in point can be Peters' current state of mind.
He's learned that he plays much better when he is focused on the task at hand.
"I think the mental aspect is at least 70 percent of (soccer), because when I don't feel like playing, I'm not in a good mood or I'm just tired, I can't play, I can't score," Peters said. "I don't want to be there and the game goes by super slow. It effects your touch on the ball, your dribbling, your reaction time. I think your mental (state) is a lot."
Peters has learned the hard way that a casual warmup leads to casual play. That's why he is now all business every time he steps on the pitch.
"Now I try to focus hard, because I'm starting to play better when I do that," Peters said.
It may explain why Peters has often been the guy that has given the Golden Eagles a spark when they need one this season. If he doesn't score the first goal of a game, he is often involved in helping someone else to score one.
"It helps us all a lot when somebody does that," Peters said of jump-starting the squad. "I just feel a need to, because it helps me play better, too. Because then I get pumped up and then the whole team's pumped up, and we just all play way better together."
Peters has scored 10 goals already this season (including four in one game alone), but don't expect him to be bragging about his accomplishments.
Mohr said that Peters is a humble leader.
"I first coached Jelani when he was 9 and he sticks out as one of the players that is blessed with an abundance of talent," Mohr said, "but also an abundance of humility."
Peters would like to play college soccer, but is focused on his senior season right now.
He is hoping to provide many more memories before his days with the Golden Eagles are finished.
"In the game you just feel so free to just play and have fun. I just like it a lot," Peters said of his enjoyment of the sport. "When you score, you can't match the feeling."