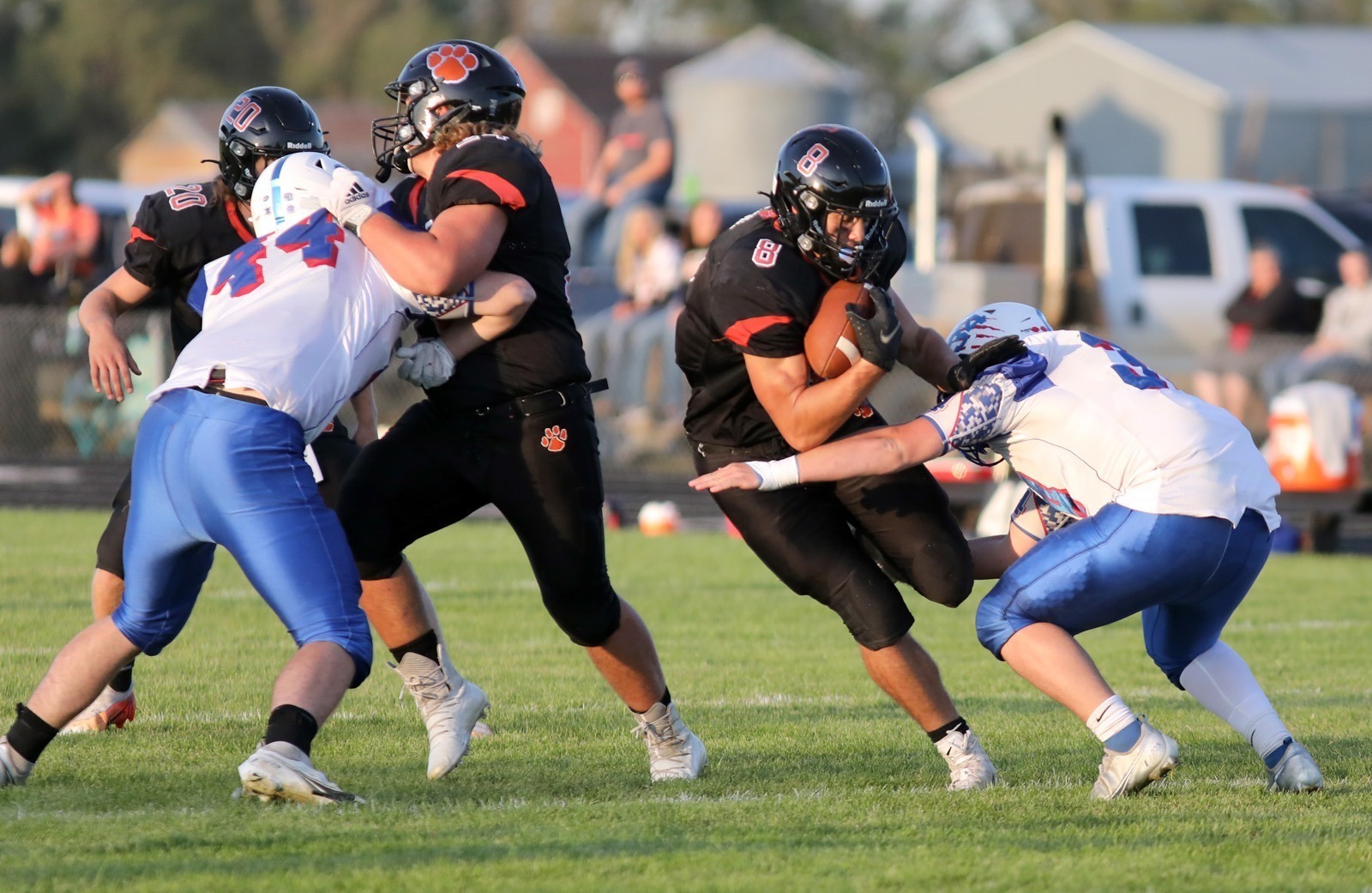 IPSWICH – Ipswich took care of the line of scrimmage and accomplished something it hadn't done in more than a decade Friday night.
The Tigers were able to open up holes on offense, clog up the running lanes on defense, and defeated Warner for the first time since 2008 with a 34-6 Lake Region Conference football homecoming victory.
"I thought defensively we played really well tonight. We gave up one big pass play all night long," said Ipswich coach Brian Hogie. "We always talk about we can't give up chunk plays in nine-man football. We only gave up one all night long. That was huge for us, defensively."
Meanwhile, Ipswich was able to create space for its runners, and allow time for quarterback Ian Beyers to find receivers. The result was five touchdowns in a variety of manners.

The Tigers were unable to run the ball effectively in two setbacks against Warner last year.
"We got a lot bigger over the summer," said Ipswich senior Carson Gohl. "We had boys hitting the weight room, getting faster, getting stronger so that helped a lot. We've got bigger holes this year."
Of course, Warner lost a lot of talent to graduation off last year's state runner-up squad, while Ipswich was motivated to gain a measure of revenge this year.
"Coaches say this all the time: you have to control the line of scrimmage, but there's so much truth to it," said Warner coach Kerwin Hoellein. "There were a lot of those kids playing for them tonight that battled us last year."
Gohl was a force for the Tigers on both sides of the ball. On offense, he scored two touchdowns, hauling in a pass from Beyers for the first score of the game and also running for a touchdown. On defense, he always seemed to be around the ball. Either way, he was making pads crack.
"I just like hitting people. I just like the feeling," Gohl said. I don't know why. I just do."
When asked what he was more impressed with, the offense or the defense, Gohl responded, "They're both pretty good; 34 points is really good, but 6 is even better."
Hoellein was also impressed by Ipswich's defensive effort, which surrendered just 136 yards of total offense and four first downs the entire night.
"In high school football for a team to put a 15-play drive together is tough and these guys make you do that," Hoellein said. "And then you have to do it mistake free. We knew coming in we were going to see a heckuva football team on the field tonight."
Beyers finished with 140 yards passing. He also ran for a score.
Ipswich now brings its undefeated record to Dacotah Bank Stadium on the campus of Northern State to take on unbeaten Herreid-Selby Area on Friday.
"We haven't really had a chance to talk about it. We told them we were going a couple of weeks ago. That was about it," Hogie said. "I know the community is excited to get in there. We're excited to get in there too, but our kids are focused on now. They want to win now. They knew if they looked past (Warner), they very easily could have come out and beat us."
Warner 0 6 0 0 – 6
Ipswich 6 14 8 6 – 34
First Quarter
I – Carson Gohl 14 pass from Ian Beyers (run failed), 8:46.
Second Quarter
I – Gohl 6 run (Tyler Hettich run), 9:19.
I – Carter Geditz 8 pass from Beyers (run failed), 6:20.
W – Peyton Jung 6 pass from Hunter Cramer (kick blocked), :54.
Third Quarter
I – Hettich 27 run (Luke Peterson run), 8:47.
Fourth Quarter
I – Beyers 4 run (pass failed), 2:09.
OFFENSE: 18-30 rushing (Zachary Wood 16, Cramer 8), passing 14-29-2 for 106 (Cramer 14-20-2 for 106), receiving (Levi Scepaniak 65, Peyton Jung 19, Ashton Schuchhardt 7), first downs 4; Ipswich rushing 44-101 (Tyler Hettich 6-55, Luke Peterson 10-45, Carson Gohl 14-31), passing 8-10-0 for 140 (Ian Beyers 8-10-0 for 140), receiving (Carter Geditz 3-61, Gohl 2-29), first downs 10.
DEFENSE: Warner, Dawson Hanson 23 tackles, Cramer 12 tackles, Schuchhardt 11 tackles; Ipswich, Beyers 9 tackles, Ty Kadlec 9 tackles, Hettich 7 tackles.