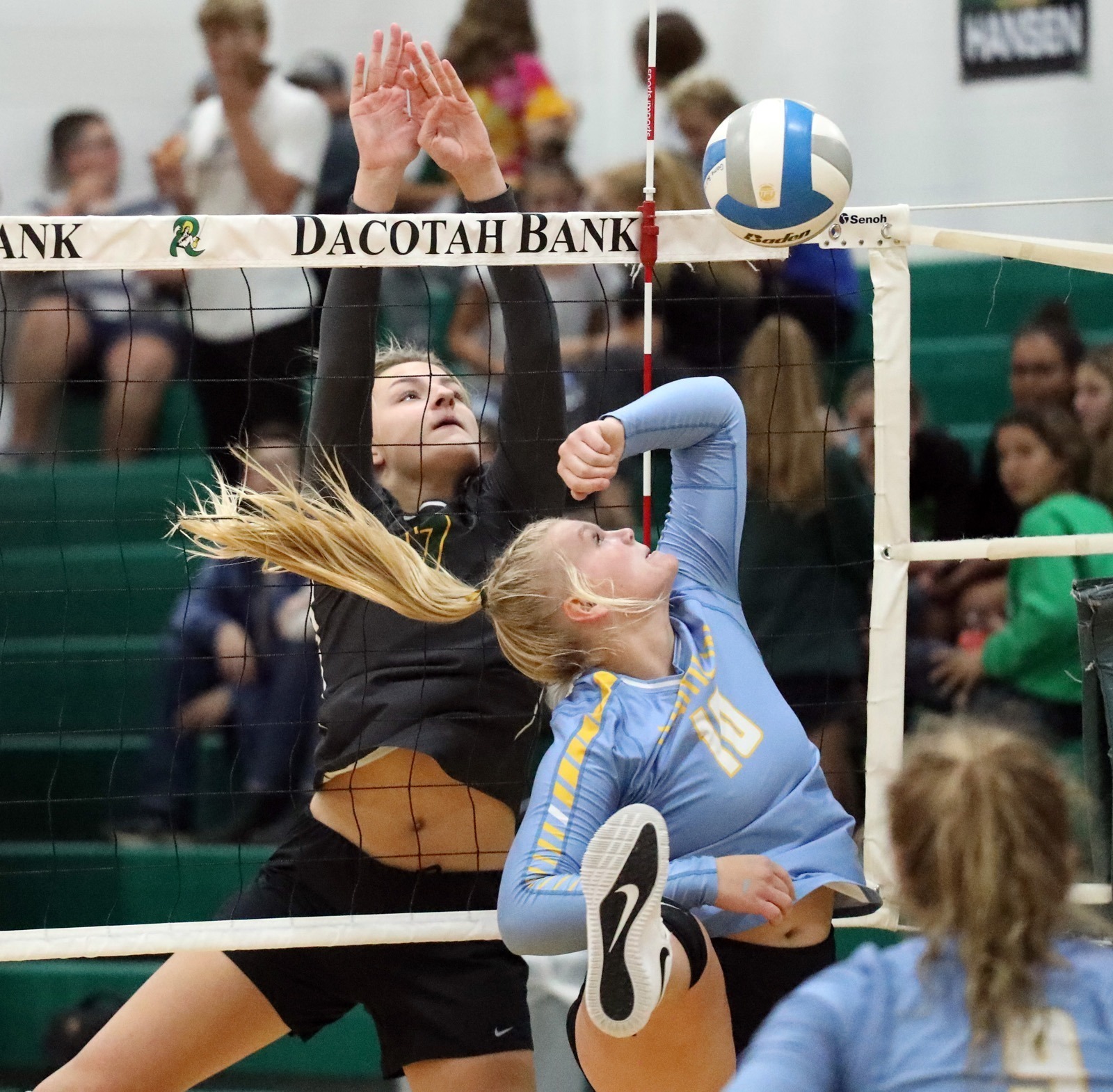 ABERDEEN – The Chargers of Hamlin won a key Northeast Conference match completing a five-set comeback and grabbing a 15-25, 22-25, 25-21, 25-22, 16-14 volleyball win over Aberdeen Roncalli Tuesday night.
Hamlin improved to 8-1 on the season and remained unbeaten in the NEC, handing the Cavaliers their first league setback.
The Cavaliers started the night strong, claiming the first set 25-15. Senior Madelyn Bragg led Roncalli throughout the match, especially in the opening set. Bragg was responsible for nine of the Cavaliers' first 10 points.
Hamlin found a rhythm in the second set as it took a 13-7 lead before the Cavs stormed back. Roncalli scored four straight points capped off by a Bragg kill to win the second set.
Despite being on the road and with minimal momentum, the Chargers pushed through the third and fourth sets to force the decisive fifth set.
"I just told the team that we didn't show up here just to watch them take three sets from us," said Chargers coach Ashley Heinrich. "Obviously, Roncalli is always a big rival for us and a very good team, but I told them we're here to win and you guys better show up."
No team led by more than two points throughout the final set, and the teams traded points on seven straight serves. Roncalli led 11-9 with its serve when Hamlin began a last comeback push. The Chargers claimed five of the next six points, earning a match point opportunity leading 14-12. After close calls on three straight points, Hamlin won 16-14 in an instant classic between timeless rivals, regardless of Roncalli dropping down to Class B this season.
"I think when we make it back to the state tournament – fingers crossed – that we're going to look back and say that this is maybe the game where we figured out who we were," said Heinrich.
Ally Abraham and Kami Wadsworth led the Charger comeback as the duo accounted for 34 of the team's
53 kills. Abraham tallied four aces and three blocks while Wadsworth also dispensed 24 set assists.
The Cavaliers were led offensively by Bragg who provided 21 of the Cavs' 47 kills. Olivia Hanson finished with 46 set assists and 40 digs. Taylor Bennett led the team with five ace serves.
"It's hard to win three straight against a good team," said Roncalli head coach Mandy Smid. "In the last two sets I feel like we were just a half-step off, so we will go back tomorrow and work on some of those pressure situations and hopefully be able to execute through those."
Roncalli, 5-3 on the season, plays at Tiospa Zina on Thursday in a match that was postponed from last week.
Serving: Aberdeen Roncalli 95-72 12 aces (Taylor Bennett 13-18 5 aces, Hayley Schmidt 25-26 3 aces).
Hitting: Aberdeen Roncalli 99-116 47 kills (Madelynn Bragg 38-42 21 kills, Jeci Ewart 32-39 11 kills).
Setting: Aberdeen Roncalli 132-132 46 assists (Olivia Hanson 118-118 46 assists).
Digs: Aberdeen Roncalli 147 (Hanson 40).