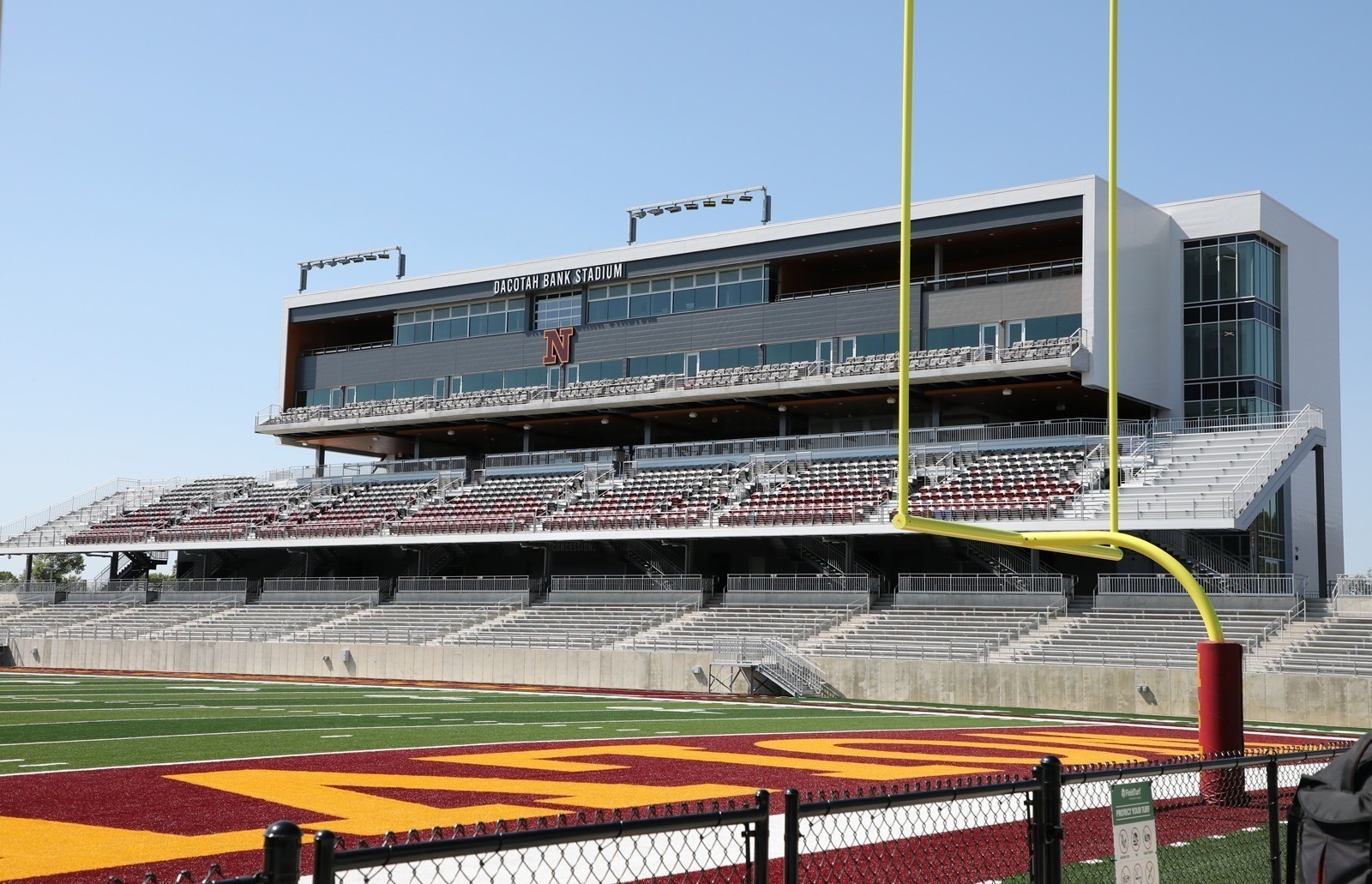 PRESS RELEASE
The Northern State University football team will christen Dacotah Bank Stadium on Saturday at 6 p.m. versus Southwest Minnesota State. The state-of-the-art facility offers a variety of amenities that were not previously available to Northern State fans. The below information outlines the new and improved amenities, looking to answer the game day questions of Wolves fans.
Online Ticketing
Wolves Club season tickets and general admission passes can be purchased online at nsuwolves.universitytickets.com or at the gate on game day. The fully automated system allows fans to select their seat for game day with tickets sent directly to your email or mobile device. Tickets for football game days range from $16-31 for the general public. All game day ticket sales will be available at the Main and Barnett Center Entrances.
For premium or season ticket information and options, please contact Austin Hieb at austin.hieb@northern.edu or 605-228-9514. Information on student tickets will be distributed to all NSU students via their university email accounts prior to game day.

Entrances to the Facility & Gate Opening Times
The facility offers four entrance locations for fans (outlined below) with gates opening two hours prior to kick-off for premium seat holders and one hour prior for all general admission and same day ticket sales. Individuals included in the Northern State passbook must enter the stadium through the North Barnett Center Entrance.
Main Entrance: Located off 15th Ave SE. This location includes game day ticket sales, will call pick-up, and online ticket scanning.
South Entrance: Located between Dacotah Bank Stadium & Koehler Hall of Fame Field. This location includes online ticket scanning.
East Entrance: Located at the corner of South State Street and 15th Ave SE. This location includes online ticket scanning.
Barnett Center Entrance: Located in the south end of the main Barnett Center hallway. This location includes game day ticket sales, online ticket scanning, and the Northern State passbook.
Parking & Tailgating
Northern is offering a variety of parking options at Dacotah Bank Stadium, viewable in the parking map below:
Free parking: There will be more than 400 free parking spots available on campus, located in the Washington Street lots and the lot north of the South Dakota School for the Blind and Visually Impaired. Additionally, there will be free parking available off campus in the city parking lot located at the nearby Aberdeen Aquatic Center.
Paid parking: There will also be nearly 600 reserved parking spots on campus. This includes the parking lots located to the west and southwest of Dacotah Bank Stadium, which require a season pass purchase. The main Barnett Center lot will also require a pass purchase, though a limited number of parking spots in this lot will be available for purchase on game day for a price of $20 per vehicle.
The Northern State tailgate lots will open three hours prior to kick-off and close 30 minutes prior to kick-off. All tailgate spots must be cleared and full cleaned at the closing time. Full tailgating policies are outlined at the bottom of this page.
Individuals interested in purchasing a reserved tailgate spot should contact Austin Hieb at austin.hieb@northern.edu or 605-228-9514.
Concessions, Team Store, Kids Zone and Program Sales
The facility features a variety of concession options for fans of all ages, with multiple locations.
The NSU Nike Team Store will be open in its Barnett Center location as well as at a mobile kiosk within Dacotah Bank Stadium on game day. The two locations will officially open 90 minutes before kick-off, with the Barnett Center location closing just after the first quarter, and the mobile kiosk closing just after the third quarter.
The Northern State Kids Zone is located just north of the main gate to Dacotah Bank Stadium, in the green grass lot between the stadium and the Barnett Center (pictured in the parking map above). The Kids Zone is free and open to all kids under the age of 18 on game day. The Kids Zone includes inflatables, temporary tattoos, stickers, and mini footballs.
Program sales will take place in the tailgate lots and throughout the stands of Dacotah Bank Stadium. The Inaugural Game on September 11th will feature an exclusive program with Northern State football historical items. All game day program sales are cash only.
Northern State University Tailgate Policy
Office/Contact: NSU Athletic Department: Terri Holmes, Interim Athletic Director (terri.holmes@northern.edu).
Sources/Links: BOR Policy 4:27 – Drug Free Environment, BOR Policy 6:14 – Sale of Alcoholic Beverages at Institutions
NORTHERN STATE UNIVERSITY
Policies and Guidelines
SUBJECT: Northern State University Tailgate Policy NUMBER: 1.01
1. Purpose
The purpose of this policy is to ensure a safe and enjoyable tailgating experience for the Northern State University (Northern) fanbase. This policy will be in effect for the 2021 Northern football season.
2. Definitions
Northern State University is responsible for the safety of the tailgating experience on the Northern Campus.
3. Policy
HOURS – The Tailgate lots (See linked map below) will open 3 hours prior to kick-off and will close 30 minutes prior to kick-off.

GRILLS – Open fire pits are not allowed. Charcoal, pellet and gas grills are permitted. However, we ask that propane tanks be limited to the 5-10-gallon size. Any charcoal should be disposed of in the designated charcoal waste bins.
BULK CONTAINERS – Kegs, party balls, bottles/containers exceeding 1.5 gallons, etc. will not be permitted.
ALCOHOL – Beer and wine will be permitted in the Premier Reserved Tailgating Lot and the Barnett Center Priority Lot only. Only individuals that are 21 and over are allowed to consume alcohol in the tailgate lot.
NO GLASS CONTAINERS – For safety considerations, all tailgaters must use plastic or metal containers only; no glass will be permitted.
TENTS – Tents will be permitted in the tailgate area. However, tents must be placed immediately in front or behind the fan's vehicle. Tents must stay within allotted tailgating location and must not impede upon driving lanes. Fans must provide a weight system for tents on windy days.
NO EXTERNAL STEREO SYSTEMS ALLOWED – Out of the courtesy to others using the same parking lots, only portable radio/stereo units will be permitted. House stereo units requiring an external power source will not be allowed.
TRASH/RECYCLING – Please pick up, bag and place your trash in trash receptacles provided throughout the tailgating lots prior to entering the game. Tailgate spots that are not cleaned up prior to kick-off, will be subject to cancelation of future games or fines
SMALL GAS-POWERED INVERTER GENERATORS ALLOWED – For space and safety reasons, large (4000+ watt) and/or loud (rated at 70+ dB) generators are not permitted.
RE-ENTRY – There will be no re-entry into Dacotah Bank Stadium.
PROHIBITED ITEMS – The following items are prohibited in the Tailgate areas:

Animals, except service animals permitted by law
Artificial Noise Makers
Drugs or illegal substances
E-Cigarettes, Cigars, and Vaporizers
Tobacco Products
Flasks
Glass Bottles
Increased Alcohol Consumption Devices or activities (e.g. beer pong, funnels, etc.)
Laser Pens
Pepper Spray
Skateboards, Bikes, Rollerblades
Weapons or explosives of any kind
4. Responsible Administrator
The Office of General Counsel or the Northern State University Athletic Department is responsible for maintenance of the Northern State University Policy and Guideline Repository and ad hoc review of this policy and its related guidelines. The Northern State University Policy and Guideline Repository Editor is designated by Northern State University Cabinet and is responsible for the organization, historical policy and procedure records, and dissemination of the current version of the Northern State University Policy and Guideline Repository, and updates thereto. The University President is responsible for approval of this and other University-wide policies, unless otherwise delegated.