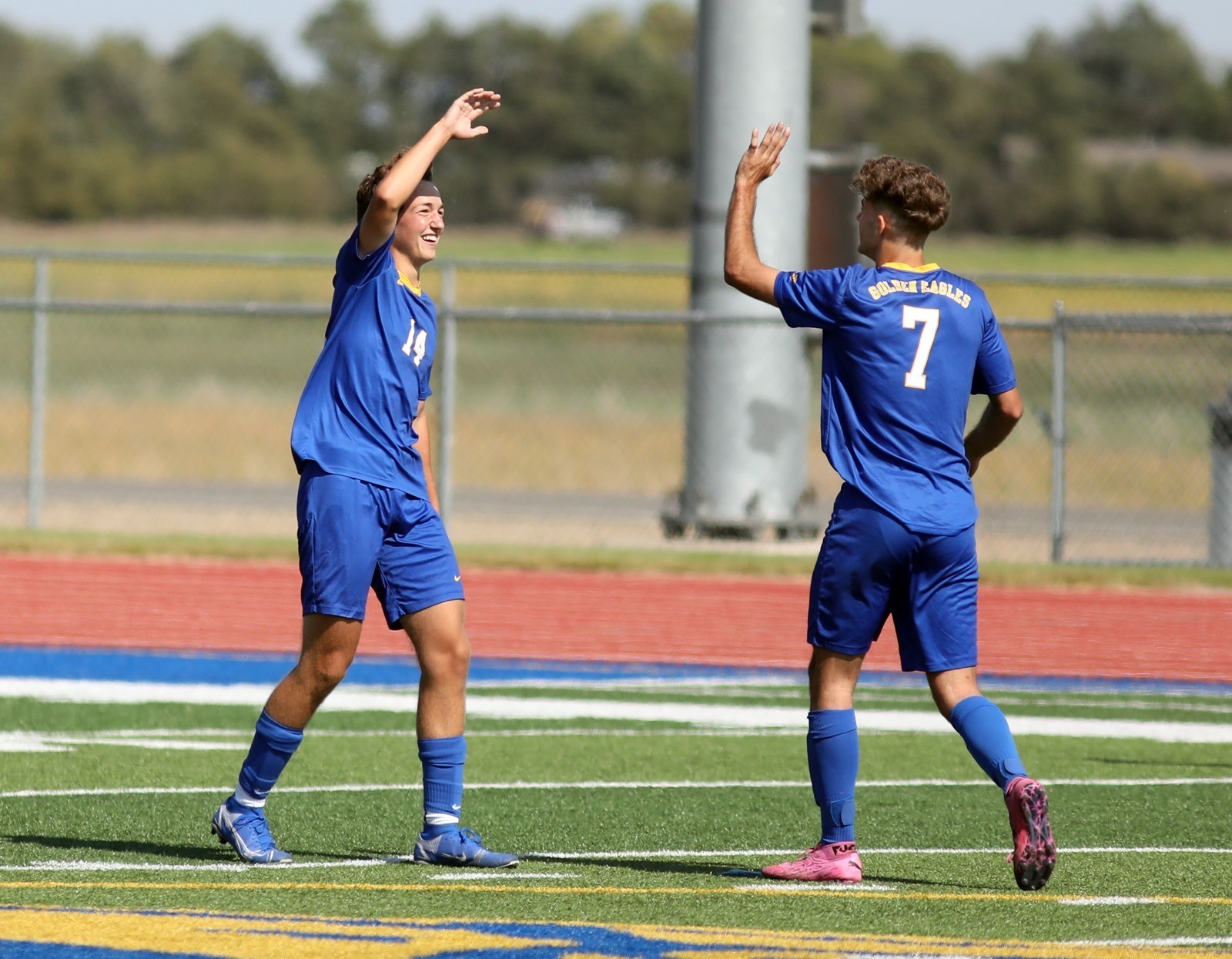 The Aberdeen Central boys soccer team claimed a comfortable 5-1 win over Sioux Falls Roosevelt Saturday afternoon at Swisher Field. The Eagles improved to 8-1 on the season and extended their winning streak to six games.
Central's entire game plan revolved around which side of the field they were attacking in the first half. When the Eagles learned they would be facing the wind to start, Eagles head coach Lance Mohr preached patience, possession and saving more aggressive tactics for the second half
"When we're with it, let's create chances and opportunities. When we're going into it, let's be patient, use as much of the ball and keep them from having it so they can't create chances themselves," Mohr explained.
Central sophomore midfielder Jordan Grieben registered the only goal of the first half on a mid-range effort from the edge of the penalty box in the 31st minute. Grieben's goal, assisted by Daniel Solis was the Eagles' only shot on target in the first half.

Central flipped the switch once they were able to attack the north end of Swisher field, expressing more creativity in attacking situations. Central midfielder and captain Sekou Gogue orchestrated several attacks against the Roosevelt defense, and Jelani Peters broke through for the Eagles' second goal in the 62nd minute.
Peters scored his second goal of the afternoon only a minute later. The senior forward admitted to having a slight hamstring issue entering the game, and the combination of feeling out the game and Grieben's goal playing into the wind helped him find his rhythm.
"My hamstring hurts so I had to run a little more to get worked into the game," Peters said. "Scoring the first goal really pumped up the whole team."
Marcos Ramos Garcia assisted on both of Peters' goals and scored one of his own in the 69th minute to make it 4-1. Parker Helwig concluded the scoring spree from the Eagles in the 73rd minute with a long-range, line drive effort from 30 yards out that slipped past the Roosevelt goalkeeper on the inside of the right post.
Central now hosts the Watertown Arrows (6-6) Tuesday at 4 p.m.
"We need to rest and get recovered," said Mohr on the keys to Tuesday's matchup. "We took a couple knocks out there during the course of the game. We'll just talk through some things on Monday, but we just need more of the same from today: play hard, play for each other and things will take care of themselves."
Sioux Falls Roosevelt 0 1 – 1
Aberdeen Central 1 4 – 5
First Half: Aberdeen Central, Jordan Grieben (Daniel Solis) 31st minute.
Second Half: Aberdeen Central, Jelani Peters (Marcos Ramos Garcia) 62nd, Peters (Ramos Garcia) 63rd,
Ramos Garcia (Grieben) 69th, Parker Helwig (Sekou Gogue) 73rd ; Roosevelt, Gavin Groos 76th.
Shots on Goal: Roosevelt 5; Aberdeen Central 10.
Goalies: Roosevelt, Dawson Aberson; Aberdeen Central, Camden Fauth.