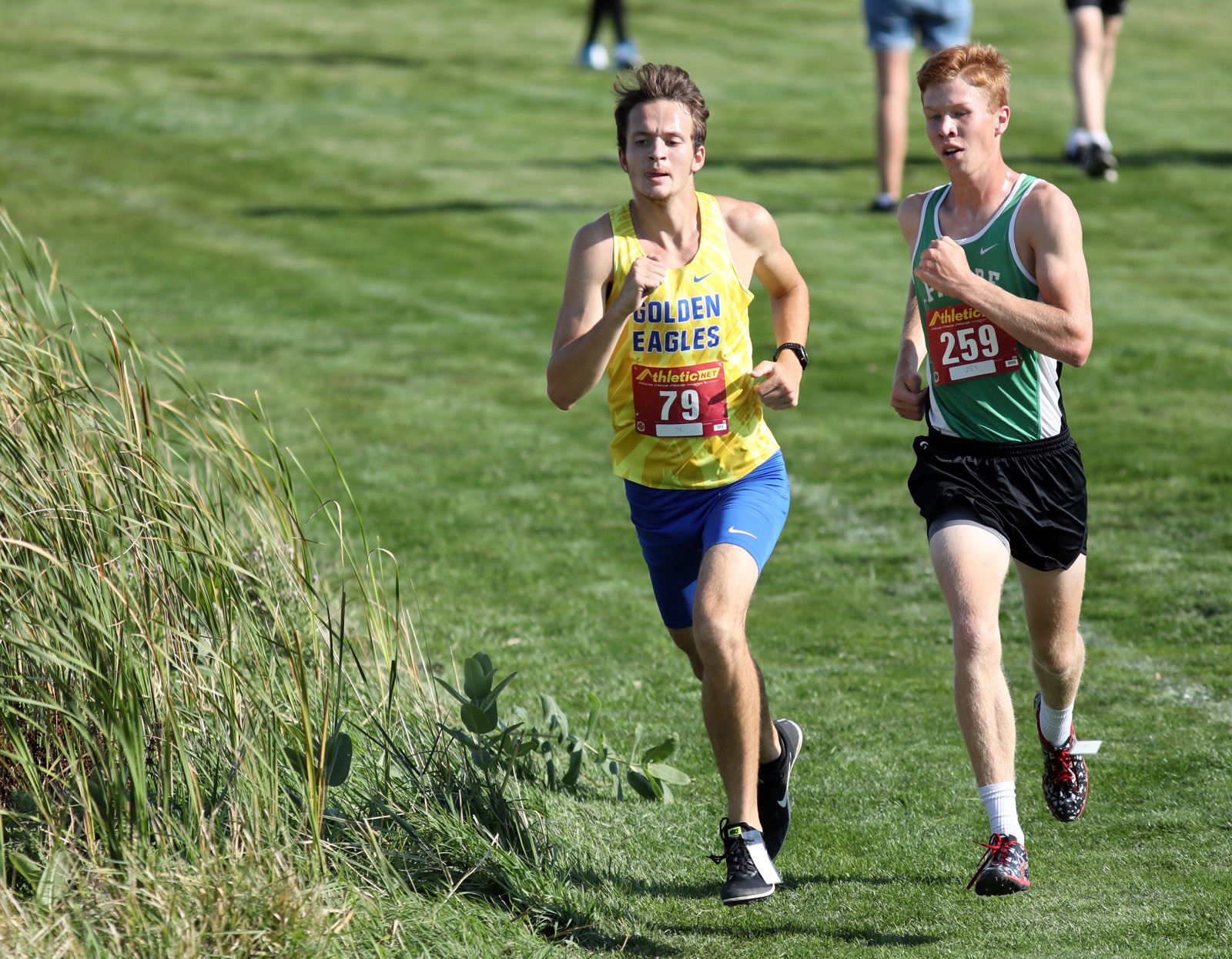 A pair of runners at opposite ends of their careers won individual races at the Salmi-Sahli Invitational Cross County Meet at Lee Park Golf Course Thursday afternoon.
Seventh-grader Kate McElroy of Watertown ran away with the girls' race, while senior Hayden Shaffer of Pierre beat the boys' field. Aberdeen Central swept the team titles.
It marked just the third ever varsity race for the 13-year-old McElroy who was determined to lead the pack throughout the event.
"I didn't want to let them get too far in front of me," McElroy said, "because that has happened in a race where I just let a girl go in front of me, and I said I could catch her later, but I wasn't going to let it happen again."

Aberdeen Roncalli's Paige Schmidt finished fourth in her season debut. The Cavaliers have had a couple of meets canceled this season.
"It was a lot of fun. It's nice that it's at home," Schmidt said. "It's exciting that our season is starting and it's normal this year after COVID last year."
The sophomore picked off a few runners near the end of the race to help improve her placing.
"I felt good," Schmidt said, "and I decided I can catch a few people, let's do it."
Shaffer trailed Aberdeen Central's Josh Martin until late in the race.
"I fell back on the second loop," said Shaffer, who finished seventh at last year's state meet. "I caught him with about 800 left."
Martin, the defending Class AA state champion, knew where Shaffer was at.
"He was a couple of steps behind," Martin said, "so I thought he was going to die out, but he didn't."
Martin is coming off a tough week of training.
"I was a little bit more sore on this race than some of those other ones," he said.
Central's Jacob Angerhofer was third, Tino Lopez fifth and Christian Wells sixth.
Central boys' coach Greg Murley was happy with his team's effort, noting they have had a demanding week.
"Our legs probably should be a little down. We're coming back off a Friday night meet, we ran tempo on Monday, we ran intervals on Tuesday, we did a pre-meet (Wednesday)," Murley said. "They've been running three miles every morning this week. We're not rested. We're just here to compete the best we can. I thought our kids competed hard."
The Central girls had four runners in the top nine spots. Kaylie Peldo was fifth, Alyssa Roehrich sixth, Kiana Joerger eighth, and Alivia Burgard ninth.
"We didn't have too big of gap between our runners," said Central girls' coach Bill Martens. "I was really happy with our performance today."
The meet marked the only home event for the Central varsity this season.
"It's just nice to run at home, run at Lee Park Golf Course like this," Martens said. "Good for our runners to be in front of their families and friends."
Roncalli was fourth in the girls' team points and did not field a complete boys' squad.
Sarah Schmidt finished 10th for the Cavaliers.
"It was our first (meet) and we went against some experienced runners already within the season and some bigger schools," said Roncalli coach Brady Lesnar. "I'm pretty proud of how they ran."
Like Central, Roncalli is also in the midst of a tough training span.
"I kind of gave them a butt-kicker early in the week knowing they were going to be a little sore today," Lesnar said. "They're feeling it today. We're still in the training phases of our season."
Roncalli will compete at Ipswich on Saturday. Central will take a break until running in Huron on Saturday, Sept. 18.
GIRLS' DIVISION
Team Points: Aberdeen Central 39, Jamestown 54, Watertown 58, Aberdeen Roncalli 67. Incomplete: Pierre.
Top 15 Individual Results
1, Kate McElroy, W, 20:04.15; 2, Victoria Smith, W, 20:35.27; 3, Brooklyn Nygaard, J, 21:00.06; 4, Paige Schmidt, AR, 21:10.26; 5, Kaylie Peldo, AC, 21:18.32; 6, Alyssa Roehrich, AC, 21:22.57; 7, Layna Hoffer, J, 21:24.09; 8, Kiana Joerger, AC, 21:27.48; 9, Alivia Burgard, AC, 21:38.55; 10, Sarah Schmidt, AR, 21:57.81;
11, Morgan VanVeen, AC, 22:04.78; 12, Jazzlyn Rombough, P, 22:15.25; 13, Jera Truax, J, 22:23.80; 14, Autumn Iverson, P, 22:24.19; 15, Emma List, W, 22:24.93.
Other Aberdeen Central runners: 18, Juna Ramey, 22:57.13; 24, Alexis Ketterling, 23:31.16; 26, Sadie Struble, 23:48.56; 31, Jordan Phillips 24:00.06; 34, Evelyn Trefz, 24:41.22; 36, Aurelia Steiger, 25:22.65; 37, Addison Ward, 26:13.34; 39, Faye Calvert, 26:55.47.
Other Aberdeen Roncalli runners: 16, Isabella Martinez, 22:31.15; 21, Claire Crawford, 23:21.19; 22, Halle Kuck, 23:23.03; 25, Rose Gutenkauf, 23:36.33; 27, Madisen Martin, 23:50.70; 30, Emma Vogel, 23:56.58
BOYS' DIVISION
Team Points: Aberdeen Central 26, Pierre 51, Jamestown 88, Huron 98, Watertown 105. Incomplete: Aberdeen Roncalli.
Top 15 Individual Results
1, Hayden Shaffer, P, 16:30.90; 2, Josh Martin, AC, 16:39.05; 3, Jacob Angerhofer, AC, 16:53.15; 4, Jared Lutmer, P, 17:03.54; 5, Tino Lopez, AC, 17:28.47; 6, Christian Wells, AC, 17:30.06; 7, Cullen Flieth, J, 17:31.64; 8, Blake Judson, P, 17:32.82; 9, TJ Lien, H, 17:59.46; 10, Ian Ahlberg, AC, 18:16.58;
11, Noah Miller, AC, 18:23.22; 12, Garrett Antoine, W, 18:31.23; 13, Cheech Harman, H, 18:38.19; 14, Esten Foss, AC, 18:38.62; 15, Ty Sullivan, W, 18:39.48.
Other Aberdeen Central runners: 19, Anthony Miller, 18:53.75; 21, Rylan Johnson, 18:58.30; 22, David VanVeen, 19:00.29;
Aberdeen Roncalli runners: 25, Paul Gutenkauf, 19:26.97; 35, Garrett Griffin, 20:45.69; 40, Isaac Price, 22:26.45; 41, Tyler Berndt, 22:42.27.