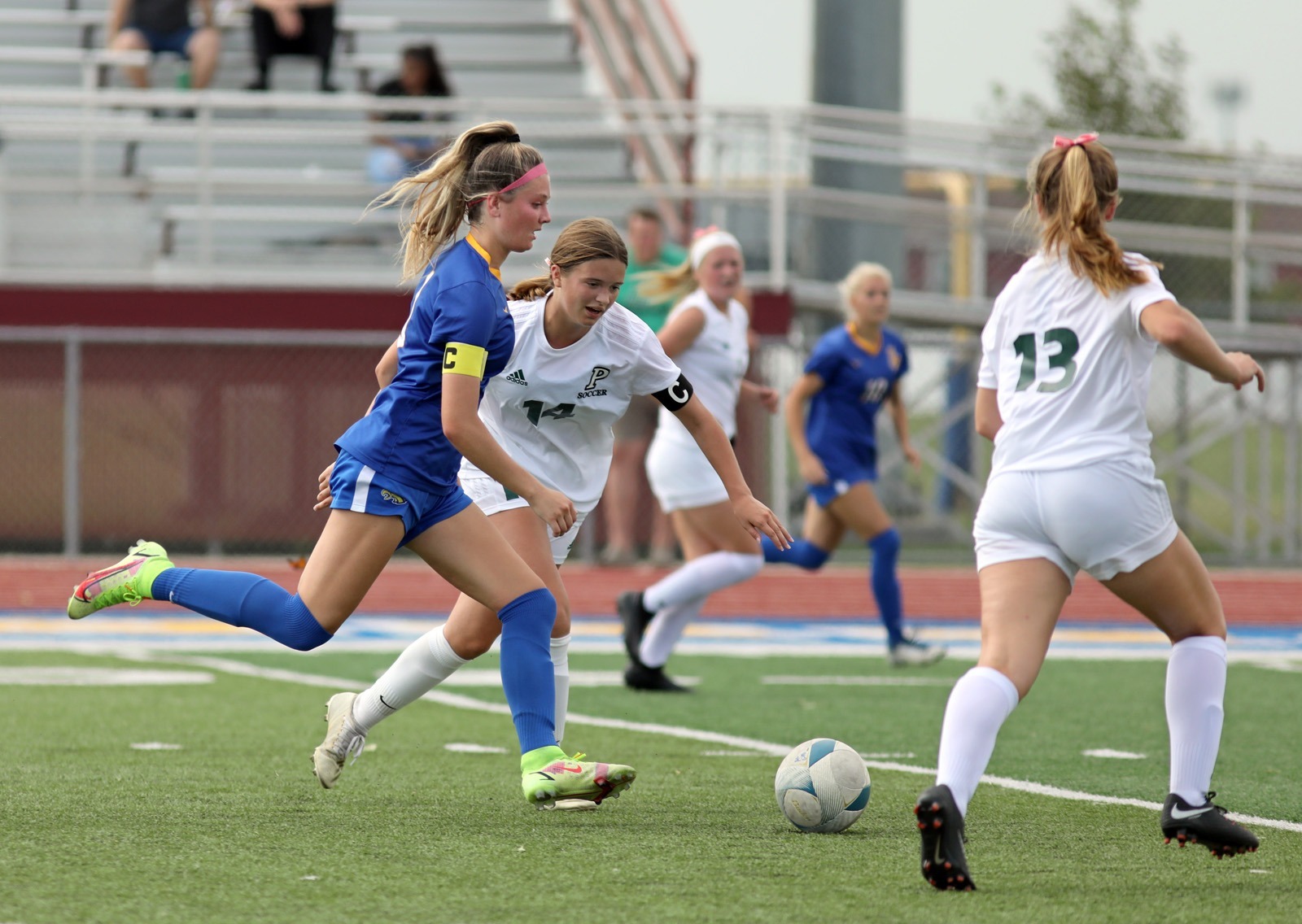 HURON – The Aberdeen Central girls' soccer team blanked another opponent on Tuesday, shutting out Huron 12-0 in an Eastern South Dakota Conference matchup. The top-rated Golden Eagles have now outscored their last three opponents by a combined total of 24-0.
Despite scoring a dozen goals, Central coach Merle Aske said his team got off to a bit of a slow start against the Tigers.
"We had to change some things. We weren't playing really well at the beginning," Aske said. "We were playing to the way they were defending. They were just crowding everybody into goal, and then we tried to play a low ball across the ground and the goalie would just jump on it. We had nobody attacking the ball."
That soon changed when the Eagles made a switch offensively which resulted in a barrage of goals to close out the half.

"It was one of those things you have to make adjustments once you're in the middle of a game," Aske said. "We scored four goals in the last 10 minutes of the half. That's kind of what we expected the first 10 minutes of the half to be."
Morgan Fiedler had a big game with three goals and an assist. Deshani Peters added two goals, while Taryn Hettich scored one goal and assisted on three others.
Meanwhile, the Tigers barely made it across midfield and were unable to put a single shot on the Central goal.
"The girls did a good job of controlling the game," Aske said. "I don't know if they touched the ball very much in our half of the field. We just basically had them pancaked in and there was no way they could get out."
Central is now 6-0 at the midway point of the season. The Eagles have three tough games in a row coming up, starting with Brandon Valley Saturday at Swisher Field.
"No matter what the score is and where we're at, we just have just keep doing what we do and find ways to get the ball in front of the net in dangerous situations and put them in," Aske said, "and then our defense just has to be solid like it has been the past few games."
Aberdeen Central 7 5 – 12
Huron 0 0 – 0
First Half: AC, Taryn Hettich, 13th minute; AC, Morgan Fiedler (PK), 14th minute; AC, Courtney Nipp, 16th minute; AC, Fiedler (Hettich), 35th minute; AC, Fiedler (Hettich), 36th minute; AC, Jayda Hammer, 38th minute; AC, Allie Morgan (Hammer), 39th minute.
Second Half: AC, Deshani Peters (Fielder), 47th minute; AC, Peters (Hettich), 48th minute; AC, Claire Schaunaman (Hadlee Nelson and Taylor Lake), 52nd minute; AC, Abby Witte, 55th minute; AC, Paige Burlivich, 57th minute.
Goalies: Aberdeen Central, Burlivich 0 saves, Ciara Frank 0 saves; Huron, Ae Si Larry, 14 saves.
Shots on Goal: Aberdeen Central 26; Huron 0.
JV: Aberdeen Central 11-0.