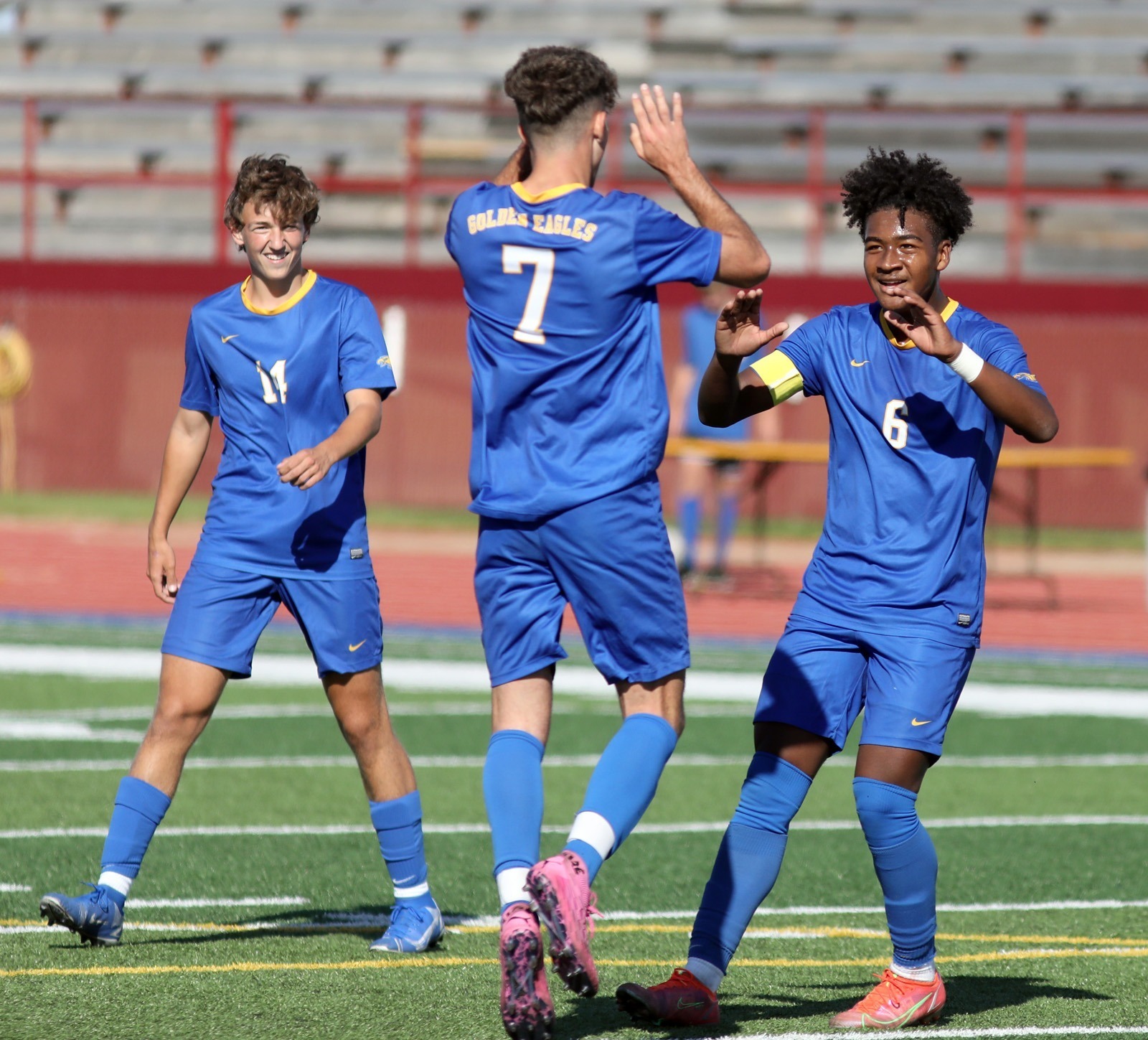 When push came to shove, Aberdeen Central was able to secure the ball and find solid scoring opportunities on the way to a 9-3 boys' soccer win over Watertown at Swisher Field Tuesday afternoon.
The Golden Eagles broke the game open with four goals in the first 20 minutes of the Eastern South Dakota Conference contest.
Central seemed to thrive in the physical game, but it also took the Eagles out of their element, according to coach Lance Mohr.
"We struggled all game to kind of get our rhythm, and then we kind of got wrapped up in it," Mohr said. "It effected our play today, no doubt about that. We didn't handle it well."

Marcos Ramos Garcia, Jelani Peters, Denon Deuter and Sekou Gogue all scored a goal in the first 20 minutes to stake Central to a 4-1 advantage.
"We just work on moving the ball from side to side, just playing one to two touches and not be selfish," Gogue said. "Everybody is going to have their chances. We already know that."
Garcia added another goal late in the first half and tacked on another one early in the second half, while Peters added two second-half goals as each player finished with a hat trick. Gabe Johnson had Central's other goal.
Gogue always seems to be around the action and is content to set up others for high-percentage opportunities.
"I enjoy passing a lot. I just feel like it helps the team," Gogue said. "I don't have to necessarily be the one that's scoring to get the glory."
While Gogue is a captain and team leader, he said all of his teammates have a key role on the squad.
"I feel like all of us kind of set the tone," Gogue said. "We're all captains."
Even though Central dominated play in the 50-50 balls, Mohr said the game was a bit more physical than what he is accustomed to.
"It seemed like everything was a clash today and that's not how we're used to playing. We weren't very clean today," Mohr said. "We got ourselves into a lot of those situations by our own doing. We had to deal with too much of that today in my opinion."
The Eagles definitely took advantage of their scoring chances, but also gave up a season-high three goals.
"Our efficiency around goal was much better," Mohr said. "It was the other end of the game that I was much more concerned about, giving up some goals, some uncharacteristic plays and turnovers; something that we have to address this week and we will."
The Eagles, 9-1 on the season, head to Yankton for a key ESD contest on Saturday.
"It's a tough day for us. We get up early, it's a long drive, but we're going to be ready for it," Mohr said. "That's a big game for us. It's a big ESD Conference game for us. We'll be up for that one."
Watertown 1 2 – 3
Aberdeen Central 5 4 – 9
First Half: AC, Marcos Ramos Garcia (Jelani Peters), 2nd minute; AC, Peters (Jameson Palmer), 6th minute; W, Jaxson Fiechtner, 12th minute; AC, Denon Deuter, 14th minute; AC, Sekou Gogue (Garcia), 20th minute; AC, Garcia (Zee Mounga), 36th minute.
Second Half: W, Fiechtner, 44th minute; AC, Peters (Jordan Grieben), 50th minute; AC, Garcia, 51st minute; AC, Gabe Johnson (Peters), 54th minute; AC, Peters (Grieben), 62nd minute; W, Ty Meidinger, 67th minute.
Shots on Goal: Watertown 5; Aberdeen Central 16.