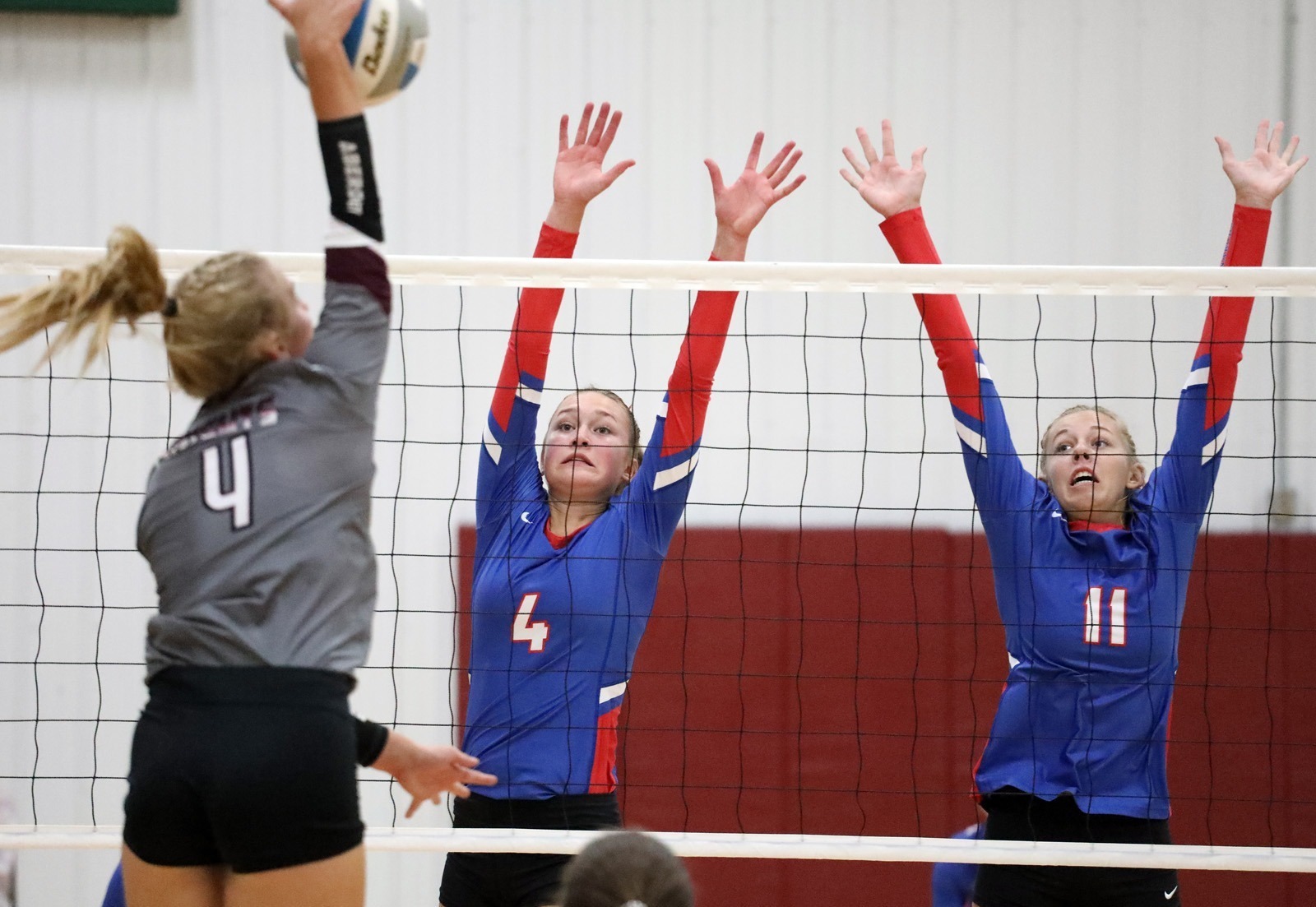 Warner may have some new faces in some new places, but the Monarchs still have that big-match toughness.
The second-rated team in Class B pulled away from a 19-19 tie by scoring the final six points of the night to cap a sweep over Aberdeen Christian. The Monarchs won their season opener 25-17, 25-12, 25-19 in a Lake Region Conference matchup Thursday night at Aberdeen Christian Gym.
"Actually for the first time on the court for a couple of our young kids, I was really happy," said Warner coach Kari Jung. "We made some mistakes but it's the first-game jitters and they really haven't been in a big game like this. This was a big game, I thought. Good competition, they're just a great team, so I feel really fortunate how we played."
It was sophomore Lauren Marcuson who stepped up to start a match-ending 6-0 run for the Monarchs in the final set.

"We're trying different kids to get a little more depth. They did well, it's just we haven't played as much with them in the rotations," Jung said. "I was really proud that at 19-19, Lauren got a great swing and didn't play scared at that time."
While the Knights failed to win a single set, Christian coach Maggie Jett was proud of her team's effort. She pointed out that this is the first time in school history that the Knights have pushed Warner.
"We did a lot of nice things tonight and I'm super proud," Jett said. "They played them the toughest they've ever played Warner. They didn't beat them, but they sure made them work."
Warner played with the lead the majority of the evening. The Monarchs found their way around the blocks of Christian's front line which sometimes featured two players taller than six feet.
Setter Ava Nilsson found her hitters who either hit down the line or cross court to open spots on the floor.
"I thought our hitters really played well and Ava just did a great job trying to avoid the block and making the block move," Jung said. "That was effective for us, because they have a huge block."
The fact that the Monarchs were able to get around those blocks did not come as a surprise to Jett.
"Credit it to a great program," she said. "They know how to face those obstacles and deal with them."
Kyra Marcuson led the Monarchs with 13 kills and Jennifer Aman had 11. Nilsson finished with 32 set assists.
Christian was led by Mary Fites with 11 kills. Hanna Miller followed with five.
Jett pointed out the differences between the two volleyball programs following the match, noting that Warner has a program with a rich history that Christian is attempting to build.
"That team plays together all the time. Our girls don't. We're building our program," Jett said. "For the short amount of time that I've had this group together, I'm seeing some amazing things that I'm super proud of them for. You have to hand it Warner. They're just a great program."
Christian, 1-1 on the season, plays at Groton on Monday, while Warner travels to Wolsey-Wessington.
Warner 25-25-25, Aberdeen Christian 17-12-19
Serving: Warner 64-74 6 aces (Kami Anderson 3-4 2 aces, Peyton Fischer 14-14 1 ace); Aberdeen Christian 3 aces (Kaylee Block 8-8 1 ace, Ruth Hulscher 9-10).
Hitting: Warner 103-118 45 kills (Kyra Marcuson 28-30 13 kills, Jennifer Aman 24-28 11 kills); Aberdeen Christian 20 kills (Mary Fites 32-35 11 kills, Hanna Miller 12-13 5 kills).
Setting: Warner (Ava Nilsson 95-95 32 assists, Fischer 12-12 6 assists); Aberdeen Christian (Block 52-53 13 assists, Joy Rohrbach 12-13 2 assists).
Digs: Warner 63 (Courtney Blanchard 15, Marcuson 13); Aberdeen Christian 48 (Rohrbach 25, Hulscher 7).
Blocks: Warner 4 assists (Marcuson 2, Fischer, Aman); Aberdeen Christian 3 solos 8 assists (Grace Kaiser 1 solo 2 assists, Mallory Miller 2 assists).