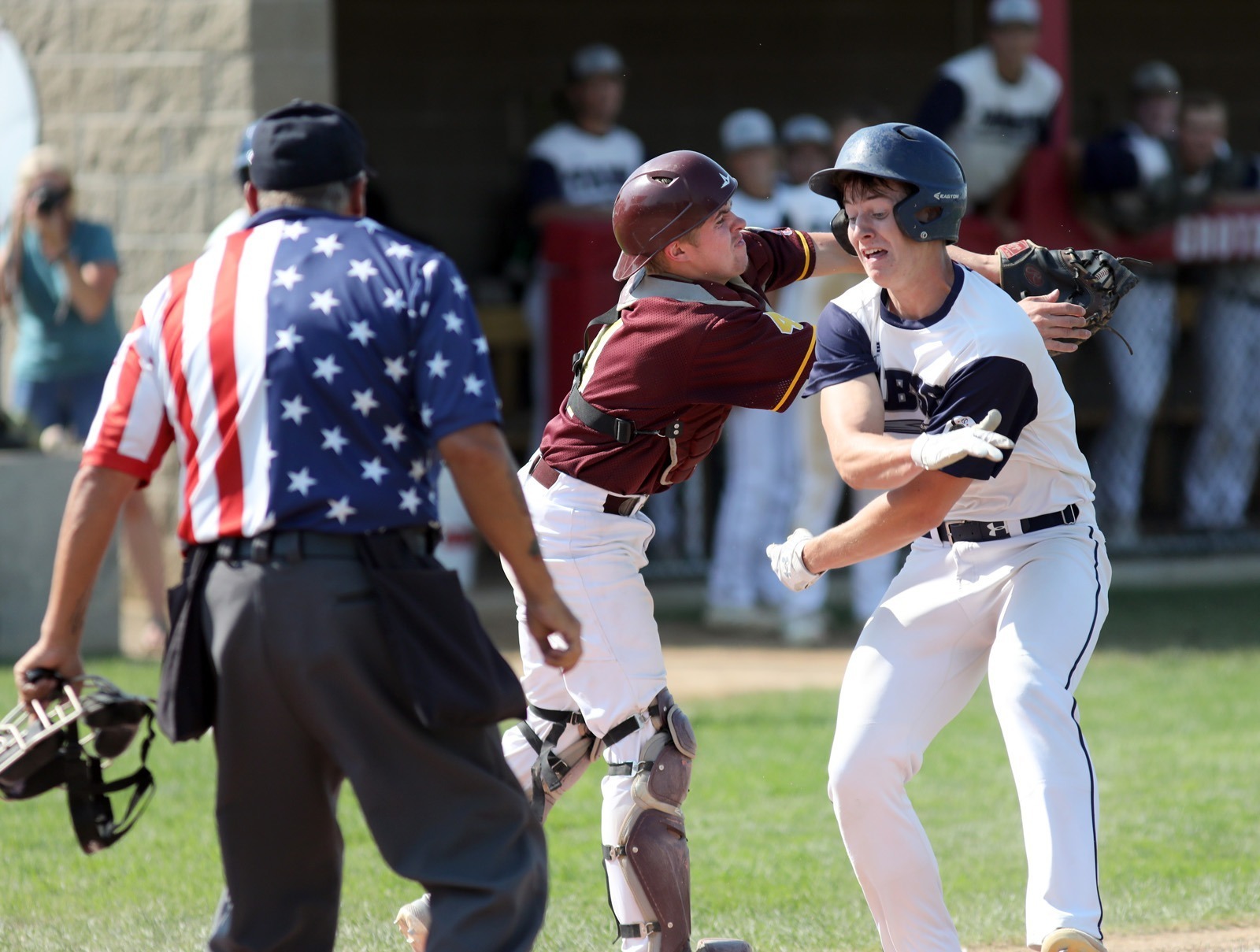 GROTON – Riley Rothschadl stood on the mound and took a deep breath.
Pitching with a 1-0 lead, the Tabor right-hander had just given up a triple to Madison's Zach Whitlock to lead off the top of the second inning. Time to go to work.
So he did. Rothschadl induced two fly balls to center fielder Nolan Carda, who lasered both throws to home plate with enough velocity and accuracy to keep Whitlock at third, then got the next batter to ground weakly to shortstop.
Crisis averted.

Tabor then sent 10 men to the plate in the bottom half of the second, scoring four runs to break open the game, and tacked on three more in the third and five more in the fourth, cruising to a 13-0 five-inning victory over Madison in the championship round of the State B American Legion baseball tournament at Locke-Karst Field in Groton.
"It was big," Rothschadl said of that dicey second inning on the mound. "I knew our field was going to make plays. So I just pitched strikes."
That strategy proved useful all game long for Rothschadl, who went the distance on the mound, but faced just two batters more than twice in the game.
Conversely, the Tabor offense was a mixture of patient and aggressive, tallying 12 hits and seven walks in the game. Rothschadl himself had two of those walks plus a double in the third inning. Kaleb Kubal, who has been nearly impossible to retire all tournament long, reached base three times on four plate appearances on two hits and a walk. His fly out to left in the third was the first time his tournament average dipped below 1.000.
"Riley pitched great, and once we started hitting, we just kept on hitting," said Tabor coach Gary Kortan.
Giving Rothschadl the lead helped as well, Kortan said.
"He could just pitch his fastball and try to locate it," Kortan said. "We didn't throw many offspeed (pitches) and we didn't have to."
Sunday's action sets up a pair of games Monday with Madison facing Redfield in the 4 p.m. game and Tabor facing Vermillion in the late contest.
"We know each other so well," Kortan said of facing Vermillion. "We play each other between spring and summer six to 10 times, so there's going to be no surprises. We'll be ready for them. We're 0-4 against them, so we'll be ready."
Madison 000 00 – 0 4 3
Tabor 143 5x – 13 12 0
Zach Whitlock, Seth Fernau (2), Braden Eimers (3) and Sam Olson; Riley Rothschadl and Nolan Dvorak. 2B – Tabor, Carter Eucker, Rothschadl, Preston Nedved, Nolan Carda. 3B – Madison, Whitlock.