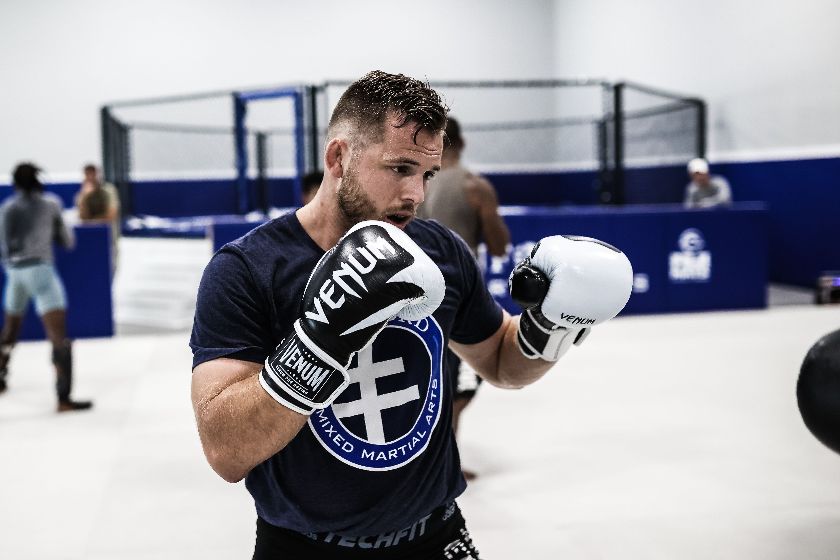 SIOUX FALLS – Don't look now, but Logan Storley is on a mission and that spells trouble for whoever gets in his path.
The former Webster High School and University of Minnesota wrestler is working his way to the top in the world of Mixed Martial Arts. Nicknamed the "Storm," Storley is ready to unleash his fury on any opponent who stands in the way of his ultimate quest.
"For me, I went to college, I wrestled the best guys in the country. I've wrestled overseas. I've been against the best guys in the world. I'm used to that level of competition. This is no different," Storley said. "I was preparing for that since I was in high school. I was a freshman wrestling against the best guys in the country and beating the best guys in the country. I guess for me, that's always been my mindset. I truly believe that I can beat anybody in the world. That was the goal. It wasn't to beat everyone in the NEC (Northeast Conference) for me or everyone in the state, or everyone in the Midwest. It was to beat everybody in the world. To be the number one guy in the world."
Storley has gotten off to a solid start in his MMA career. He is 11-1, but when you're Logan Storley you are not used to losing and that split decision setback in his last match serves as motivation for his upcoming fight against Dante Schiro on Aug. 20 at the Sanford Pentagon in Sioux Falls.

Storley has seldom experienced defeat throughout his storied career which included six individual state high school championships.
"I thought I did enough to win the fight. Obviously, that last judge didn't," Storley said of his defeat last November.
Storley noted that his opponent went on to dominate the champion and win the Bellator welterweight belt. He feels that could have been him instead.
"I know where I'm at. It definitely stings," Storley said. "It motivates you to get back in there and go get this win on Aug. 20 and start that march towards the title. That's really why I got into the sport was to be the best in the world. To be world champ."
Storley has surrounded himself with many of the finest MMA fighters in the land. He knows that he will be equipped when he steps inside the cage for his next battle.
"I have some of the best training partners in the world," Storley said, rattling off a who's who in the world of MMA. "I've got 10 guys at the welter weight division who are former champs, current champs or ranked top 10-15 in the world. Having those guys like that really just elevates you, sparring with them, being around those guys. You learn so much and your confidence just grows and grows."
Despite being around wrestling his entire life (pretty much from kindergarten on), Storley said there is always room for improvement and things to learn, especially when chasing the goal that he is after.
"I've been wrestling for 23 years, but it's the oldest sport in the world. There's always something new that will come out," he said. "You're still trying to master your positions. I still need to improve on all these things. If you want to be the best in the world that's what it's like."
Interestingly enough, it was Storley's multi-sport background that he credits for his development in the wrestling world. He played a variety of sports while growing up including basketball, baseball, soccer, track and field, and football.
"I had a fun with those activities and I think it made me a better athlete," Storley said. "I think it brought out the joy of wrestling for me. I just enjoyed competing and I enjoyed being an athlete. Those other sports really helped my athleticism a ton."
The work ethic and drive have always been there. Combine that with his athletic ability and you can see why Storley won the Hodge Award (given to the nation's top high school wrestler) his senior season.
Now, as Storley sets his sights on the top spot in the world, he plans to throw caution to the wind and unleash the Storley Storm.
"Really what it comes down to is being confident in yourself that you can go out there and perform at a high level, the ability to open up and take risks and perform at your highest potential," Storley said. "It comes down to pressure. Once you can get over that, and learn to compete freely and just be you, and stop worrying about the winning and losing and really competing at the highest level that you have, then that's all that matters. Then you compete a lot better when you stop worrying about the end result."
Storley, who is currently ranked fifth in the world in Bellator, is ready to begin his ascent to the top.
Expect Storm warnings on Aug. 20 in Sioux Falls.
"I know where I'm at. I know what it takes to get there," Storley said. "I've been around the best of the best in my gym every day. I have to take care of this one first and we'll go from there."