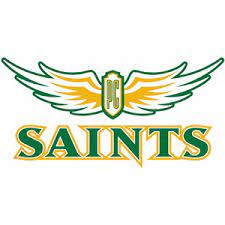 PRESS RELEASE
The Dakota Wesleyan Tigers (5-0) defeated the Presentation College Saints (0-1) in straight sets (25-15, 25-19, 25-18) on Tuesday night.
The first set was played close early on, but after getting out to a 10-8 lead, Dakota Wesleyan would score nine of the next eleven points, putting the set out of reach for the Saints.
The Saints came out hot in the second set, going on a 7-1 run to start the set. But Dakota Wesleyan battled back, eventually tying the set at 15. It was there that the Tigers went on a 10-4 run to close out the set.

It was the Tigers that came out hot in the third set, taking an early 13-3 lead. But the Saints would not go away quietly, as they would score five straight points on two occasions during the set. But ultimately it was not enough, as Dakota Wesleyan was able to close out the match.
The story of the match was Dakota Wesleyan's pair of Mackenzie Miller (Mitchell, SD) and Mariah Gloe (Watertown, SD). The pair combined for 25 kills, with Miller picking up 13, and Gloe 12. Miller also led the match with four blocks.
For the Saints, Ashley Alfonso (Pueblo, CO) and Becca Payne (Townsend, MT) led the way with six kills each. The Saints Libero, Laura Babcock (Aberdeen, SD) led Presentation with 16 digs.
Presentation College's next match is against Williams Baptist University on Friday, August 27 at the Viking Invitational, being held in Marshall, MO. The Saints will have four matches over two days.