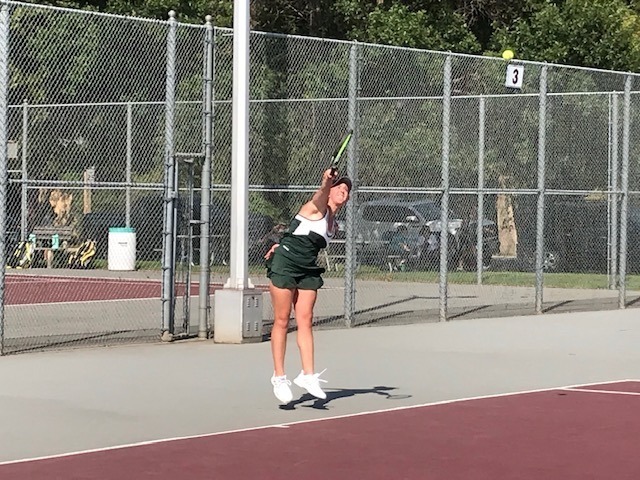 MADISON – Each of the six singles players for Aberdeen Roncalli won matches during the Madison Invitational on Friday.
"Many of the girls took what we've used in practice the last couple weeks to improve their game and it showed," said Roncalli coach Hallie Rohrbach. "Us coaches have worked with them on targeting weaknesses in their opponents, developing consistency in their game and strengthening their mental game. Each girl came out with a win which we were really proud of."
Hallie Haskell took third at first flight singles for the Cavaliers. That effort included a win over Callie Bounds of Madison.
"She served well, placed the ball well, and played a smart match finishing with her 8-1 win," Rohrbach said.

Players had to endure a four-hour rain delay before action finished up well after dark.
In addition to Haskell, Maria Barnett won two matches at flight two singles and Katherine Kretchman also won a pair of matches at flight five singles.
Barnett had two tight matches on the day, winning won 9-7 and dropping the other in a tie-breaker.
"She had to battle to pull off her first win," Rohrbach said, "and we were proud of her focus and persistence and pulling out the 'W' to kick off what would be a great day of matches for her."
Play resumes today with the doubles portion of the tournament.
SINGLES
First Flight
HALLIE HASKELL: def. Callie Bounds, Madison, 8-1; lost to Ella Hancock, Rapid City Christian 8-1; def. Anthena Francillisco, St. Thomas More, by default. THIRD PLACE.
Second Flight
MARIA BARNETT: def. Anika Barnett, Vermillion, 9-7; lost to Savannah Shipley, Madison, 7-7 (8-5), def. Gracen Juffer, Lennox, 8-1.
Third Flight
RIVER HASKELL: def. Lindsey Huck, Spearfish, 8-6; lost to Madison Johnson, Lennox, 8-2; lost to Bianca Medina, Huron, 8-0.
Fourth Flight
RALEY HASKELL: lost to Halle Karmazin, Sioux Falls Christian, 8-5; lost to Marion Mischel, Milbank Area, 8-3; def. Delilah Maxwell, Madison, 8-5.
Fifth Flight
KATHERINE KRETCHMAN: lost to Say Ma, Huron, 8-2; def. Christian Rowe, Madison, 8-1; def. Jade TenHaken, Sioux Falls Christian, 8-2.
Sixth Flight
ANNA MITZEL: lost to Anna Oetzmann, Madison, 8-4; lost to Saige Jorgensen, Vermillion, 8-3; def. Amelia Pederson, Milbank Area, 8-4.